CES 2006
Intro Part 1 Part 2 Part 3 Part 4 Comments 100+
Sony Ericsson W810 Headsets Galore Kyocera Strobe
Thanks to widespread availability of Bluetooth and music player handsets, headsets and audio accessories are all the rage this year.
Motorola
Motorola kicked off the trend by announcing a number of headsets that combine both Bluetooth and audio by using the A2DP profile that allows devices to stream stereo to headphones or speaker systems. Recently Motorola announced the Audex line in conjunction with Burton. This includes a jacket, helmet and padded hat, all of which have Bluetooth enabled stereo speakers. Then this week Motorola also announced a set of Bluetooth enabled DJ style headphones. Apparently all four of these use the same set of Bluetooth headphones, which will be interchangeable. While each will be sold as a complete listening solution, Motorola is hoping users will also be able to buy other compatible products and just pop the headphones in.
Motorola also introduced a few other Bluetooth products. We've been told the MINI in-ear Bluetooth headset has an excellent noise-cancelling microphone that rivals much larger high-end models. Unfortunately we could not get it to fit into our ear correctly, it was more comfortable with the microphone pointed toward the back of our head, which would not do much good. Others had better luck. Motorola told us additional ear pieces will be available to fit a wider range of ear shapes.
Advertisements article continues below...
Because the MINI is so small, it doesn't have a very large battery, and thus only has a 1.5 hour talk time. The MINI actually comes with a case with its own rechargeable battery that can recharge the MINI while out on the road. The case is sleek and stylish, but its high tech looks bear certain associations that might not make it appropriate for use in public.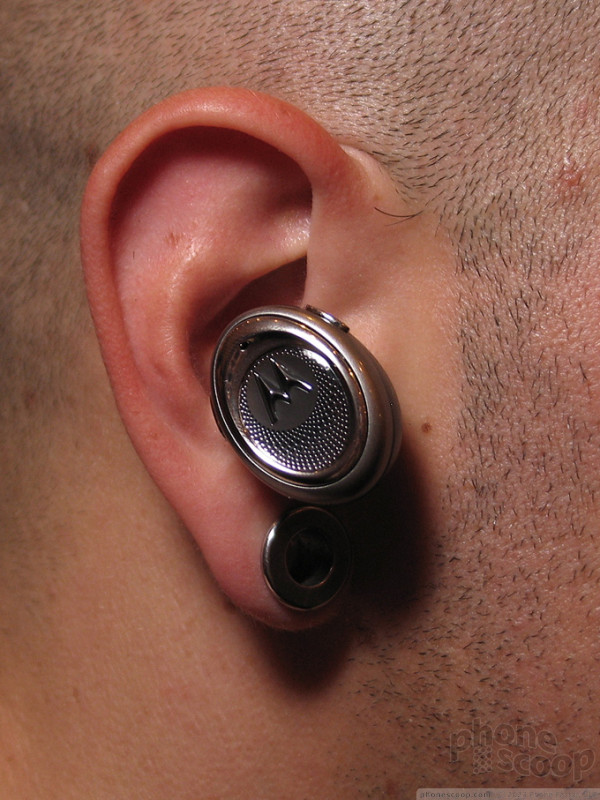 Oakley and Motorola also paired up yet again for the O ROKR stereo Bluetooth glasses. Based on the Thump 2, the O ROKRs are bulkier but much more stylish than the RAZR WIREs. In addition to acting like a Bluetooth headset for calls, the O ROKRs also can playback and even control music from the ROKR E2 and other A2DP phones. They are rather thick and make most people look quite formidable, but thanks to ultra-light materials, they were rather light and comfortable.
Nokia
Nokia had new Bluetooth headsets of their own, however Nokia has not adopted stereo Bluetooth like Motorola has. Instead Nokia is taking the traditional headset to various extremes.
One extreme is piece of jewelry. The BH-800 is a tiny piece that can be worn like a pendant on a jewelry-like chain that comes with the headset. Worn around the neck it is quite elegant, and in the ear it is subtle and stylish. Unfortunately the earpiece is all too similar too a cheap pair of earbuds, and fits in your ear just as poorly, ruining what otherwise is a classy experience.
An extreme is the Inspector Gadget of headsets - the BH-900. This unit is a bit larger than most modern handsets, but it pays off in 8 hours of talk time and more functions than we can name off without boring you. The coolest aspect is that the microphone is actually on a sliding boom. The boom is an active slide, so you can answer the phone just by pulling out the boom or hang up by sliding it back into the headset body.
The BH-200 was like the mama bear of headsets. It doesn't have any fancy features - it doesn't even have advanced noise cancelling technology - but the fit and comfort was so nice. Plus it will only set you back $55, putting that comfort well within most people's reach.