Review: Motorola Defy
Form Basics Extras Video Tour Wrap-Up Comments 4
Is It Your Type? Body The Three S's Touch
Nov 1, 2010, 12:32 PM by Philip Berne
The Motorola Defy is the most stylish water resistant phone around, and a real smartphone to boot. Is this the perfect companion for your next adventure?
Is It Your Type?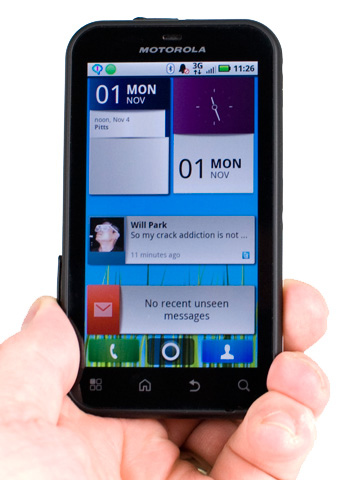 The Motorola DEFY is the most stylish phone you'll ever drop into a swimming pool . . . on purpose, at least. It's closest relative might be the Motorola i1, a Sprint Nextel Android phone that's also pretty tough. But the Defy has features the i1 lacks, like faster networking and a newer version of Android with all of Motorola's Motoblur improvements. Did it survive our grueling hands-on tests?
Question to the author, Phillip Berne
Hi Phillip,

Thank you for your review of the product. Having worked on this product myself, I find it surprising and troubling to note that you had issues staying up on WiFi and using the WiFi calling feature.

Do you mind sharing with me the model and specs of your router along with the firmware version running on it so that we can conduct further tests and make the product better than it already is? Thank you.

Regards,
-GC
I use an Apple Time Capsule as my home router. It's running Version 74200.9 of the AirPort software (also described as 7.4.2).

Good luck. The Wi-Fi issue was one of the few flaws I called out on this phone, it would be great to see that fixed.
Great all the construction workers on T-Mobile!!
Wait! Come on verizon and sprint get it together letting pink show you up!
Crack Addiction
interesting screenshot choice...