Motorola Announces the Defy Rugged Android Phone
Article Comments 13
Sep 13, 2010, 10:19 AM by Eric M. Zeman
updated Sep 13, 2010, 10:32 AM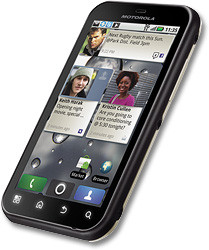 Motorola today announced the Defy, its latest rugged Android phone, which will be available exclusively to T-Mobile customers. The Defy comes with a 3.7-inch, WVGA scratch-resistant touch screen in addition to protection from water and dust ingress. The Defy is a slim, slab-style device, and also has a 5 megapixel camera with flash and auto-focus, DLNA compatibility, dual microphones, and Motorola's CrystalTalk Plus technology. It will come with Adobe's Flash Lite software, as well as the standard Google services, such as Gmail and Google Maps. It will ship with Motorola's Motoblur software, though Motorola didn't specify which version of Android will be running on the Defy. The device will be available to T-Mobile customers in time for the holiday shopping season.
no ffc
still no front facing camera...not a bad looking phone but just not for me
This is not trying to be a top of the line phone. It is trying to reach a demographic that may have not been able to make the jump to an android phone before because they are rough with phones.

Rumor is that the MyTouch HD will have a FFC.
so this is MB701
The spec looks fine (WVGA).
Hopefully it'll have 2.2 with mobile hotspot, UMA, 5-8mpx cam
There is no UMA and the cam is 5MP AF with LED flash. Simple as that.
Two Strikes against it out of the gate.
Ugh its Motorola with the MotoBlur Bloatware and its T-Mobile just to ahead and run over it with a truck and put this miserable future hunk of crap out of its misery before they even release it.
so far i count maybe 1 strike...motoblur....next?
Not bad...
It does not look like a bad looking phone at all, I am willing to bet that it will be better then all the negative people say it will be. A good example is the MY TOUCH 3g Slide, I never heard one good thing about it and it turned out to be better then the original Droid just with a lower quality screen. Give the phone a change I am sure it will be a good piece of Android.
I'm just wondering...
How well the screen will hold up? It might be scratch resistant but I've seen construction workers run over other clamshell rugged phones and they come out fine, but this has a lot weaker physique.
There is a huge difference between "Resistant" and "Proof".

Resistant will withstand a normal accidental brushing of a sharp object. Proof is much more forgiving but still not guaranteed.

John B.
Wow its amazing what rugged phones can endure! Did they run over it with a regular truck? Or some sort of heavy equipment?