Review: Motorola Defy
Article Comments 4
Nov 1, 2010, 12:32 PM by Philip Berne
The Motorola Defy is the most stylish water resistant phone around, and a real smartphone to boot. Is this the perfect companion for your next adventure?
Form
Is It Your Type?
Is It Your Type?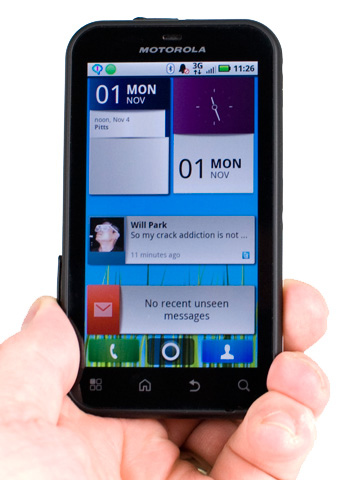 The Motorola DEFY is the most stylish phone you'll ever drop into a swimming pool . . . on purpose, at least. It's closest relative might be the Motorola i1, a Sprint Nextel Android phone that's also pretty tough. But the Defy has features the i1 lacks, like faster networking and a newer version of Android with all of Motorola's Motoblur improvements. Did it survive our grueling hands-on tests?
Body
The Motorola Defy is a sleek and — dare I say — elegant smartphone, a serious departure from the chunky and rubbery waterproof phones I've seen in the past. The phone has a glossy black face, with a matte black bezel and a black battery cover. In between there's a band of matte white plastic. The phone reminds me of the Lotus Esprit that James Bond drove underwater in "For Your Eyes Only."
The phone doesn't shy away from it's semi-rugged looks, with exposed screws and large, protruding rubber caps covering the ports. But you could easily hand it to an unsuspecting friend and shock them by dropping it into a deep puddle without fear. This is not a phone to use with work gloves on. It isn't just the capacitive screen and touch buttons that would make gloves a problem. The buttons and port covers all around the phone are sized for normal fingers, not thick gloved hands.
The Defy feels very light in the hand. It's almost half an ounce lighter than the Moto i1 or the Motorola Cliq XT. It fits easily in a pants pocket, and I even carried it in my front shirt pocket without stretching my collar too much.
The front of the phone looks like any standard Android touchscreen phone. It has the familiar four Android buttons, Menu, Home, Back and Search, in that order, under the screen. On the right you get a volume rocker that does not stick out enough from the phone, nor does the power / screen lock button up top. It's too bad these buttons are shy, because the port covers stick way out, so it wouldn't have looked silly to get some larger buttons on this phone.
Up top, you'll find the 3.5mm headphone port, covered by a rubber plug attached to a thin strip of rubber. It felt sturdy enough to last through constant use. That plug is tough to pry open, which is for the best. On the left side you'll find a stiff cover for the microUSB port. It pulls up slightly and swings away, and again, it feels sturdy enough to last. Both these ports must be completely sealed to ensure the water resistance of this phone.
As with all water resistant phones, the battery cover on the Defy needs a firm push to secure itself in place. It doesn't feel tight until you slide the stiff lock at the bottom of the cover, which seals it in place. Once you have the phone sealed, the Defy is water resistant to one meter. You can completely submerge the phone with no trouble. This is not a military-grade seal, but it does offer the best protection against dust and moisture that you'll find on a consumer device. I sat the phone in a bowl of water for twenty minutes, and it worked perfectly as soon as I removed it.
The Three S's
Screen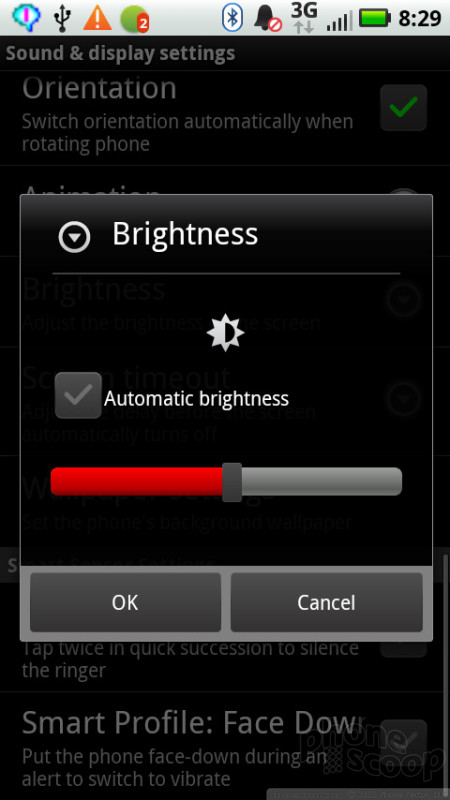 The display on the Motorola Defy is fantastic. It's packed with pixels, sporting an 480 x 854 resolution, the same as you'll find on a Motorola Droid. At 3.7-inches, it's deceptively large, considering the small size of the rest of the phone. The screen looked great indoors, and it also held up very nicely outside. On a bright, sunny day, the screen faded considerably, but I was still able to read email and use the camera viewfinder with little trouble.
Sound
Sound quality on the Motorola Defy was much better than I expected, considering the rugged and water resistant nature of the phone. On other phones that are built as tough (or tougher), sound quality always suffers. But the Motorola Defy sounded like any mid-range Android smartphone. It wasn't fantastic, but calls sounded very good through the phone's earpiece. I could hear some static and hissing in the background during calls, but my callers reported no such problems hearing me on their end.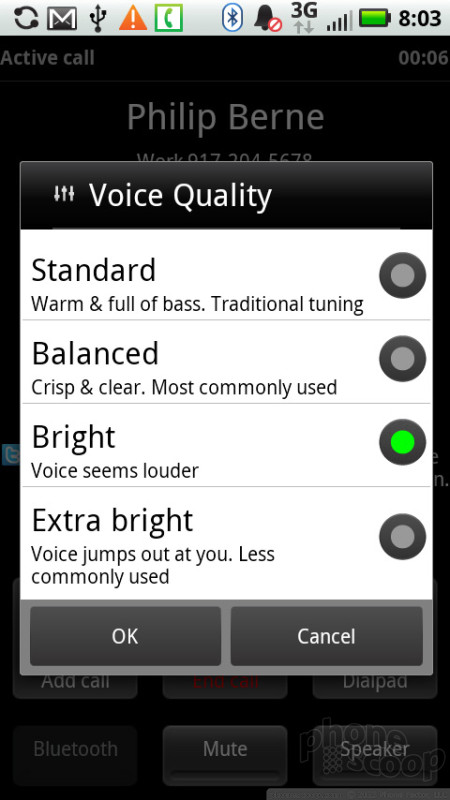 The speaker on the Defy was equally impressive. It was nice and loud, and voices and music sounded clear piping from the little speaker around back. Thanks to the angle of the sides and back of the phone, the speaker isn't covered when you place the phone screen up on a desk. With the sound turned off, the vibration is acceptable, but I'd prefer it much stronger.
Signal
Signal strength was a mixed bag on this phone, in an ironic way. Cellular reception was good, but the phone had trouble finding and holding onto my home Wi-Fi connection. That's ironic because the phone comes with T-Mobile's new Wi-Fi calling service, which is meant to help people with cell reception trouble. I have good T-Mobile service in my area, but if you live in a T-Mo dead zone, make sure you have well-placed Wi-Fi routers if you're going to rely on Wi-Fi calling. This is not UMA, which T-Mobile has used in the past, so calls made on Wi-Fi can't transfer seamlessly to the cellular network.
The phone almost always held a strong 3G signal. Occasionally it dipped to EDGE, and data slowed considerably, but this was rare. Once or twice in my tests, calls would not go through, but I did not miss any incoming calls.
Battery
Battery life on the Motorola Defy is average for a smartphone. The phone can last a full day with no trouble, unless you start using GPS navigation or shoot a lot of photos with the camera. Even then, you could probably squeak through a work day without a charge and leave your charger next to the bed at home.
Touch
Touch sensitivity was no problem on the Motorola Defy. Occasionally, the homescreens might lag a bit behind my swiping actions, but this was usually just after I powered up the phone, while all the Motoblur widgets are synchronizing. Once that was done, the phone responded quickly.
The touch buttons beneath the screen and the capacitive screen itself both worked well when wet. Capacitive technology does not work fully submerged in water, but after a second or two out of the pool, the phone responded with no trouble, even while there were still large drops on the phone's face. So, this is not the phone for SCUBA diving, more for living through a rainy year in Seattle.
Basics
Menus
The Motorola Defy uses Android 2.1 with Motorola's newest Motoblur interface on top. For a more thorough explanation of Motorola's socially connected Motoblur, check out our reviews of the Motorola Droid X or the Motorola Droid 2, because the interface design is identical.
The Defy also uses the Motorola Family Room feature. Family Room groups together everyone it thinks might be in your family, based on names and other connections. You can double-check the list and add missing family members (it only found three or four out of two dozen family members on my phone). From there, you can send out blast email messages to the whole family, create a Google calendar for your family to share, and otherwise keep in touch. If you have a tight-knit clan, it's a nice system. Motorola could easily extend this feature for classmates, work colleagues and other friendly groups, but for now it's more automated for family needs.
The Motorola Defy is not a fast phone. The interface could feel quite sluggish at times, especially when my seven homescreen panels were loaded with shortcuts and widgets. Scrolling through long lists of apps or my contact list could be jerky, not fluid. Sometimes, I'd tap an app and nothing would happen. I'd tap again and the phone would freeze up for a few seconds, before returning to normal. This didn't hurt my average, day-to-day business, but occasionally it was frustrating.
Calls / Contacts
Calling
Making calls with the Motorola Defy is exactly like calling on the other recent Motorola Motoblur releases. At the bottom of the homescreen panels you get a phone icon and a contact icon. Tapping the phone icon takes you to whatever you were doing last in the Phone app. If you were using the dialer, that's what you'll see; if you were browsing the call log, you'll see the logs when you tap the phone icon.
When you place a call, if your party is linked to one of your social networks you'll see their last status update on screen as the call goes through. Otherwise, you get the same basic Android buttons on screen during calls, including a button for the speakerphone, Bluetooth, the dialpad and adding a call.
Contacts
Motorola's Motoblur interface can synchronize contacts with loads of different account types. You can sync with Exchange, Gmail, Yahoo Mail or even T-Mobile's own email and online address book service. You can sync with Facebook, MySpace, Twitter and even Last.FM. For photo sharing, you can sync with Photobucket or Picasa, though I'd like to see Flickr added, since that's my service of choice.
Once you've linked your preferred services to your contacts, the contact list offers tons of options. You can make calls or send messages, obviously. You can also view someone's Facebook profile or write on their wall (or 'poke' them, but nobody 'pokes' any more.) The address book doesn't play as nicely with Twitter, so you can't send @replies or direct messages from the contact list. You also don't get to see your contact's shared photos, like you can on HTC Sense devices.
Messaging
The Motorola Defy has a great assortment of messaging options, more than you'll find on most smartphones. The phone uses a Swype keyboard with a slightly improved look. Swype lets you draw a line from letter to letter to spell words, instead of typing letters individually. I like Swype, and even though I found some other aspects of the interface could be laggy to the touch, I never had problem with Swype recognizing my finger gestures.
The phone also uses a universal inbox. It excludes email, but gathers up all of your text messages, DMs from Twitter and messages sent through Facebook into one spot. So, it's more of a social inbox than a place to see all of your communication, but that fits with the Motoblur ethos.
SMS comes in a nice looking, threaded text messaging app, so you can see both sides of a text conversation at once. Pictures also show up among the conversation bubbles. The phone has great instant messaging support. You get Google Talk in its own app. Then there is a separate client that offers Yahoo, AIM, Windows Live and even MySpace messaging. MySpace messaging is still a rarity, even on smartphones, so it's a nice bonus. I think Facebook messaging would be an even bigger draw, however.
The phone can also handle email with two separate apps. A Gmail app is dedicated to Google's own mail service, and it has more robust features and a nicer interface than the more basic Email app, which handles Exchange, POP and IMAP accounts.
Social Networking
Motorola's Motoblur interface is made for social networking. At first, it can be confusing figuring out where to find the information you want, but after a while it starts to make sense. Motorola forks the social experience into three widgets. There is an outgoing message widget where you can post messages to all, or just one, of your social networks. There is an incoming message widget that lets you read all of the incoming messages from Twitter and Facebook. Then there is the more general feed widget that lets you see everything your friends are posting. All of these widgets look very similar on the homescreen, and instead of labeling them some obvious name like "incoming" and "outgoing," Motorola calls them "Social Networking" and "Social Status." Like I said, it's confusing at first, but Motorola lets you add a title to the widgets. So, when you tap a widget and start to flip through status updates on the cards that appear, you can see up top whether you're looking at private incoming messages or public posts.
The Motorola Defy does not come with the official Twitter and Facebook apps preloaded, but they are worth downloading from the App Market. They offer more features than the Motoblur interface, which is mostly useful for reading and sending messages, not searching profiles or keeping up with trending topics.
Extras
Music
The Motorola Defy comes with an improved music player, compared to the standard Android offering. Motorola calls it a "connected" music player, and that's not an inaccurate description. In addition to a standard set of playback controls, the player also automatically searches the Web for song lyrics. The feature was far from perfect, and when I veered toward the more obscure songs in my collection, the player reported lyrics could not be found. But when I wanted to sing along with the Beatles or M.I.A., lyrics were readily available.
You can also use the location-based service, Blip.fm, to post your current track on a map, which also lets you see what other users in your area are listening to. The service is popular enough that I found users in my town posting their current tracks. Like the basic Android player, the Motorola Connected Music Player can also search YouTube for music videos associated with your songs.
There are no advanced playback controls on the player, not even a repeat function. There were also no sound enhancements available. But the robust Internet options might prove more interesting to the social crowd Motorola is targeting.
Camera
Camera
The camera app on the Motorola Defy includes some interesting options and an innovative interface. The camera has a nice selection of scene modes and filter effects available, including modes for night shooting and fast action, as well as filters for black and white or sepia tones, among others. To switch between scene modes, you flick the viewfinder right or left, and the camera doesn't just tell you what mode you'll be using, it actually changes the viewfinder to reflect the new settings. So, when you switch to night mode, the viewfinder instantly gets brighter. This is a very cool way to help the user pick the right mode for the subject at hand.
There are few advanced controls beyond the automated scene modes; no white balance settings or ISO adjustments are available. The camera can auto focus, but without a dedicated camera button, you have to tap the screen and let the camera aim, then shoot. There is also no touch focus, a smartphone feature that lets you select your focal point by tapping the screen. Instead, you always have to center your main subject.
The camera was responsive enough, opening the viewfinder about three seconds after I tapped the camera app icon. After you shoot a picture, you get a chance to review the image. The camera will automatically start again unless you tap the image. Tapping brings up controls to share the picture with a number of services. You can even set a specific service as your default, then hit the Quick Upload button to send your photo on its way with little effort. If you do nothing, within a couple seconds you can start shooting again.
Image Gallery
The image gallery on the Motorola Defy is extensive, with plenty of sharing and editing options on board. For simple viewing, you can swipe from one photo to the next, or pinch to zoom in on a photo. Zooming could be jerky, but it wasn't hard to control with some practice. There is also a slideshow mode.
For the easiest photo tweaking, you can simply select a photo and choose Kodak Perfect Touch from the gallery menu. This is an auto adjustment mode, and it did help some of my images to improve dynamic range and exposure. Or, you can take matters into your own hands and open the advanced editing tools. From the advanced menu, you can crop and rotate, or adjust color, brightness and contrast. You can apply the same filter effects found in the camera app to turn your photo into a negative image, or apply other similar effects. You can also add a frame, some clip art stamps or text.
Image Quality
Photos
The Motorola Defy uses a 5 megapixel sensor for photo work, and images from the cameraphone did not look bad. Indoors, the camera had more trouble, with plenty of noise and grainy images that were less than impressive, but still usable for social sharing. Plus, the bright LED flash helped significantly, and it didn't throw off the camera's white balance. Outside, under bright sunshine, things looked much better. This is probably where the Defy's audience, adventure seekers and outdoor types, will take most of their photos, and here the camera did a much better job. Things were still a bit hazy, and I wonder if the water tight seal affected the clarity of the plastic in front of the lens. But even if these photos aren't print-worthy, I'd have no trouble sharing with my friends and social circle.
You can't really take photos underwater with the Motorola Defy because the shutter button is on the touchscreen, and the capacitive screen cannot register taps under water. In any case, the phone is only submersible to one meter, which is barely enough for a kiddie pool, let alone a snorkeling vacation.
Video
The Defy can shoot videos at VGA resolution. Videos did have some of the wavy quality you'll find on most camcorder phones, but it was not as pronounced as the worst I've seen. The phone did a fine job handling mixed lighting conditions, and at best, outside on a sunny day, colors looked bright and accurate. Sound quality recorded through the phone's mic was pretty good, though I still sounded a little distant in my sample videos.
Browse / Customize
Browse
The Motorola Defy uses the stock Android Web browser. It's a fine browsing app, and Web pages looked great on the phone, usually identical to their desktop counterparts. Most pages would display their full desktop version, but a few, including the New York Times, would only offer their mobile rendition on the Android browser. This is true for even the newest and most advanced Android phones on the market. Still, sites like CNN and our own PhoneScoop homepage came through just fine and looked great.
The browser was also plenty responsive to touch navigation. I flicked my way around long pages with little lag or delay. The browser was one of the more responsive features on the phone, when it came to touch input.
The Motorola Defy does come with Flash Lite 3.1 installed, but this is an inferior version of Flash, and it still leaves plenty of holes in the Web browsing experience. Videos on CNN refused to recognize Flash Lite as a Flash player, and when I did find Flash videos that would play, playback was choppy and unwatchable. The phone barely has the graphical power to run the Android interface and menus, so clearly Flash is out of the question.
Customize
Motorola's Motoblur interface offers extensive customization options on top of the already extensible Android OS. I'm a fan of the Motoblur widgets. I think Motorola has done great work with resizable widgets that adapt and change depending on how much screen real estate you give them. I also like some of the simple fixes Motorola has made. For instance, when you drag a Motorola widget on top of an existing object on the desktop, the object simply moves out of the way. On a stock Android build, you have to perform some real gymnastics to line up a full screen of apps how you like. On Motoblur, the process is much more adaptable and intuitive.
There are also a couple of surprising extras for customizing the Motorola Defy. You can adjust the phone's performance, switching from a power saving mode to a higher performance mode. I tested the phone mostly in the high performance mode, and I was able to eke out a day of battery life, though the performance was still unimpressive. You can also adjust the sound quality during phone calls. You can choose a more bass-heavy sound, or a brighter, more treble-rich sound, or something in between.
Extras
Bluetooth
My Bluetooth devices worked well paired with the Motorola Defy. I paired a Bluetooth headset, a set of stereo speakers and my Macbook laptop with the Defy. The headset sounded good. I did hear some static and the reception dropped off from time to time, but overall it was easy to carry on a conversation. In case you're wondering, reception dropped off worst when the phone was submerged, but that's probably an extreme scenario. Music sounded great through my stereo speakers. I was also able to quickly transfer a file from the photo gallery app to my laptop using Bluetooth.
Clock
Motorola offers a few nice timekeeping options with the Defy. The lock screen on the device offers a big clock that is easy to read. There is a clock in the menu bar, but Motorola also offers its own resizable clock widget. You can take up an entire homescreen panel with a calendar/clock combo, and with seven screens to fill, you'll probably have plenty of space left over.
GPS
The Defy comes with a couple of navigation options on board. Google Maps provides free turn-by-turn navigation with spoken directions. TeleNav offers a similar service, but you have to pay a monthly fee. Did I mention Google Maps is free? Easy decision, then. Google Maps works very well. The search function can't be beat, and Google is constantly improving its Places feature to offer more information and better filtering for search results. Using Google Maps, the Defy easily tracked me on a trip in and out of the downtown area. When I got lost, the phone offered course corrections in no time.
Other Extras
The Motorola Defy comes with a few media sharing options on board. There is a DLNA app, so you can stream multimedia files to DLNA-capable devices, like home theater systems, gaming consoles and even other phones. The phone also comes with Motorola's Media Share client, which lets you send pictures and sync media files with DLNA capable devices, on top of the basic DLNA streaming capabilities. None of my systems are DLNA capable, but the phone should allow you to share multimedia files, synchronize with a Windows computer and send pictures and other media files to DLNA-enabled phones.
Video Tour
Wrap-Up
The Motorola Defy is the perfect phone for the young adventure type. This isn't your father's rugged waterproof phone, big and covered in rubber and steel plate. This phone is sleek and attractive and light, but still tough enough to withstand an occasional dunk or being dropped on the trail.
Best of all, the Defy is a real smartphone. It doesn't run an old version of Android (though it doesn't run the newest version, either), and it doesn't slouch on fast data speeds or deep social networking integration. It's a fine, if somewhat underpowered, Motorola Motoblur smartphone, even before you take it for a dip.
The phone did give me some trouble. The interface could be sluggish. Wi-Fi never properly connected to my home network, which means I was left out of the Wi-Fi calling party. But in so many ways, from messaging to music to basic calling features and sound quality, the Motorola Defy gets it right. This doesn't top the best super phones on the market, but if you're willing to sacrifice just a little performance for impressive durability, the Motorola Defy is the best choice for you.
Question to the author, Phillip Berne
Hi Phillip,

Thank you for your review of the product. Having worked on this product myself, I find it surprising and troubling to note that you had issues staying up on WiFi and using the WiFi calling feature.

Do you mind sharing with me the model and specs of your router along with the firmware version running on it so that we can conduct further tests and make the product better than it already is? Thank you.

Regards,
-GC
I use an Apple Time Capsule as my home router. It's running Version 74200.9 of the AirPort software (also described as 7.4.2).

Good luck. The Wi-Fi issue was one of the few flaws I called out on this phone, it would be great to see that fixed.
Great all the construction workers on T-Mobile!!
Wait! Come on verizon and sprint get it together letting pink show you up!
Crack Addiction
interesting screenshot choice...