Review: Samsung Captivate
Form Basics Extras Video Wrap-Up Comments 27
Is It Your Type? Body The Three S's Touch
Jul 18, 2010, 12:31 PM by Eric M. Zeman
Phone Scoop takes the AT&T version of the Samsung Galaxy S — the Captivate — for a spin to see how well it performs. The display and battery life are amazing. How do the rest of the features hold up?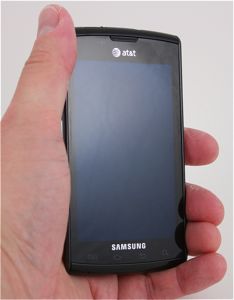 The Captivate is the finest Android device to become available from AT&T. If you're looking for solid performance all around, you can't go wrong with Samsung's top-of-the-line Captivate. There are a few things that prevent the Captivate from being 100% awesome, though. Find out where it falls short.
Since the Samsung Captivate and Vibrant are so similar, many parts of this review are identical for both the Captivate and Vibrant. The Body, Three S's, and Wrap-Up are all unique, but most other segments of both reviews are the same.
To change the bottom 4 icons is easy
Just a slight addition to your review
To change the bottom 4 icons on the main screen

Go to the applications list menu, hit the menu/options button, then edit- then you can change them 🙂
Its a bit difficult to get it to be as customized as you want, but it can be done- haha
Yes, changing the primary shortcuts is covered on page 29 of the user manual.

I wish the reviewer would have researched that a bit more before stating "These four icons can NOT be changed or altered..." I know there is a lot of stuff to cover w...
(continues)
I hope he edits his reviews to fix his error.
A clarification:

You must have the Application Menu in customizable mode. Do this by opening the Application menu (with the bottom right home screen icon), then hitting the physical option menu button on the phone, finally click view.

From there...
(continues)
Fast way to toggle swype/regular keyboard?
i enjoy using swype for texting, but have a hard time using it in the browser. is there a way to customize it so i can default swype for just texting, and use the regular keyboard in the browser, or is there a faster way to toggle them besides going into settings and changing the default keyboard.
Not sure what's harder about using the Swype keyboard in the browser (you can poke the keys just like the regular keyboard - you don't HAVE to Swype).

BUT, as far as a quicker way to change input types, whether it's the browser or a text message, t...
(continues)
connecting to PC??
i just got this phone 2 days ago, and have had a really hard time connecting it to my PC. There was no software in the box, so i figured it would be read as an external hard-drive, but nothing popped up when i connected it.

After some research, i downloaded Kies, but once I got it running, it said an update was available and then the update took 10 hours to finish and i had to go to work.

Any hints/suggestions???
as an update, i was able to connect the phone to my computer, but only once - every time i've tried since then has been nothing but a problem.

i've uninstalled kies and the drivers multiple times, pulled the battery of the phone, and any other norm...
(continues)
I would just like to point two things out
They compared the Vibrant to the obvious device, the iPhone; and that I get. But why not this phone, Am I the only person who finds this phone to be SPOT on for a Blackberry Storm clone? Same screen, same back, hell...the buttons might as well be the same.




Samsung, you clever devil.
Yeah but this screen works, unlock the Storms.
LOL, it's the SAME Review........
Read the Wrap-Up sections from this review and T-Mobile's Vibrant. It's almost word-for-word the exact review........... 😉
It's almost the same exact phone!
As stated in the 2nd paragraph, the reviewer acknowledges that much of the reviews are the same because the phones are basically the same:

"Since the Samsung Captivate and Vibrant are so similar, many parts of this review are identical for both th...
(continues)
Just got this phone Sunday 7/18
Ask away if you want more info.

so far i have Zero complaints.
I've been a blackberry user for the last 5 years and i just got this phone sunday, its awesome, still getting used to the touch scren.
As long as none...
...of that bloatware is running in the background...

Nice review.
Speaking of normal AT&T bloatware, does this phone have a built in task manager to control running apps or would a user need to download an app for that?

I am currently using a samsung mythic phone from AT&T and am due for an upgrade. I was waiting...
(continues)
No LED flash???
Did I see/hear it right? The Captivate doesn't have a LED flash for the camera?
Correct. The Vibrant and international Galaxy S don't have one, either.
Serious question here!
When updating this for froyo, will it remove touchwiz?
that's a good question. i wonder if theres a way to port htc sense onto this phone... but i doubt it. this will be my first android purchase!
If you hack it yourself, yes. If you wait for official update, no.
Just got mine.
Just got one yesterday when they came out. The screen on the phone is unbelievable. Really like it. Ill put up more when I've had more time to learn everything on the phone.
This phone should get a perfect score
Since the only thing he didn't like was the customization. This phone offers complete customization.
Sorry, but if you think the Captivate offers complete customization then you haven't used many Android devices.
It is a very nice phone that I would personally give 8/10.
The reviewer is wrong about changing icons!!
I don't know what the reviewer was smoking when he mentioned that you cannot change the icons. You CAN. That's what the quick guide is for.