Review: Samsung Captivate
Article Comments 27
Jul 18, 2010, 12:31 PM by Eric M. Zeman
Phone Scoop takes the AT&T version of the Samsung Galaxy S — the Captivate — for a spin to see how well it performs. The display and battery life are amazing. How do the rest of the features hold up?
Advertisements article continues below...
Form
Is It Your Type?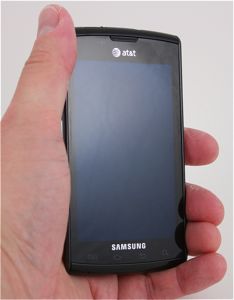 The Captivate is the finest Android device to become available from AT&T. If you're looking for solid performance all around, you can't go wrong with Samsung's top-of-the-line Captivate. There are a few things that prevent the Captivate from being 100% awesome, though. Find out where it falls short.
Since the Samsung Captivate and Vibrant are so similar, many parts of this review are identical for both the Captivate and Vibrant. The Body, Three S's, and Wrap-Up are all unique, but most other segments of both reviews are the same.
Body
The Captivate is a big slab of a phone. It's not as egregiously ginormous as the Droid X or EVO 4G, but it is big, just the same. It feels fairly light in the hand, but still solid and well made. Most surfaces are either plastic or glass, though the battery cover is metallic and covered with a soft touch paint job. That gives it a welcome grippy feeling. As far as looks go, the Captivate has a bit more personality and appeal when compared to its paternal twin, the Vibrant.
The front is dominated by the large touch screen. There are four capacitive buttons placed at the bottom edge to access the standard Android Menu, Home, Back, Search actions. These capacitive buttons were not quite as responsive as I would have liked. They do, however, offer the option to include haptic feedback (micro vibrations) when touched. For those who need a little bit more guidance, the haptic feedback can be helpful.
The volume toggle is on the left side of the phone and I can't say I care for it all that much. It's small-ish, and has minimal travel and feedback. The power/lock key is located on the right side of the phone. It is way too small and difficult to find. Samsung likes to place the power/lock key in this spot on many of its phones. Given the size and shape of the Captivate, it simply isn't all that comfortable to use.
The 3.5mm headset jack is located on the top of the phone, as is the microUSB port. The microUSB port is perhaps my favorite physical feature of the Captivate. It is covered by a little door. The door slides sideways to reveal the headset jack. Much better to use than those sometimes-tricky hatches.
The microSD card slot is located under the battery cover, but thankfully not under the battery itself. In order to remove the battery cover, you have to slide down the very bottom edge of the Captivate, which is a latch of sorts. Once slid open, the battery cover is free.
Slab-style phones are hard to make unique. The Captivate does a better job than the Vibrant, but it is still a bit on the conservative side.
The Three S's
Screen
What's not to love about Samsung's Super AMOLED display? It truly is beautiful. Colors literally jump off the screen. You want bright? Indoors the Captivate is so bright that you shouldn't be surprised if it attracts flies and moths. Outdoors, it is readable, despite direct sunlight and finger grime. It's not perfect, mind you, but you can interact with the phone and see what you're doing on most screens.
Sound
The Captivate sounds decent, but not amazing. During calls I placed, I noticed a slight muffled and digitized sound to voices. Those with whom I spoke reported the same. As far as volume goes, the earpiece volume is good. It was loud enough that I could hear calls over a noisy air conditioner in the same room. Ringers and the speakerphone may be problematic. The speaker for both is placed on the back of the Captivate. Since most users won't want to scratch the screen and will want to see the display, they'll naturally place it on surfaces with the back down. When placed on a hard surface, such as a table or desk, you're not going to have any problems. You'll hear it just fine. If you place it on a soft surface, such as a bed or couch, however, the volume is diminished enough that you might miss calls if you're in another room.
Signal
The Captivate did fairly well at capturing AT&T's signal, though it lagged the performance of some phones. In my tests around the metropolitan New York City area, it generally held onto three bars in areas where other phones held four or five. It waffled between two and three bars most of the time, and easily lost contact with AT&T's network altogether in some instances. Despite the iffy signal reporting, I didn't miss or drop any calls with the Captivate during my tests. I did notice inconsistent data speeds, however. Sometimes it was really fast, other times it was really slow.
Battery
The Captivate's battery life is astounding. With the cellular radio, Wi-Fi, GPS, and Bluetooth on, I was easily able to make it through two days of use. That's far and away better than most other Android handsets on the market. We can thank Samsung's Super AMOLED display a bit, as it sips power slower than other display technologies do. The results here are noticeable. Color me impressed.
Touch
The Captivate uses a capacitive display. I had zero problems with the performance of the main screen. It reacted every time I touched it. The capacitive touch buttons on the front were a bit inconsistent, however. I often had to press twice or thrice to spur them into action. Otherwise, it performed flawlessly.
Basics
Menus
The Captivate, like all its Galaxy S brothers, runs TouchWiz 3.0 on top of Android 2.1. TouchWiz 3.0 is leagues better than 2.0 was, but I still find it pointless and somewhat annoying.
First problem? The home screen. There are seven of them, each customizable, but only to a degree. Along the bottom of all seven home screens are four permanent app icons. They are Phone, Email, Browser, Main Menu. These four icons can only be changed when the main menu itself is set to "customizable." It's awkward and difficult to find. Adjusting these apps should be much easier.
Beyond that, the main menu looks different when compared to other Android handsets. Rather than a long, vertical menu, it is split into pages. Each menu page holds 16 apps (plus the four permanent icons). There are three such menu pages when you get the Captivate out of the box. The number of pages will grow as you add more apps. You swipe from side to side to access the different pages.
The main menu can be viewed in an alphabetical grid (stock), a customizable grid, or in an alphabetical list. The list is pointless to use, if you ask me, because the icons are so huge and the number of applications so vast that you'll scroll forever to find what you want. The customizable grid at least allows you to put apps where you want to. The process is identical to the way apps are rearranged in iOS. Copy much, Samsung?
My last complaint is that the icons in the main menu are all placed on dippy-looking colored tiles that look exactly like iPhone apps. The effect is this rainbow-smattered menu that is just too happy and cheerful for my tastes.
Samsung has also added some action tools to the drop-down notification shade. When you pull the shade down, you'll see controls to turn Wi-Fi and Bluetooth on/off, and set the Captivate to silent or vibrate. It's nice that Samsung buried them in the drop-down notification shade rather than take up screen real estate with them.
The rest of the menus for the settings and individual applications are exactly as on any other Android 2.1 device.
Performance (read: speed) is impressive all around. All applications open in an instant, and respond immediately to controls. The 1GHz "Hummingbird" processor that Samsung created for the Galaxy S line does a good job of giving the Captivate the oomph it needs.
Calls/Contacts
Calls
The Samsung Captivate's phone application appears to be the standard Android 2.1 phone application. From the home screen, press the phone icon and the dialer pops open. The dialer is the stock Android dialer. There is a large number pad in the middle of the screen, and there are four tabs along the top to access the call log, contacts and favorites. The Captivate offers haptic feedback when you dial numbers, which is a nice touch. Users can choose to disable that if they wish.
From the call log, press any call record quickly and it will open up the list of recent calls to and from that number, along with links to send that person a text message or view the full contact details. If you press and hold a call record, a menu screen pops up with a list of options, which include calling the number, deleting the call log and so on. To the far right of the call log is a green phone symbol. Press that if you want to start a phone call right away.
Contacts
The Captivate will import all your Google and Exchange contacts if you have them. Adding Facebook friends is optional. If you choose to do that, the contacts application is smart enough to add the Facebook profile photos to your existing contacts and merge them into one contact. So, if you're friends with Bobby Smith on Facebook and he's also a Gmail contact, you'll see only one entry for Bobby, not two.
In the contacts app, press the profile picture (or the little Android if there's no profile picture) and a little messaging menu pops up for that contact. If you have a phone number, it will show you the phone symbol to make a quick call, and you'll also have shortcuts to send your contact an SMS, write an email or go to the Facebook profile. If you know what you want to do when pressing a given contact, this makes the task just that much faster.
One interesting change here are some swiping actions that Samsung has added. When viewing you contacts in the main contact list, pick a contact and swipe to the right over the contact's name. That will automatically initiate a call to the default number in the contact's data. If you swipe to the left, it will automatically initiate a text message to that person's mobile number. Neat.
Alternately, if you press the area next to the profile picture/Android, it will simply open the contact's page. Use the menu key to make changes or perform other actions.
You can also choose to sort contacts via status updates and/or your most recent calling/texting history.
Messaging
The Captivate supports most forms of messaging you expect to find on a device such as this. There is the native Android Gmail app, of course, and thankfully Samsung hasn't done anything to alter or improve it.
There is also a separate email account for POP3/IMAP4. I couldn't get it to work at all. I tried a handful of POP3 accounts, and none of them were ever able to authenticate. I have followed up with Samsung about this issue and am still awaiting a response.
SMS/MMS is supported in the "Messaging" application. This app works well. It offers threaded conversations, and if your SMS conversations are with Facebook friend, you automatically see their profile picture next to each message. (Also true if you've set up a picture ID.)
The Captivate also has instant messaging on board. Google Talk is a separate application and is the native Android app. Samsung hasn't modded it. If you want to use AIM, Windows Live, or Yahoo IM, you have to use the AT&T-branded messaging application. It works the same as it does on AT&T feature phones. I have no complaints with this app, but it could use a refresh. It hasn't been changed in what feels like years.
Social Networking
All the Galaxy S phones will include Samsung's new Social Hub software. The Social Hub software works very similar to Motorola's Motoblur, or some of what HTC has done with Sense. In short, it collects all the updates from your Facebook, Twitter, and MySpace accounts and streams them to one spot on the phone. The appears as a widget on one of the home screens. It can be set to retrieve messages automatically only as often as once per hour, but there's a manual refresh button on the widget, too.
The widget creates a vertical timeline that you scroll through up and down to see what your friends are up to. It displays profile pictures, so you get a nice visual representation of your timeline, and also lets you access links, TwitPics, and other content embedded in tweets or FB updates.
There is a reply and re-tweet function also built into the widget, so interacting and responding to friends is easy. Users can also update one, some, or all of their social networks at once from the Social Hub app.
It's not perfect — for example, you can't send DM in Twitter — but it is easier to use than some of the other social streaming apps. It also looks fairly nice on the screen, and is easy to manipulate.
If you want to ignore the Social Hub, feel perfectly free to download the official (or third-party) Twitter, Facebook, and MySpace apps from the Android Market and use them separately.
Extras
Music
The Samsung Captivate has the best music player I've encountered on an Android handsets. The music player on the Captivate is the first I can remember to offer a "CoverFlow" like experience with album art — only it does it slightly differently. When held sideways, the, Captivate automatically switches to the CoverFlow view. Instead of square CD covers, users see the album art imprinted onto round CDs. It's visually unique and different, so I like it.
The base music player menus are pretty much stock Android. Using tabs across the top, users can sort through songs, albums, playlists, and artists. The real changes are to the settings and options offered by the Captivate.
The player itself has been refreshed a bit by Samsung. It's simply nicer to look at. The stock Android music player is drab and boring. This one has softer edges, and looks more modern.
Once you have some music playing, there are more options available in the settings. First and foremost, the Captivate actually offers an equalizer. The equalizer has eight pre-sets and one eight-band, user-adjustable EQ. That's the sort of thing that really makes me happy.
Beyond the EQ, it also offers effects to adjust the sound, including: Wide, Concert Hall, Bass Enhancement, etc. Being able to apply both the EQ and effects really lets users shape the sound how they want. Sure, this may be more then the average user wants or needs, but for those who care about how their music sounds, it is good news indeed.
Other features include the ability to fine-tune how the music player menu system appears, and turn on/off a visualization effect during music playback.
Camera
Camera
Samsung has borrowed yet more software from its actual camera products and carried them over to the Galaxy S line. The camera can only be launched via a software key on the Captivate's screen. Why there isn't a physical camera key is baffling. Samsung generally likes camera keys. Instead, users are stuck with on-screen controls only.
Once the camera is up and running, there are controls on the left and right side of the display to change the Captivate's settings. A focusing square is in the center of the screen. The Captivate lets users touch-to-focus, meaning if there's something in particular they want the Captivate to focus on, simply touch it on the screen and that's where it will focus.
The controls are extensive, and offer features such as Smile Shot, Panorama, Continuous; scene controls (notably, it includes one for "Fireworks"); white balance control; ISO (sensitivity) settings; metering and even image stabilization.
The most interesting feature is that the Captivate lets you fine tune the resolution it uses to capture photos. You have the standard 4:3 settings at 5, 3.2, 2, and 0.3 megapixels. You can also choose 16:9 wide screen settings, which are 4, 2.4, 1.5, and 0.4 megapixels.
The captivate takes about a second to focus before it captures images. The "shutter" button is placed at the bottom of the Captivate's display.
Gallery
The gallery application is the Cooliris-made one that's found on the HTC Nexus One. It offers stacks of photos that are organized by time/date. You can quickly jump back to photos taken months ago, and have an idea of when they were shot. It's a better way to to sort through a huge photo library, if you ask me, when compared to a huge grid of photos. Opening each stack of photos will show a grid, and then pressing in individual images will load them into the viewer.
Oddly, the Gallery features are really limited. You can share via Gmail, MMS, Picasa, AllShare and AT&T's for-a-fee Online Locker, but that's about it. There are no editing features to speak of.
Pictures/Video
Pictures
The quality of the images I captured with the Samsung Captivate was excellent. I was very pleased with all aspects. Focus was sharp, colors were true-to-life, white balance was right most of the time, and most images were free from grain and digital artifacts.
You'll easily want to share these images on Twitter, Facebook, and probably even Flickr. Are you going to print them out? Probably not, but you'll share them just the same.
Videos
Video looked fantastic. Sharp as heck. No artifacts. No real waviness or weirdness. Just clean, good-looking video. I did notice that sound was a little rough, though. The Captivate's microphone might be a little too sensitive, as I heard some distortion from time to time.
Browse/Customize
Browser
The Samsung Captivate relies on the stock Android browser for its main mobile web browsing tool. You can use your finger to navigate around web pages directly on the screen, and do things such as pinch-to-zoom or double-tap to pan in and out. There is a full list of settings that let you customize how the browser operates (such as enabling / disabling JavaScript, managing passwords and privacy).
As far as performance goes, I had a few data slowdowns in areas with poor coverage, but it performed well enough most of the time.
Customize
Here's one area where the Captivate really falls flat. Most Android devices I've used allow users to customize the heck out of them. There's no customizing with TouchWiz 3.0. Sure, you can change the wallpapers, and the ringers, and the alerts and a number of deep-down settings. You can delete unused home screens. You can rearrange the main menu.
But you can't change the theme. You can't change the basic colors or appearance of the main menu icons. If you don't like the way TouchWiz 3.0 looks, there's nothing you can do about it.
Bloatware
AT&T has stuffed the Captivate with a lot of unnecessary bloatware. There are probably a dozen applications stuck on the Captivate that are useless and will go unused by most customers. This wouldn't be a problem if you could delete the bloatware. You can't. As with the bloat AT&T left on the Motorola Backflip, the bloatware on the Captivate is there to stay.
It clutters up your menu and eats away at memory that could be used for other applications. This would be a bigger issue if the Captivate didn't offer such a large amount of memory for applications. It's more an annoyance than anything else, but still.
Extras
Bluetooth
The Captivate is one of the first phones to ship with Bluetooth 3.0+HS. Bluetooth 3.0+HS is supposed to allow devices to pair and connect via Bluetooth, and then establish a Wi-Fi link between them for faster file sharing. It took some time, but eventually I got it working. Using just regular Bluetooth, I sent a 6MB MP3 file from the Captivate to the Vibrant. It took just over one minute. I then turned on the Wi-Fi for both devices and sent a different 6MB file. This time, the transfer took 5 seconds. I think I am going to like Bluetooth 3.0+HS very much.
It also supports regular pairing with mono and stereo Bluetooth headsets. This feature functions perfectly well. Call quality was good through mono headsets and stereo music playback was OK, but not stellar. I was able to pair it with several PCs, and pass image files back and forth without too much trouble.
Clock
As with many Android phones, the time is displayed in a large digital read-out when the screen is woken up. Pressing any button wakes the screen, and you can easily read the time from an arm's length away.
Navigation
The Captivate comes with both Google Maps and AT&T Navigator. Google Maps is free, and at this point is a known entity. It offers simple-to-use features, free turn-by-turn navigation, and generally works well. AT&T's Navigator software commands a monthly fee, and does the same things. Since to me there's no real advantage to either, you may as well stick with the free Google Maps. If you find it isn't enough, you can always try AT&T's software.
MediaHub
The Galaxy S line of phones will all come with Samsung's MediaHub software on board. This piece of software is a place for users to search for, buy and download content, such as music and movies. The service isn't up and running yet, so I couldn't test it. Samsung couldn't say if/when it would go live for U.S. customers.
Swype
Out of the box, the Vibrant runs Swype's predictive text entry software. After many trials and tribulations, I've decided it's just not for me. Thankfully, you can go with either the stock Android keyboard or the Samsung keyboard. Both are decent alternatives. Swype, though, might work well for many users.
Video
The Captivate comes with AT&T's Mobile Video service as well as MobiTV on board. AT&T's Mobile Video lets users access free streaming video clips. Quality was terrible. Stuttery, heavily pixelated, and off-beat sound. MobiTV requires a subscription. In the trial that I ran, quality was better than AT&T Mobile Video, but it was still garbage.
Video
Wrap-Up
The Captivate is no doubt the best Android handset available from AT&T. It beats the Aria and Backflip hands down on many levels. It easily offers one of the best displays available in AT&T's entire offering. Some may not like the large size of the device (a result of the large display), and those people could be happy with the smaller Aria.
The media performance of the Captivate is above par for Android devices. Additions to the music player software are welcome and appreciated. The camera software is more advanced, and happens to take great pictures, too. Even video captured with the Captivate is good.
Browsing is decent, calls are decent, battery life is outstanding. Those are all things to like.
My complaints are mostly with the menu system, and the locked-down version of Android that comes with the Captivate. It simply isn't as flexible and customizable as many of the competing Android handsets (and I personally don't like the way it looks.) However, many people may have no problem with it.
If you've been cold on AT&T's Android lineup to-date, the Captivate is something to get red hot about. Well, maybe a nice warm orange. Either way, it's the best Android phone AT&T has offered yet.
To change the bottom 4 icons is easy
Just a slight addition to your review
To change the bottom 4 icons on the main screen

Go to the applications list menu, hit the menu/options button, then edit- then you can change them 🙂
Its a bit difficult to get it to be as customized as you want, but it can be done- haha
Yes, changing the primary shortcuts is covered on page 29 of the user manual.

I wish the reviewer would have researched that a bit more before stating "These four icons can NOT be changed or altered..." I know there is a lot of stuff to cover w...
(continues)
I hope he edits his reviews to fix his error.
A clarification:

You must have the Application Menu in customizable mode. Do this by opening the Application menu (with the bottom right home screen icon), then hitting the physical option menu button on the phone, finally click view.

From there...
(continues)
Fast way to toggle swype/regular keyboard?
i enjoy using swype for texting, but have a hard time using it in the browser. is there a way to customize it so i can default swype for just texting, and use the regular keyboard in the browser, or is there a faster way to toggle them besides going into settings and changing the default keyboard.
Not sure what's harder about using the Swype keyboard in the browser (you can poke the keys just like the regular keyboard - you don't HAVE to Swype).

BUT, as far as a quicker way to change input types, whether it's the browser or a text message, t...
(continues)
connecting to PC??
i just got this phone 2 days ago, and have had a really hard time connecting it to my PC. There was no software in the box, so i figured it would be read as an external hard-drive, but nothing popped up when i connected it.

After some research, i downloaded Kies, but once I got it running, it said an update was available and then the update took 10 hours to finish and i had to go to work.

Any hints/suggestions???
as an update, i was able to connect the phone to my computer, but only once - every time i've tried since then has been nothing but a problem.

i've uninstalled kies and the drivers multiple times, pulled the battery of the phone, and any other norm...
(continues)
I would just like to point two things out
They compared the Vibrant to the obvious device, the iPhone; and that I get. But why not this phone, Am I the only person who finds this phone to be SPOT on for a Blackberry Storm clone? Same screen, same back, hell...the buttons might as well be the same.




Samsung, you clever devil.
Yeah but this screen works, unlock the Storms.
LOL, it's the SAME Review........
Read the Wrap-Up sections from this review and T-Mobile's Vibrant. It's almost word-for-word the exact review........... 😉
It's almost the same exact phone!
As stated in the 2nd paragraph, the reviewer acknowledges that much of the reviews are the same because the phones are basically the same:

"Since the Samsung Captivate and Vibrant are so similar, many parts of this review are identical for both th...
(continues)
Just got this phone Sunday 7/18
Ask away if you want more info.

so far i have Zero complaints.
I've been a blackberry user for the last 5 years and i just got this phone sunday, its awesome, still getting used to the touch scren.
As long as none...
...of that bloatware is running in the background...

Nice review.
Speaking of normal AT&T bloatware, does this phone have a built in task manager to control running apps or would a user need to download an app for that?

I am currently using a samsung mythic phone from AT&T and am due for an upgrade. I was waiting...
(continues)
No LED flash???
Did I see/hear it right? The Captivate doesn't have a LED flash for the camera?
Correct. The Vibrant and international Galaxy S don't have one, either.
Serious question here!
When updating this for froyo, will it remove touchwiz?
that's a good question. i wonder if theres a way to port htc sense onto this phone... but i doubt it. this will be my first android purchase!
If you hack it yourself, yes. If you wait for official update, no.
Just got mine.
Just got one yesterday when they came out. The screen on the phone is unbelievable. Really like it. Ill put up more when I've had more time to learn everything on the phone.
This phone should get a perfect score
Since the only thing he didn't like was the customization. This phone offers complete customization.
Sorry, but if you think the Captivate offers complete customization then you haven't used many Android devices.
It is a very nice phone that I would personally give 8/10.
The reviewer is wrong about changing icons!!
I don't know what the reviewer was smoking when he mentioned that you cannot change the icons. You CAN. That's what the quick guide is for.