Hands-On with Samsung's Galaxy S Phones for the US
Galaxy S series Differences Video Comments 24
Jun 30, 2010, 12:22 AM by Rich Brome & Eric M Zeman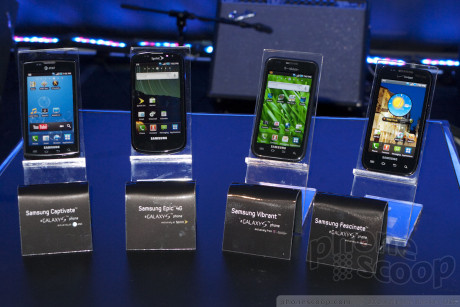 Hands-on with the new Samsung Galaxy S series phone, including the Captivate for AT&T, Fascinate for Verizon, Epic 4G for Sprint, and Vibrant for T-Mobile.
Announced over the past few days, Samsung on Tuesday officially unveiled the Galaxy S series of high-end Android phones for the US market at a press event in NYC: the Captivate for AT&T, the Epic 4G for Sprint, the Vibrant for T-Mobile, and the Fascinate for Verizon.
It's unprecedented for a manufacturer to launch a high-profile phone for all four major US cell phone carriers at the same time. Sure, some phones like the RAZR made it to all carriers, but it took a while. And while these four phones do have differences, a close examination reveals enough similarities to make the Galaxy S heritage clear. They may not be identical quadruplets, but fraternal, perhaps.
The Vibrant for T-Mobile will ship first - in July - followed by the models for other carriers "in the coming months". That makes sense, since the Vibrant is the US model most like the Galaxy S model for international markets.
All four phones sport a huge 4-inch "Super AMOLED" display, which is a fancy way of saying Samsung's latest generation of OLED displays. (Unlike most other manufacturers, Samsung does actually make it own display components, which gives them a distinct advantage.) It's big and gorgeous. Samsung claims 30% better color reproduction compared to LCD and a 50,000:1 contrast ratio. Indeed, colors are amazingly saturated and really pop.
The other key feature shared by all four models is the 1GHz "Hummingbird" Cortex A8 processor. This should offer impressive speed. Together with the phone's GPU capabilities, it can encode and decode 720p video at 30 frames per second, meaning HD video can be captured and displayed smoothly.
All Galaxy S phones are remarkably thin and light. They're also all plastic, which combined with the light weight, makes them feel a bit "cheap", at least compared to some competing phones that are clad in more metal and glass. But that's not to say the Galaxy S phones feel poorly-built; quite the opposite, they feel well-made.
The Galaxy S phones for the US all have a row of four touch keys below the display. That's not unusual, but we'd much prefer physical keys. Unfortunately, all four US models lack the one big physical key on the front of the international Galaxy S; it's a frustrating omission.
Also on the hardware side, all four have Bluetooth 3.0, a first in the US. They also sport Wi-Fi 802.11n plus DLNA for streaming HD video to your HD TV wirelessly. You'll also find a memory card slot and GPS navigation on all four, plus a six-axis motion sensor, enabling advanced motion-based gaming.
All include standard connectors on the top, including a 3.5mm audio jack for your favorite headphones, and a micro-USB jack for charging and transferring data.
All include a 5-megapixel auto-focus camera. Not all include an LED flash or dedicated camera button. However, they do all include Samsung's most advanced camera software to date. It's easy to use and has every feature you can imagine plus the kitchen sink, including touch-to-focus, face detection, smile detection, and blink detection, where you pose for a self-portrait, blink when you're ready, and it takes the photo a second later. There's also an advanced automatic panorama mode where you just press once to start the panorama, then sweep the camera to the right. As you sweep, a big green box and yellow arrows help you line up the next photo, but as soon as it's lined up, it automatically takes the photo and you just keep moving the phone to take the whole panorama. When it's done, it stitches them all together for you.
All Galaxy S phones run Android 2.1 from day one, and are upgradeable to the brand-new Android 2.2 OS software from Google. They all sport Samsung's interface customizations on top of Android, which include some social-networking widgets and a main menu with pages of icons that you swipe side-to-side exactly like an iPhone. Each model has its own unique unlock screen. The Vibrant has a very cute one where you put a puzzle piece in place to unlock it. Most other parts of the interface seem to be relatively standard Android.
Captivate availability @ AT&T
🙂 Finally launched 7/18. Should be in most
stores by Friday 16th, not sure if they'll
hav'um out for display or not. 😎
Captivate
This is going to be my next phone, I wish AT&T would hurry up and release it.

P.S. I wish AT&T would have gotten the one with the keyboard.... ☹️
This phone is going to be awesome
talking and surfing at the same time on this "gsm" device makes it the best phone of all four
iPhone 4 killer 😎 With Hummingbird A8 1GHz
processor, 720P video @ 30fps, 3D capability,
Surround sound, 512mbs ram, 4" Super AMOLED
screen, 5mpx autofocus camera (With killers
features), 16GB internal storage & up to 32GB
external storage, 150...
(continues)
Oh hey, T-Mobile gets a good Android we can actually **sell**!
I've been so incredibly tired of customers coming in looking for the Nexus 1, Finally we have a phone that kicks the pants off of a lot of other Androids on the market!

Now for the price points! **crosses fingers**
Don't forget HD2, which was sold out in few hours at launch day.
I wish it had 3.75G though.
price point should be low considering they used cheap looking plastic to design the phone
T-Slowble ?
I agree that this article was a very good job considering it was presented soon after the Samsung launch party. Well done Phone Scoop.

My bias is however tainted by T-Mobile who have opted for the cheapest version of the four available with Verizon out ahead again.
The result is that T-Mobile still do not have a 1GHz/8MPix with flash Android phone.
As a consumer I have to ask myself, is the additional cost of Verizon not the better option for the higher quality of devices found there? My contract expires soon.
what are you talking about? this phone has a 1ghz processor, just no 8mpix camera but its not about how many mpixle's you have, you get better pictures with better sensor's. I bet the pictures and the 720p video recording are going to be awsome...espe...
(continues)
Thanks! Glad you liked the article.

Were you comparing the Vibrant with an HTC or Motorola phone on Verizon? Because the T-Mobile and Verizon Galaxy S phones have the same processor and camera (flash aside.)
Did you read the article or are you just trying to find a place to complain about t-mobile?
So Impressed with Sprint!
Wow; I mean seriously

Their network is amazing; voice wise only behind Verizon

However you can argue they def. have the best overall network since their voice (dropped calls) are ranked #2 and their the only ones with 4G (33+ cities, 14 more by summers end, and 120 million people covered by end of year)

Also their plans are $30-$40 cheaper a month for similar devices VS. AT&T & Verizon

And with the EVO & Now EPIC (being the most unique new Samsung) you really cant go wrong with Sprint as a carrier

I'm extremely impressed.
I agree...

I am really considering changing over to Sprint. I just have to find out when my contract with AT&T expires. Then I will most likely opt out and get the Epic.
I also Agree...

Sprint definitly needed a phone that could replace and surpass the moment and this will be that device.

In my opinion the epic and captive seem to be the better looking of the 4. Verizon and T-mobiles versions look rather cheap ...
(continues)
I am not impressed with Sprint in my area. They have lost roaming agreements with a local carrier that owns towers, and are suffering. I have little to no coverage anywhere except on the highway, and the city I live in has 100k people in it. Extremely...
(continues)
Pre order for Vibrant start today - July 1 2010!
Pre-order your Vibrant today - starting July 1 2010. Phone is scheduled to be released on July 21.
Beautiful hardware...
...but I'm more interested in Samsung's Bada handsets.

Excellent article & video, gentlemen.