Review: Samsung Epic 4G
Form Basics Extras Video Tour Wrap-Up Comments 100+
Is It Your Type? Body The Three S's Touch
Aug 19, 2010, 11:58 PM by Philip Berne
The Samsung Epic 4G brings a slide-out QWERTY keyboard to Sprint's 4G lineup and to Samsung's Galaxy S family. Does this super powered Android live up to its name?
Advertisements article continues below...
Is It Your Type?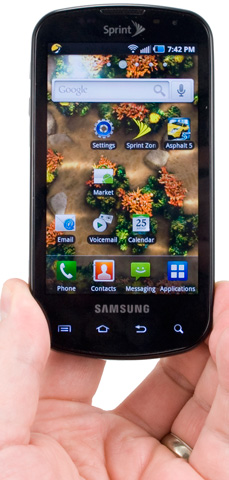 The Samsung Epic 4G is the only 4G phone on Sprint's lineup with a full QWERTY keyboard, and the only Samsung Galaxy S phone in the U.S. with the slider option. It packs the power and the bright, colorful Super AMOLED screens of the Galaxy S family with a huge keyboard hidden away. Though it's a large phone, the nicely rounded edges and fast performance should make it appealing to a wide audience.
epic vs. evo
so im on the fence about which to get. ive seen the evo and played with it a bit, it seems fast, pretty smooth with everything, and the cameras and video recording is pretty beast. but it lacks the keyboard that i so love. and from the reviews, i hear mostly amazing things about screen and speed for the epic, but its lower resolution camera lacks the clarity that a 5mp should have. and the wifi seems to lack the evo as well. i pray they get around to fixing that but with the amoled screen the battery is supposed to last a while longer than the evo. what r u guys going with, have, or recommend?
How can people have a phone that isn't released until the 31st?
Well I have the Evo and I love it! As far as the kb I came from using a palm treo 750 and also own a pixi, and its true after using the on-screen kb on the Evo for a couple of days there's no need to go back to a physical kb, though it is nice to have...
(continues)
Avatar Movie
Where is it? I was under the impression that it was coming preloaded on the epic? Here is a vid of a Sprint REP playing the movie in a review yet I can't seem to find this Video player that he clicks on...(Its not media hub)
http://www.youtube.com/watch?v=Ph3maKqUrCs »
(skip to 6:30)
Avatar only came preloaded on the T-Mobile Samsung Vibrannt.
Fireworks Through a Screen Door
The Samsung Super AMOLED displays are like looking through a screen door.

Although everything looks very 'poppy' , this is the worst screen of anything this resolution. The Droid Incredible has a 'slight' screen door effect- on the Epic 4G it's -significantly- worse than any other phone sold today in that price range, especially with any white/black text combination.
yes bluecoyote we know its not an iphone, you can relax none of us accused you of thinking this is a better phone
blah blah blah....

I can't wait to see this phone in action.
no review of the front-facing camera, a major feature
Maybe it was in the video tour section, which I skipped, but otherwise the reviewer totally skipped over one of the most important features of this phone. I'm still shaking my head over that, and have to give this review an 'F' grade for such a massive blunder.
Nobody wants to video chat with you anyway!
There was one picture under the picture section that was taken with the FFC.
Swype
I read through the review but didn't see anything about this feature, i recieved information on the phone and they list Swype messaging as a feature, i've never heard of this so i was wondering what this featue is and how it works.
A friend has informed me on this feature.
Enough already
Enough with the iPhone 4 comparisons, Im tired of hearing what the iphone has over this phone (or any other) or not. Its not trying to be, mimic or operate like a stupid iPhone. Some of us never owned an Iphone in the first place, nor want to. Every phone review that has to compare to the iPhone is biased and garbage. Please reviewer give us a honest review for once.
Agreed! Its like comparing a supercar with a speedboat. Even though both are vehicles, they still are two completely different things and there should be no reason for compare or contrast. This whole IPhone thing going on needs to stop because, this c...
(continues)
"Every phone review that has to compare to the iPhone is biased and garbage"

It was compared to the other Galaxy "s" phones;

" only Samsung Galaxy S phone in the U.S. with the slider option"

It was compared to the "droid" line-up on ...
(continues)