Review: Samsung Epic 4G
Article Comments 31
Aug 19, 2010, 11:58 PM by Philip Berne
The Samsung Epic 4G brings a slide-out QWERTY keyboard to Sprint's 4G lineup and to Samsung's Galaxy S family. Does this super powered Android live up to its name?
Advertisements article continues below...
Form
Is It Your Type?
Is It Your Type?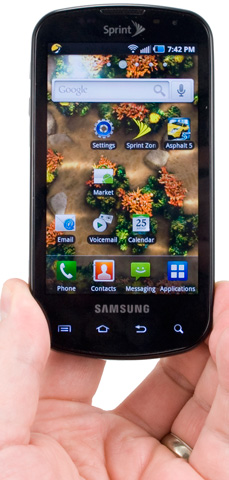 The Samsung Epic 4G is the only 4G phone on Sprint's lineup with a full QWERTY keyboard, and the only Samsung Galaxy S phone in the U.S. with the slider option. It packs the power and the bright, colorful Super AMOLED screens of the Galaxy S family with a huge keyboard hidden away. Though it's a large phone, the nicely rounded edges and fast performance should make it appealing to a wide audience.
Body
The Samsung Epic 4G is a big phone with rounded edges. There are no right angles on this device, which I think makes it a nice contrast to the more masculine Droid phones or the sharper Evo 4G. It's large, with plenty of blank space above and below the screen, but it did not feel heavy. With the plastic coating all around and the lighter weight, the Epic 4G might fool you into thinking it's a cheap phone, until you turn it on and that fantastic Super AMOLED removes all doubt of its worth.
The phone slides open with a reassuring snap to reveal one of the largest phone keyboards I've ever seen. It's a 5-row monster with a full number row up top, and duplicates all of the four basic Android keys on the periphery: Menu, Back, Home and Search. The keyboard is very comfortable for typing, and with just a little practice I was able to take my eyes off the keys and still avoid too many errors. My only complaint is with the paint job. The keys and the background are the same color black, so it's hard to see where keys end. Throw in the bright yellow Fn options next to each letter, and the keys can be hard to discern at a quick glance. It was almost easier for me to memorize the layout and type without looking, since the symbols added some confusion as I watched myself type.
Taking a tour of the externals, on the right side you'll find a camera button and a screen lock / power button. The camera button works in two stages, so you can press halfway to focus then press the rest of the way to shoot. On my test unit, this button would stick quite often, and when this happened all of my shots were out of focus.
On the left side you'll find a large, rubbery volume rocker that is very easy to find without looking. Up top, there's a microUSB port with a sliding cover to protect the port from dust. I'd rather have this port somewhere else. It's difficult to talk on the phone with a power cord connected to the top. There's also a standard, 3.5mm headphone jack.
The Three S's
Screen
Holy cow. The first time I turned on the Epic 4G, my jaw dropped. The Super AMOLED screen puts almost everything else to shame. The iPhone 4 has better pixel density, so you might see some faint jagged edges or a slight screen door effect on the Epic 4G. But the color and contrast on the Samsung Epic are beyond compare. Blacks are dark and inky and colors pop off the screen. The iPhone 4 looks like a magazine. The Epic 4G looks like fireworks. Outside, the Super AMOLED, which is supposed to be improved over regular AMOLED in its outdoor performance, delivered on its promise. On a bright, sunny day, it looked better than any other phone I have on hand.
Sound
Sound quality on the Samsung Epic 4G was very good, but not perfect. Voices sounded clear, but clipped a bit on the high and low end, giving them a somewhat lifeless quality. It was never a serious problem, and conversations were trouble free, but I've heard better recently, especially on the Motorola Droid 2. Ringtones sounded great, but the volume was not blisteringly loud like I prefer. I could usually hear the phone across my house or buried in a backpack, but not always. This also affected the speakerphone. Sound quality on speakerphone calls was great, but volume could have been improved. The phone's vibration alert should also be much stronger; it was difficult to feel in a stuffed pocket.
Signal
The Samsung Epic 4G did a fine job connecting to Sprint's EV-DO rev. A network. On the fast 3G network, my calls always went through with no trouble, and data connections were fast and reliable. It also did a nice job finding the 4G WiMAX network, even though coverage is spotty in my area. In side by side tests with the HTC Evo 4G, the two phones always found signal in the same spots.
4G connection speeds were impressive, but in my tests with the speedtest.net app, the Epic 4G always lagged behind the Evo 4G, sometimes considerably. When the Evo 4G registered 6 Mbps downloads, the Epic 4G was in the high 3 Mbps range. However, Sprint has always disputed the test results from speedtest.net in measuring their 4G service, and in real world tests, the Epic 4G had no trouble keeping up while loading large Web pages or downloading huge apps from the App Market.
Once I turned on the 4G radio, I expected the phone to continuously search for a network connection, but this did not happen. My home office is in a small dead spot, but two blocks away I get great WiMax reception. When I fired up the 4G at home and then left to find a signal, the phone would never grab onto the service. I always had to turn the radio off and on again to establish a connection. This means as you move around, you'll often be stuck on the 3G network even when 4G signal is available, unless you fiddle the settings constantly, or Samsung fixes this issue.
I had some trouble with Wi-Fi on this phone. Occasionally, the connection would simply stop working, and I had to turn the radio off and then on again to reestablish the link.
Battery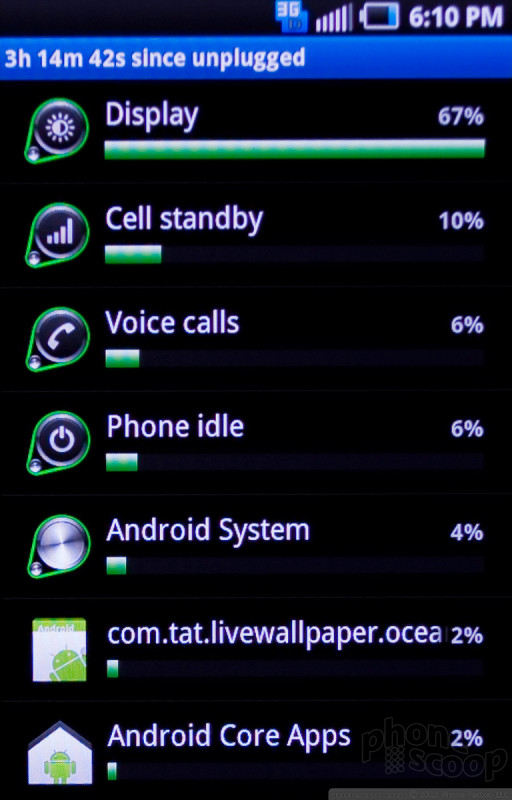 Battery life on the Samsung Epic 4G was pretty good. It wasn't the longest lasting battery I've used, but the Epic 4G beat the Evo 4G handily in side-by-side tests. Without the 4G radio turned on, but with Wi-Fi active, I had no trouble getting a full day's use out of the Epic 4G. It would be best to think of 4G on this phone as a luxury. When the phone is actively connected to a 4G network, the battery drains very quickly, within a few hours.
Touch
The Samsung Epic 4G is very sensitive to touch input. On every screen, from the multi-panel home screens to the long contact lists, the phone responded instantly to my touch with no lag and no mistakes. Multi touch gestures like pinching to zoom on Web pages and photos also worked smoothly.
The touch sensitive buttons beneath the screen gave me some trouble. During my review period, I used two different units. On one, these buttons hardly worked at all; the unit was clearly defective. On the other, the buttons were much more responsive, but still not as fast as I'd like. I've never preferred touch buttons to real hardware keys, and I wish Samsung had used physical buttons beneath the screen on this phone.
Basics
Menus
For years I complained about the lousy TouchWIZ interface on some Samsung phones, and the company has finally toned it down to the point it's practically an interface theme with no real changes to the organization or design of Android. While my colleague Eric Zeman found the colorful app icons a bit too cheery for his taste, I like the big, finger friendly square with their colored backgrounds. On the dazzling Super AMOLED display, more color is always a good thing.
The Epic 4G offers a seven panel home screen that you can fill with app icons, widgets and shortcuts. At the bottom of every panel lies a persistent row of shortcuts for the phone, the contact list, the messaging app and the application menu. I'm not sure why Samsung doesn't let you customize this group with your own favorites, since it seems to be a customizable option on the Samsung Vibrant, another Galaxy S phone, but you're stuck with what they offer.
Beyond the look of the home screen and the application menu, which swipes horizontally on this phone instead of vertically, the interface is mostly unchanged from the basic Android 2.1 designs. Pulling down the notification shade from the top also exposes a row of buttons to control the radio, including Wi-Fi, Bluetooth, 4G and GPS. Otherwise, some of the worst aspects of Android remain. The settings menus are still a boring list of white text on black background, with a feel that is much more BlackBerry than Android.
Strangely, after a couple days using the Epic 4G, when I pressed the home key it would always ask me if I wanted to "Complete action using" Home or TwLauncher. I assume the latter stands for TouchWIZ launcher. The former turned out to be a three panel home screen with no icons at the bottom and a more standard Android app drawer. I asked the phone to use the TwLauncher by default, but it was never able to remember this preference, and every time I pressed the home key I was asked to choose my launcher. This behavior seems like a bug and hopefully Samsung will fix this in the future.
Calls / Contacts
Calling
The calling experience on the Samsung Epic 4G is nearly identical to other Android phones. Samsung has tweaked the interface design just slightly so the dialpad and in-call buttons look different, but function no better or worse than my other Android handsets. I found the dialpad lagged a bit to the touch, which is surprising because lag is a foreign concept on this speedy phone. But I did not miss any numbers, they just popped up a bit slower.
When you receive a call, the Epic 4G gives you a cool screen where you can drag your caller's contact photo to buttons that let you answer the call, ignore it or ignore and send a text. Once you've placed a call, you can use onscreen buttons to activate the speaker phone, mute the call or send the audio to a Bluetooth device. You can also add a third call for a conference. When you end a call, you get an immediate option to follow up with return call or a text message.
Contacts
Samsung has made some changes to the basic Android contact list with social networking in mind. The efforts are not quite successful. The main contact list is divided into Contacts, Groups and Activities. The latter provides the same information and capabilities as the Feeds and Updates widget that Samsung offers for social networking, basically a long list of status updates with reply options.
Individual contact cards have plenty of space for personal info like e-mail, phone numbers and postal addresses, among numerous other fields. Cards also have tabs for Activities and Media. I assume these should be populated with information from my social networks, but these tabs were blank for all of my contacts. The phone was supposed to synchronize my Facebook and Twitter friends, but they did not show up in my contact lists. This is especially odd, since the Activities tab on my global Address Book was filled with updates, but none of these folks were added to my contact list. Also, none of my existing contacts were linked properly to their Facebook profiles, which meant I was missing a ton of contact photos.
Messaging
For messaging and social networking, the Samsung Epic 4G doesn't venture far beyond the standard Android formula. Google services get their own app, everything else is sort of lumped together. The Gmail app looks great, as always, and provides just a bit more functionality than the standard Email app, which lets you also add POP3, IMAP4 and Exchange accounts. Google Talk gets its own app, and that's the only option for instant messaging out of the box, though there are plenty of options, both free and paid, available from the Google App Market.
The basic Messaging app for SMS and MMS messages looks clean and polished. Text and MMS multimedia messages show up in a threaded format so you can view an entire conversation in one stream. Unfortunately, I had a lot of trouble with MMS messages. A few of my outgoing picture messages never went through. Incoming messages had trouble, as well. The phone would not display incoming pictures in line with the threaded conversation, even though outgoing pictures were so displayed. A few times during my test run, when I tapped the download link for incoming pictures, nothing happened. Other times, the camera mistook single images for a slideshow.
For social networking fans, Android comes with some built in sync options for Facebook and Twitter that are supposed to let you synchronize your social network address book with the contact list on your phone. As I mentioned earlier, this didn't work for me, but hopefully this issue will be resolved. The Epic 4G also comes with the official Facebook app installed, but you'll have to download a Twitter app from the App Market. Not a big problem, since there are plenty available for free.
Otherwise, Samsung also offers a Feeds and Updates widget that retrieves recent updates from Facebook and Twitter. I liked this widget very much. It looks great and it goes beyond the capabilities of many other social widgets I've seen. You can update your own status from the widget, or you can add comments to someone else's update. You can also retweet a twitter message directly from the widget. My only complaint is that the widget is supposed to update on a schedule, but even though I asked it to update every 30 minutes, after 4 hours the widget had not retrieved any new messages from my feeds.
Extras
Music
I was very disappointed to find the stock Android music player on the Samsung Epic 4G. It's not terrible, I actually like some of the features, like the ability to search for more music online and on YouTube directly from the player. But it's very basic, lacking in advanced playback features. The interface is touch friendly, but very bland. Samsung has created better music player designs for other TouchWIZ phones in the past, and while I'm happy to let most of TouchWIZ remain in the past, I miss the music players.
In terms of hardware, the Epic 4G is loaded for bear. The phone comes with a plentiful 16GB microSD card already loaded into its slot, just beneath the battery cover. There's a headphone jack up top so you can plug in your own earbuds. The phone also supports stereo Bluetooth, and music sounded great playing through my Bluetooth speakers.
Camera
Camera
The camera on the Samsung Epic 4G springs to life quickly, in about a couple of seconds, when you hold down the button on the side of the phone. The Epic 4G lets you focus by holding down the camera button half way, or you can tap on screen where you'd like the camera to focus. After you shoot, you'll get to review the image, but getting back to the camera again can be tricky. Sometimes pressing the camera button returns you to the live viewfinder; sometimes you have to press the Back button. Sometimes I would press the camera button to reactivate the camera, only to have the shutter fire off another shot right away.
There are loads of camera options on board. The phone has 10 shooting modes, including a beauty mode that blurs skin tones to remove blemishes, a vintage mode, a cartoon filter and a strange Add Me mode that lets you shoot a background image first, then add a subject to the foreground in a second shot. I couldn't get the hang of it in my test period, but it seemed intriguing. There are also more than a dozen scene modes, for indoor shooting, sunset shots, firework pictures and more. Besides these modes, you get control over white balance, ISO sensitivity, metering, and a bunch of other minor settings.
Image Gallery
The Samsung Epic 4G uses the standard Android 2.1 photo gallery, and it looks great on this phone. The gallery groups photos into small, 3D piles by date or folder, and then you can tap the pile for a grid view. You can view pics in a slideshow, or view them individually. There aren't many editing options. You can crop or rotate pics, but that's all.
There are plenty of ways to distribute your pics from the gallery. You can upload images to sites like Picasa or Facebook. You can send pics as e-mail or MMS messages, or you can send them to a desktop using Bluetooth. You can even use Samsung's AllShare app to send pics to a compatible TV or media server.
Image Quality
Photos
I was expecting a lot from the Samsung Epic 4G's 5 megapixel camera, but I came away very disappointed. All of my pictures had a haze over them that washed out color. I clean my lens before every test shoot, so I'm sure that dirt or condensation were not to blame. This was especially true on bright white spots, which seemed to have an aura that obscured their surroundings. I clean my lens before every test shoot, so I'm sure that dirt or condensation were not to blame. Problems controlling the camera focus translated into plenty of blurry images, and even when the focus did seem to work, the camera just couldn't achieve sharp details. Indoors, some of my pics were so blurred and pixelated that they looked painted onto a canvas background. This is the worst camera I've seen on the current crop of 1GHz superphones.
Video
Video quality on the Samsung Epic 4G was pretty good. The phone records video at true 720p: 1280 by 720 pixels. These hi-def videos were among the best I've seen from a smartphone, though videos from the iPhone 4 still look just a bit better. Backlighting was a problem, and the phone took a second or two to adjust to a harsh glare. Also, I'll blame the jerkiness on my hand instead of blaming the phone, but some sort of anti-shake mechanism would be nice.
Check out my high definition sample from YouTube below. Be sure to adjust the vertical resolution to 720p to see the video in hi-def.
Browse / Customize
Browser
The Web browser on the Samsung Epic 4G is the standard Android browser, but it runs at lightning speeds. While the Epic 4G is still stuck on Android 2.1, it can't use Adobe Flash, so there are still blank spots on some pages that will be filled when the Android 2.2 update rolls out. Even so, the Epic's fast processor and speedy networking made for impressively quick page load times. In side-by-side tests with my Nexus One (which is running Android 2.2), both connected to my home Wi-Fi router, the Epic 4G always loaded large pages a few seconds faster than the N1. With its huge screen, sites looked superb on the Epic 4G. I'm very excited to see how the phone will perform with the system improvements and Flash capabilities of the 2.2 update.
Customize
Android comes with plenty of customization options already built in, and Samsung hasn't added much to this mix. I was never a fan of Samsung's TouchWIZ interface design, so I was happy to find that on the Epic 4G, TouchWIZ has been toned down to a few custom Android widgets and a slightly modified interface, but nothing dramatic. Samsung offers only a half dozen widgets, and three of those are clocks. The other three include the task manager and two social networking widgets. Samsung also provides some unique Live Wallpapers, but there are fewer live wallpapers to select overall on this device out of the box compared to other Android phones I've seen.
Extras
Bluetooth
I was able to pair the Samsung Epic 4G with my Bluetooth headset with no trouble. I was not able to use voice dialing with my headset, but I had no other problems connecting. I was also able to use the phone with my stereo Bluetooth speakers for music, and wireless tunes sounded great. The Epic 4G photo gallery also lets you send photos over Bluetooth, and this worked with no trouble.
Clock
The Samsung Epic 4G uses a giant clock on the lock screen, and once you unlock the phone, you'll find a clock in the notification bar that is persistent through most apps. Samsung has included a few clock widgets that combine two functions, so you can add an AccuWeather Clock app for weather and time, or a Yahoo! Finance Clock for time and depressing news.
GPS
While Samsung has admitted some early issues with GPS performance on some Galaxy S devices, I had no trouble with GPS on the Samsung Epic 4G. The phone took a long time to grab my position from the satellites, but once it found me it didn't let go and it tracked my progress in and out of the downtown area. The Epic 4G comes with a couple navigation options, both of which are very good and completely free. Google Maps includes turn-by-turn navigation with voice directions, and the phone also comes bundled with Sprint Navigator, a TeleNav app. I liked the mapping screens and interface a little better on Sprint Navigator; I found it more finger-friendly and easier to use in the car. But I like the extensive information and search options available on Google Maps, too. Either way, there are great nav options on this phone.
Other Extras
The Samsung Epic 4G comes with the Samsung Media Hub installed, but this new service from Samsung is not yet active. Eventually, Samsung will offer multimedia content, like movies and music, through the Hub, but the company has offered no official launch date for the service.
Video Tour
Wrap-Up
In many ways, the Samsung Epic 4G exceeded my expectations and delivered on some of its lofty promises. The Super AMOLED screen is fantastic, easily the phone's standout feature. If you want to watch movies, surf the Web or perform any task that's improved by a bright, colorful screen, the Epic 4G is a delight. I was also impressed by the performance of the phone's processor. The interface was so snappy, it felt like the phone was in a rush. Even without the performance-boosting Android 2.2 update, the phone performed well in every task I threw its way. It's too bad the Android gaming catalog is so thin right now, because this phone would be a boon to high end gaming on the platform.
The design, for me, is a mixed bag. I didn't love the cheap plastic feel or the phone's large shell, though I appreciate the huge screen size. With the light weight and the glossy plastic, it felt something like a toy. But I did enjoy typing on the massive keyboard, one of the largest I've seen on a smartphone.
My complaints are mostly minor. I'm very disappointed in the images I took with the 5 megapixel camera, but that was the phone's biggest flaw. I wish the TouchWIZ interface was more customizable. I'd also like to see better social networking integration, since the features did not seem to work as they were supposed to. But the official Facebook and Twitter apps are already solid, and Samsung's modest additions were useful and cool looking.
For many, the Epic 4G will be an easy choice, and I will have a much easier time recommending the device without reservation if Samsung can get the many bugs worked out of the system. The phone had some annoying problems, but none of these stopped me from using the features and enjoying the phone. If you want a large screen superphone with a hardware keyboard, or if you want a Sprint 4G device with a full QWERTY, the Epic 4G is your only choice. For any interested buyer, it's a solid pick all around, and with a promised Android 2.2 update around the corner, it's only going to get better.
epic vs. evo
so im on the fence about which to get. ive seen the evo and played with it a bit, it seems fast, pretty smooth with everything, and the cameras and video recording is pretty beast. but it lacks the keyboard that i so love. and from the reviews, i hear mostly amazing things about screen and speed for the epic, but its lower resolution camera lacks the clarity that a 5mp should have. and the wifi seems to lack the evo as well. i pray they get around to fixing that but with the amoled screen the battery is supposed to last a while longer than the evo. what r u guys going with, have, or recommend?
How can people have a phone that isn't released until the 31st?
Well I have the Evo and I love it! As far as the kb I came from using a palm treo 750 and also own a pixi, and its true after using the on-screen kb on the Evo for a couple of days there's no need to go back to a physical kb, though it is nice to have...
(continues)
Avatar Movie
Where is it? I was under the impression that it was coming preloaded on the epic? Here is a vid of a Sprint REP playing the movie in a review yet I can't seem to find this Video player that he clicks on...(Its not media hub)
http://www.youtube.com/watch?v=Ph3maKqUrCs »
(skip to 6:30)
Avatar only came preloaded on the T-Mobile Samsung Vibrannt.
Fireworks Through a Screen Door
The Samsung Super AMOLED displays are like looking through a screen door.

Although everything looks very 'poppy' , this is the worst screen of anything this resolution. The Droid Incredible has a 'slight' screen door effect- on the Epic 4G it's -significantly- worse than any other phone sold today in that price range, especially with any white/black text combination.
yes bluecoyote we know its not an iphone, you can relax none of us accused you of thinking this is a better phone
blah blah blah....

I can't wait to see this phone in action.
no review of the front-facing camera, a major feature
Maybe it was in the video tour section, which I skipped, but otherwise the reviewer totally skipped over one of the most important features of this phone. I'm still shaking my head over that, and have to give this review an 'F' grade for such a massive blunder.
Nobody wants to video chat with you anyway!
There was one picture under the picture section that was taken with the FFC.
Swype
I read through the review but didn't see anything about this feature, i recieved information on the phone and they list Swype messaging as a feature, i've never heard of this so i was wondering what this featue is and how it works.
A friend has informed me on this feature.
Enough already
Enough with the iPhone 4 comparisons, Im tired of hearing what the iphone has over this phone (or any other) or not. Its not trying to be, mimic or operate like a stupid iPhone. Some of us never owned an Iphone in the first place, nor want to. Every phone review that has to compare to the iPhone is biased and garbage. Please reviewer give us a honest review for once.
Agreed! Its like comparing a supercar with a speedboat. Even though both are vehicles, they still are two completely different things and there should be no reason for compare or contrast. This whole IPhone thing going on needs to stop because, this c...
(continues)
"Every phone review that has to compare to the iPhone is biased and garbage"

It was compared to the other Galaxy "s" phones;

" only Samsung Galaxy S phone in the U.S. with the slider option"

It was compared to the "droid" line-up on ...
(continues)