Review: Garmin Asus Garminfone
Form Basics Extras Video Tour Wrap-Up Comments 3
Is It Your Type? Body The Three S's
May 18, 2010, 6:39 PM by Philip Berne
PhoneScoop takes a ride with T-Mobile's new Garmin Asus Garminfone. It's an Android touchscreen phone with Garmin's navigation interface on top. Is it worth the trip? Check out our full review.
Is It Your Type?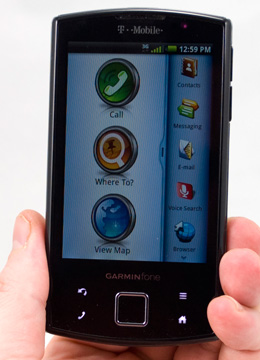 Though it's hard to find a phone these days that lacks GPS navigation, most carrier offerings can't keep up with the robust features and polished interface of a dedicated portable navigation device. The Garminfone from the new Garmin / Asus power duo solves that problem by using Garmin's nav software on top of Android's smartphone OS. If you're looking for a phone that excels in navigation and all location-based features, but can still handle all the best that Android can offer, T-Mobile's new Garminfone is definitely worth a closer look.
GPS Assisted or Dedicated
One thing about this review it does not specify is whether this is Assisted GPS (Has to have carrier signal) or Dedicated GPS (turn on airplane mode and go into the Wilds).
It's Dedicated. I'm a Tmo Rep and they had a training on it that highlighted that you could still use the GPS in areas that don't have cell phone signal.