Review: Garmin Asus Garminfone
Article Comments 3
May 18, 2010, 6:39 PM by Philip Berne
PhoneScoop takes a ride with T-Mobile's new Garmin Asus Garminfone. It's an Android touchscreen phone with Garmin's navigation interface on top. Is it worth the trip? Check out our full review.
AD article continues below...
Form
Is It Your Type?
Is It Your Type?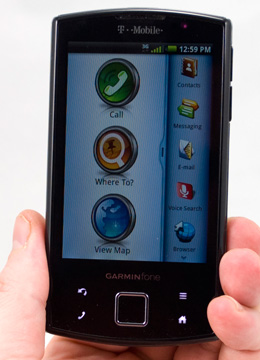 Though it's hard to find a phone these days that lacks GPS navigation, most carrier offerings can't keep up with the robust features and polished interface of a dedicated portable navigation device. The Garminfone from the new Garmin / Asus power duo solves that problem by using Garmin's nav software on top of Android's smartphone OS. If you're looking for a phone that excels in navigation and all location-based features, but can still handle all the best that Android can offer, T-Mobile's new Garminfone is definitely worth a closer look.
Body
The T-Mobile Garminfone is a classy black slab. It isn't exciting or original, but it is a nice representation of this body type. On the front, there's a 3.5-inch capacitive touchscreen, a nice choice over the resistive screen that hampered Garmin's Nuvifone on AT&T. Below the screen you'll find a square d-pad with a 4-way rocker button. I hardly used the d-pad; it was only really necessary when I wanted to correct spelling errors or for other small step cursor movements. Around the d-pad there are four touch sensitive buttons: back, phone, menu and home. I would have liked a search button, but I wouldn't give up the dedicated phone button, which many Android phones lack. Still, I miss the days of hardware send and end buttons.
On top of the phone is the screen lock / power button. It's not a very convenient placement, as I often pressed it accidentally while holding the phone sideways to shoot with the camera, or mounting the phone in the included car dock. On bottom is a miniUSB port. I appreciate USB, but most companies have moved on to microUSB instead of the slightly older mini. On the right side of the phone you'll find an adequate, if somewhat stiff, volume rocker switch. There's a 2-stage camera button and a charging port for the car dock on the right side as well.
Around back, Garmin Asus opts for a soft touch finish, which feels great, though it did pick up fingerprints easily, as did the glossy front. There's also a sleek, black strip of brushed metal down the center leading up to the camera lens. Like I said, the phone isn't exciting or unique, but the soft touch back and the clean lines give the phone a very classy look.
The Three S's
Screen
The 320 by 480 pixel screen on the Garminfone looks sharp and colorful, even if some of the better competing Android phones might be using more pixels. It's not quite as bright as I'd like, but it held up very well in bright daylight. The balanced, even lighting makes it a good phone for navigating, day or night. Still, whites could be much brighter, as they lapse into a slight grey tone. Fonts were plenty sharp, so reading from the phone was always easy. Even though the 3.5-inch display is smaller than a dedicated portable navigation device, it was easy to read all the onscreen information in the navigation mode.
Sound
Under ideal conditions, the Garminfone sounds very good, crisp and loud. But for a phone so dedicated to navigation, it would have been nice for Garmin Asus to go the extra mile with the phone's loudspeaker capabilities. The earpiece was fine for calls and conversations. I heard some occasional hiss, but nothing to worry about. Some callers reported a slightly digitized sound to my voice, but none had trouble hearing my end of the conversation. The phone also worked perfectly when I was talking to voice activated systems, like checking my bank account balance, for instance.
The speaker on the Garminfone is a large panel on the back. The curving sides of the phone make sure the speaker isn't obscured when the device is face up, so you can still carry on a speakerphone conversation or even listen to some tunes while the phone is lying on your desk.
In the car, the speaker volume was usually adequate, though at higher speeds, with the A/C turned up (I do live in Texas, after all), and a little music playing, I wasn't able to hear the nav voice unless I strained to listen. I wouldn't ask Garmin Asus to boost the speaker, though, as it already distorted the sound at its upper limit. Instead, I would have liked an FM transmitter on board so that I can play music and listen to nav instructions through my car stereo. Even if this was only built into the included car dock, that would be a step up.
The included ringtones were nothing special, the standard pop tune selection. Rings were plenty loud, though. I could easily hear the ringing in my pocket or from another part of my house.
Signal
I got a signal with the T-Mobile Garminfone even in spots where T-Mobile is usually dead to me. Even though the Garminfone usually showed the same signal strength as my Google Nexus One, there were plenty of times when the Garminfone could use the data network while the N1 stalled on me. Wi-Fi signal was equally strong, and again the phone connected to my home network in spots where many devices can't.
More important, though, is the GPS performance. I found the Garminfone to be on par with a good smartphone, but some times it was way, way off. In the time to get a first fix on my position, the Garminfone found me a couple seconds faster than my Nexus One. But while the Nexus One located me in my office with the shades drawn, the Garminfone had a little more trouble pinpointing my position. This caused no problems during navigation, though the Garminfone needs to be much more accurate if Garmin Asus wants to claim the nav crown in smartphone land. On some highways, the Garminfone had trouble determining if I was on the highway or the nearby access road.
Worst of all, though, was when the Garminfone placed me in another state. Kentucky, to be exact. I live in Texas, but the phone would often find me in Kentucky instead, and not a consistent Kentucky location. Apparently, I get around the Bluegrass state quite a bit. This happened to me often, almost every time I opened the map when GPS reception was poor, according to the phone's own GPS signal bars. The phone always corrected itself, but it sometimes took minutes to find my real location.
Battery
Battery life on the Garminfone was disappointing. Not bad, but for a phone that relies so heavily on the battery-draining GPS receiver, it should have been much better. I got just over 5 hours of talking time from the Garminfone, which is perfectly inline with Garmin's estimates. The phone uses a 1150 mAh battery, but many high-end smartphones today are using 1400 mAh batteries or larger. I would accept an extra millimeter and a few extra grams weight for another two hours of talking time. The saving grace for the battery is that I often used the phone to navigate in my car, and the Garminfone also charges in the car dock. But this phone wouldn't last through a long hike or a day walking through a big city if you leave the GPS turned on.
Basics
Touch
Easily the biggest improvement of the Garminfone over the Nuvifone is the sensitivity of the touchscreen. It's an unfair comparison, because capacitive screens are made for fingers, but the difference brings the Garmin Asus device from almost unusable to quite responsive. Touch input stalled in a few places. The lock screen uses a too-simple double-tap to unlock, and the phone occasionally wouldn't register my first hits. The menus were almost perfectly responsive, but not quite. There was a very slight, but noticeable delay when I tried to navigate the interface quickly. The capacitive buttons beneath the screen were also better than most I've used; I never had trouble getting them to respond to my taps. The phone supports pinch and zoom gestures, and this worked nicely. Pinching made navigating the maps, the photo gallery and the Web browser much easier.
Menus
Garmin Asus has done more to alter the look and feel of the Android interface than any other manufacturer so far, even more than HTC with its Sense interface. While HTC Sense builds on top of the existing Android design, the Garminfone replaces the paradigm almost entirely. Instead of the stock UI, Garmin has installed its Breeze interface, which is nearly identical to its navigation devices. The interface looks great. It's better than the stock Android UI, though it doesn't lack any of Android's signature features. The notification bar still drops down from the top. The menu still jumps up from the bottom. You can still hold your finger down on an icon to rearrange the screen, or access enhanced functions. But where I occasionally found Android counterintuitive because of all these options, the Garminfone relies less on the pop-up menus and long press features, and keeps things a bit more simple on screen. You can usually find the feature you want without much digging.
The main menu screen is divided into thirds. About two-thirds of the screen is taken up by only three large buttons: Call, Where To?, and View Map. While the large icons make tapping easy, especially from the driver's seat (a warning not to operate while driving pops up every time you start the phone), the phone icon seems unnecessary, and it's rare that I simply want to view my place on the map without jumping into a search or nav session. It would be cool to have an option to swap these three with a large icon version of any app, so I could have my top three favorites, and then all the rest.
Next to the big three is a sliding column of icons. You can slide this panel left to reveal the application drawer. Though the drawer is hidden from the main screen until you drag it out, you can swap the icons in the visible sliding column with any in the drawer, adding as many as you like. It's a nice looking, elegant way of handling the Android application drawer.
While most Android phones offer widgets and a customizable set of home screens, the main screen on the Garminfone is mostly static, except for that sliding column, but that doesn't mean it doesn't support widgets. There's a separate widget icon, and when you tap it the screen background goes dark and you get five full screens on which you can place a number of widgets. Garmin Asus doesn't offer nearly the collection that HTC offers with its Sense UI phones, but all the basics are there, including a calendar, Facebook, music controls and the Power Control settings strip to manage power saving settings like Wi-Fi, screen brightness and backrgound sync. There's also a recent applications widget from Garmin. The widget pages aren't as fun and friendly as a vanilla Android phone, with photo galleries and loads of shortcuts, and it sticks to a barebones assortment of useful widgets instead. Even so, you can install new widgets from the Android market, and when an app comes with a widget, like Facebook, it's available on the Garminfone.
Overall, Garmin Asus has done a nice job polishing the entirety of the Android UI, leaving no stone unturned. The main home screen changes color as day turns to night. The settings menus are all Garmin designs. The Web browser uses a Garmin interface. Even the Power Control strip has been retouched to match the Garmin theme. There's a thoughtful level of consistency in this phone, and even though it lacks some of the features that are part of the stock Android interface, it's stylish and completely functional.
Calls / Contacts
Making calls is a snap with the T-Mobile Garminfone. The onscreen keypad is large and easy to use for dialing. From the dialing screen, you can quickly jump to your call log, full contact list or just your favorites, and the latter appears as avatar pictures on screen. I wish there was a way to plant favorites on the home screen for fast direct dialing, a feature on every other Android phone, but there's no way to call someone without at least a few clicks.
Once you've connected a call, the Garminfone makes it easy to manage the calling features you need. I had no trouble adding a second call for a 3-way chat, and then splitting off the call again. The speakerphone, mute button and dial pad are all one tap away from the calling screen. I especially like that the phone requires very little menu digging; all the key features are up front.
The Garminfone comes up short in contact sync capabilities. You can synchronize with your Google contacts and your Microsoft Exchange contacts, and for many users that may be enough. But most Android phones offer some level of sync with social networking sites like Facebook, Twitter and MySpace, and the Garminfone does not. It cannot even pull pictures from the Facebook app to populate your contacts, so most of my contact pics were empty.
The address book is quite capable. You can add as many phone numbers, addresses and other bits of information as you need. Instead of typing in an address directly, if you're creating a contact listing for someone and you're at their location, you can use the GPS sensor to find it and add the address automatically. A few times, the phone tried to tell me I was in Kentucky, a few states away, but always corrected itself eventually.
Messaging
All of the stock Google Android messaging options are available on the Garminfone, including support for Microsoft Exchange servers. The dedicated Gmail app is there, one of the few apps unchanged by Garmin Asus' interface overhaul. There's a separate e-mail app for Exchange, IMAP and POP e-mail service.
For text messaging, the Garminfone uses a nice looking threaded messaging view, which presents SMS messages in a conversational format like an IM chat. There are plenty of options to attach extras to a text message. You can quickly add pictures, videos, audio recordings, calendar events and location information. Location data comes through as a URL that opens a Garmin site with Google Maps embedded. It would have been nicer to simply open the real Google Maps app on phones that have the app available, since almost every platform offers some Google Maps support these days.
Instant messaging fans get Google Talk on board, but if you want to use another service, like AIM or MySpace, you'll have to find a third-party download.
The keyboard on the Garminfone has been spruced up a bit over the stock Android flavor, but it doesn't offer any more functionality. It looks nice and polished, fitting in with the rest of the Garmin Breeze interface theme, but the size of the keys and the layout are nearly identical to any basic Android phone.
For social networking fans, the Garminfone comes with Facebook pre-installed, and the Android market has a nice selection of the most popular social apps available, including official Twitter and MySpace apps. Unfortunately, as I've said, Garmin doesn't integrate these apps into the phone any deeper than it must. You can easily send pictures and videos to a wide variety of sites and services, but the phone doesn't sync contacts with these networks, it doesn't offer any sort of unified inbox for messaging like you'll find on a BlackBerry device, nor does it offer any instant messaging for your favorite social app.
Extras
GPS
Navigation
The Garmin Asus Garminfone offer a nice assortment of navigation features, keeping it on par with a dedicated portable navigation device. Many of these features can be found on other platforms, but I've never seen a mobile phone that presents these features with such polish. Ironically, the platform that comes closest to Garmin's own features is Google's Android, and Android even makes up for a few minor shortcomings in the Garminfone. Pairing Garmin's navigation prowess with Google's already impressive location-based features makes for the best navigation phone on the market.
First of all, the Garminfone offers basic maps and turn-by-turn navigation. You can search for a specific address, perform a local search in Google from within the navigation app, or browse Garmin's extensive Points of Interest database. If you happen to have specific GPS coordinates, you can enter them directly. From the nav app, you can also search for upcoming events in your area, check gas prices or view local photos supplied by Panoramio.
Once you've started your trip, the Garminfone provides a clean interface that's easy to read on the 3.5-inch screen even while mounted to your windshield or dashboard. The phone offers walking or driving directions for every trip. It will check traffic and perform local searches along your route. In an emergency, you can also tap the screen and the Garminfone will help you find the nearest hospital, police station, gas station or car repair shop. Overall, the phone feels much more like a dedicated navigation device than a tacked on bit of feature phone software, like VZ Navigator.
During your trip, the main menu changes a bit, adding a "detour" and "stop" option to the scrolling column on the right side of the screen. When you've arrived at your destination, the Garminfone can automatically remember your parking location, you don't have to use a separate app or even ask it to mark the spot.
The Garminfone comes with a nice selection of voices in English and Spanish, even offering a range of accents, like male and female voices with American, British or Australian accents. If you don't like the digitized voices, you can record your own navigation instructions using the Garmin Voice Studio. The phone walks you through a series of phrases, and in a few minutes you'll be telling yourself to "enter the roundabout." You can even share your voice pack or download new packs from Garmin's Web site.
If you have a more complicated trip in mind, the Garminfone offers a Routes app, which lets you input multiple destinations for a multi-stop trip. If you want to lend the phone to your teenager, you can also set the navigation app to lock up when the car is moving, so drivers won't get distracted fiddling with the nav controls.
Location-based Apps
Besides the extensive navigation features, Garmin Asus also includes a few local search apps, as well. There's a Movie Times app, but it doesn't let you buy tickets, and I prefer the free Flixster app from the Google App Market. There's a weather app that gets the forecast for your location. There's even a flight status app that finds local airports and lets you check the status of flights.
The Garminfone comes with a Ciao app for the Ciao location based social network. It's not a network I'm familiar with. Though T-Mobile's documentation claims that Ciao can help update a variety of social networks with location data, this is simply not true. The only network you can update is Ciao. If you're so inclined, the Garminfone includes a link in every address book listing that lets you send an invite to that contact to join Ciao. I didn't invite any friends, but I did receive spam invites during my testing time with Garminfone. Seems intrusive to me, so I just downloaded Foursquare from the App Market and used that instead with no trouble.
Music
For music playback, the Garminfone comes with a fairly basic music player, even by Google Android's lax standards. Playback controls are kept to the basics. It's easy to create a playlist on the phone, but I was disappointed that the player lacked the robust search capabilities of the stock Android player, which lets you search YouTube and the Internet for related content by simply holding your finger on an artist name or song title.
The Garminfone can use stereo Bluetooth for music playback, which is helpful because the phone lacks a headphone jack. It comes bundled with a separate headphone adapter for the miniUSB port, so you can still use your own earbuds or the included pair, but that's just another accessory to carry around (and lose).
It was also a pain getting music onto the Garminfone. The device is supposed to work in mass storage mode over USB, but it never showed up on my machines, Windows or Mac. The microSD card is under the battery cover, but not under the battery itself, so I could still load tunes using my own microUSB adapter.
If you want to buy new tunes, the Garminfone also comes with the Amazon MP3 store app on board.
Camera
Camera
The camera interface on the Garminfone is simple, but effective. There aren't any bells and whistles to speak of, and the onscreen interface is quite bare. The camera uses a 2-stage shutter button, so you can auto focus and then take your shot. I found the button to be a little stiff. It was easy to set up a shot and activate the focus, but I had to press quite hard to get the shutter to release. On screen, there is a record button that activates the camcorder instead. I especially like that Garmin Asus gives you both options at once, so you can either take a still picture or record a video without having to switch modes between the two.
Otherwise, there's a button onscreen to turn on geo-tagging, and the Garminfone will embed location data into a picture. You can also jump directly to the photo gallery from the camera screen. For image quality settings, you can adjust the resolution and there's also some rudimentary white balance options available, but these didn't help much.
Image Gallery
Viewing images in the image gallery is a simple affair on the Garminfone. The gallery offers a basic grid of thumbnails, and you click for a larger view. There's also a slideshow feature, but don't expect any advanced options like cool transitions or background music. The Garminfone is no-frills when it comes to pictures.
When you're viewing a single image, you can zoom in with a smooth pinch and zoom gesture, or you can use the onscreen zoom controls, which seem redundant considering the multi-touch feature. It's very easy to send a picture. You can upload to your favorite sites or send via e-mail or MMS message. There are a variety of uploading apps available from the app market, and the apps I tried integrated just fine with Garmin's interface.
Image Quality
Photos
Image quality was okay for a three megapixel shooter with no flash. That sensor puts the Garminfone at the low end of Android cameraphones, and frankly I'm quite disappointed that Garmin Asus didn't spring for something much better, such as a larger sensor or a branded lens. Photography and travel go hand in hand, and Garmin is missing an opportunity here. If you want a good camera on your phone, look elsewhere. If you just want some basic shots to mark your place or keep your memories fresh, the Garminfone might suffice.
Indoors, images were noisy and colors were off. Color noise speckled darker spots in images, and bright spots were likewise overexposed. Outside, under bright sunlight, I had the same trouble, only magnified. Dark spots disappeared completely into the shadows. White spots were totally blown out. Colors were at least more accurate under bright lights. Even deep reds didn't bleed as much as I expected, and images looked okay, if I didn't zoom in too much.
The lack of a flash hurts in low light situations. A cameraphone flash is never ideal, but it helps in a pinch, so the Garminfone will be of no help in very dark situations, like a bar or outside at night.
Video
The Garminfone can shoot video at QVGA resolution, or dip down to an even smaller QCIF size for MMS messages. Videos looked lousy. The light problems I saw in the still camera obviously hurt the camcorder as well, and even in slight shade details disappeared into a wavy, pixelated mess. The microphone also made sound seem distant and faded in video recordings.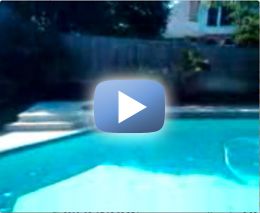 MPEG-4 format (viewable with QuickTime)
File size: 710 KB
Browse / Customize
Browse
The Garminfone browser is similar to the stock Android browser, albeit with a bit of a facelift, but no real improvements in features. That's just fine, because the Android browser was already quite capable. Most of my favorite sites loaded with no trouble. PhoneScoop looked great, accurate to my desktop browser's rendition. CNN also came through looking good. The New York Times would only load its mobile page; it didn't offer an option to view the full desktop version.
Navigating Web pages was smooth and fast. You can pinch and zoom on Web pages, and kinetic scrolling means pages fly by when you flick your finger quickly up the screen. The browser offers a view of your recent history, favorite bookmarks and also most visited sites, which is convenient. It handles multiple windows elegantly, with a dedicated button that displays all your open windows at once. I wish there was a full screen view, however, to remove all the buttons from the browser interface. The browser window could use the extra screen real estate.
Customize
There are very few customization options on the Garminfone beyond those I've mentioned. You can rearrange some of the icons on the main screen and the application drawer. You can add some widgets to the special widget screens. You can also change the wallpaper on the lock screen, though not on the home screen. There are no themes for the device, and no options to tweak the colors of the interface. You can't add shortcuts, bookmarks or folders to the home screen or the widget screens. For an Android phone, there's surprisingly little you can change on the Garminfone.
Still, since this phone is so focused on navigation, it was very fun to be able to customize the voice that guides the trip. I recorded all manner of quirky routing instructions. The process doesn't take very long, so you can even have friends record their voices for you in a matter of minutes.
Extras
Bluetooth
Stereo Bluetooth from the Garminfone connected with no trouble. I also paired the phone to my Bluetooth headset, and that pairing worked well. My headset sounded good talking through the Garminfone. Otherwise, like many Android phones, the Garminfone lacks a wealth of Bluetooth profiles. It worked well for sound functions, but couldn't transfer files or contacts over a Bluetooth connection.
Clock
The lock screen on the Garminfone features a nice big clock, and once you've accessed the menus, the phone keeps the time up top in the notification bar. The clock app itself was useful, too, with alarms to set and a stopwatch to keep time.
Video Tour
Wrap-Up
Most Android phones so far have specialized in social networking, but the Garminfone takes a different tack to become the best navigation phone I've ever used. Even with the slight problems I had with the GPS signal (I do NOT live in Kentucky), once the phone found my spot, it had no trouble navigating through trips and helping me find nearby points of interest. The interface for navigation is much better than on any other phone I've used, almost identical to a Garmin portable nav device. Plus, between the extra apps Garmin provides and the excellent selection of location-based apps available from the Google App Market, the Garminfone offers the most robust platform for travelers, whether you're going near or far.
What surprised me was how much I liked the Garmin Breeze interface. It wasn't as customizable as the stock Android interface, and it lacked all the shortcuts and many of the features of the basic Android design, let alone HTC's excellent Sense UI. But it still looked very polished and clean, and I appreciate the way Garmin has simplified many of the features to avoid pop-up menus and hidden features. Everything you need is right up front, easy to tap quickly on the go.
There are some areas where the Garminfone is sorely lacking. The camera, though fine for its class, is heartbreaking for a phone so well-suited for globetrotters. Messaging features were just average, while the music player doesn't even measure up to the basic Android app. Battery life also should have been much better, though I appreciate the included car charger, which helped me keep the battery full while I was navigating.
It's too bad T-Mobile's Garminfone and Verizon's HTC Incredible can't mate and have perfect little children, but for the right user, the Garminfone is worth some sacrifice. If you really want a quality navigation device that's also a quality smartphone, the Garminfone is no slouch in either department. Just remember to bring your own camera, and maybe an iPod for some tunes.
GPS Assisted or Dedicated
One thing about this review it does not specify is whether this is Assisted GPS (Has to have carrier signal) or Dedicated GPS (turn on airplane mode and go into the Wilds).
It's Dedicated. I'm a Tmo Rep and they had a training on it that highlighted that you could still use the GPS in areas that don't have cell phone signal.