T-Mobile Will Carry Android Powered Garminfone
Article Comments 14
Apr 20, 2010, 11:35 PM by Philip Berne
updated Apr 21, 2010, 10:58 AM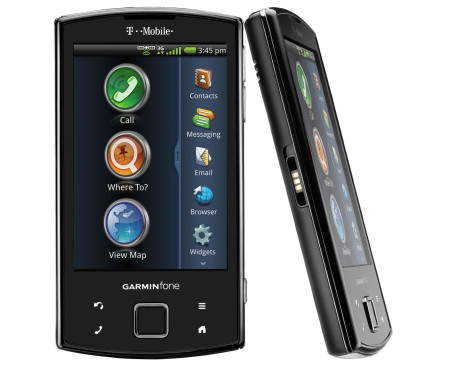 T-Mobile today announced upcoming availability of the Garminfone, a new Android tablet phone from Garmin. The Garminfone uses a 3.5-inch touchscreen, and seems to feature an interface similar to previous Garmin phones, such as the Garmin Nuvifone on AT&T. The new Android phone features multiple positioning technologies and a host of software from Garmin, including navigation with preloaded maps, so turn-by-turn directions should still work even in areas without a T-Mobile data signal. The Garminfone even comes with a car finder app, as well as plenty of geo-tagging capabilities and location based search information. The Garminfone even features Garmin Voice Studio, which lets other people, hopefully friends and family, record custom voice directions for you. The phone will ship with a charging window and dashboard mount. Specific pricing and availability have yet to be announced, but T-Mobile says it should be in customers' hands later this spring.
The Navigation companies can see whats coming...
but this is kind of OD'ing

I don't want to seem like I am constantly posting about Apple (wich I kind of am but I digress) but it seems like the more profitable way of making money for these companies would be to place their competing systems in the markets for people to fight over!

It might be a more profitable idea to put the Garmin Nav in the Android AND Apple application stores and advertise the hell out of it.

Though, I think it is going to be hard to wean these companies off of a hardware focused market. I just don't think any Garminfone or Nuvifone is going to compete with the likes of the Incredible or the EVO or even the (gasp!) iPhone.
Their own phones.
App Store/Market apps.
Stand Alone GPS units.

No reason all three avenue's can't be used from them.

They obviously have the facility to make electronics. They obviously have the facility to make the software. Why not make bot...
(continues)
Fred Garvin phone
Anyone remember Fred Garvin, Male Prostitute, on SNL back in the 70s? That's the first thing I thought of when I heard this name, "Garminphone."

Either that or Garment-phone, like it's made out of cloth.
Tablet phone? Nice buzzword
Over used word is over used. A 3.5inch screen is not a tablet :/
Garmin GPS and Andriod = WIN
This has me really excited. All the Garmin Maps and the ability to use Andriod Marketplace. This will be awesome with T-Mobile prepaid.
Android requires web and prepaid doesn't include web. This will be awesome for month to month contracts, if that's what you were referring to.
sprint?
i wanna know when sprint will be getting one. both companies are based out of kc im surprised that it hasnt happened already.