CES 2005
Intro Samsung LG Motorola BenQ More Comments 100+
P777 / P207 A890 / i730 A800 More GSM More CDMA
Samsung also has several new lower-end CDMA phones coming out. These will replace the current SCH-A650 and SPH-A660 models. The main new features are external displays and text-to-speech.
The text-to-speech feature is pretty neat. It's basically the opposite of the dictation technology in the P207. When it's activated, a synthesized voice speaks the name of each menu item as you scroll through them. Special sound effects also make navigating the menus easier.
So far, that makes it a lot like some recent LG phones with "driving mode" feature. But Samsung's text-to-speech system takes it a bit further, by also speaking any text that appears on the screen, including phone book names and text messages.
Advertisements article continues below...
A full voice-command feature is also present on both phones.
These should both be useful features for driving, so you can keep your eyes on the road, and also for the visually-impaired.
The A860 is aimed at Sprint:
The A720 is essentially the same, but with different styling, and for Verizon:
Another new phone is the SCH-A795. This isn't so much a whole new phone as simply an SCH-A790 sans camera. (The A790 is the new CDMA+GSM phone offered by Verizon - and soon Sprint.)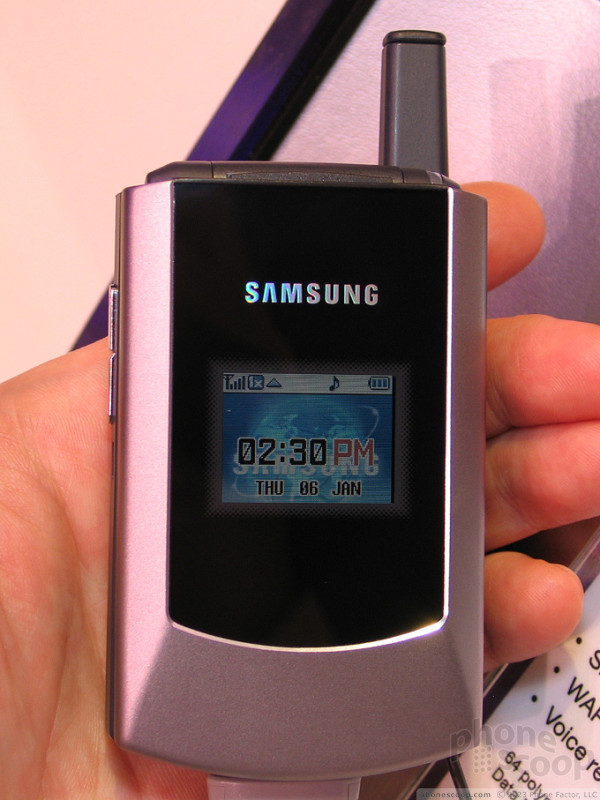 We've covered the Samsung i645 here before. It's a Windows Mobile Smartphone with EV-DO high-speed data and a megapixel camera. Nothing major has changed since it was first revealed, but it was on display at CES in a new color. The keypad has now been changed from black-and-silver to all silver:
Conspicuously absent from Samsung's display was the SPH-i550 Palm OS PDA-phone for Sprint. According to a Samsung rep, (one who is definitely in a position to know such things,) Sprint is currently reconsidering carrying the i550, which could mean this promising device may never see the light of day. These look like dark times for the Palm OS faithful...