CES 2005
Intro Samsung LG Motorola BenQ More Comments 100+
P777 / P207 A890 / i730 A800 More GSM More CDMA
Another exciting CDMA phone planned for this quarter is the A800, a cutting-edge phone on many levels. The headline feature is the two-megapixel CCD camera, expected to be a first for the U.S. The A800 also has video capture and a TransFlash memory card slot for storing those large photo and video files.
As shown above, the back of the A800 is designed for holding the phone in landscape orientation when taking photos, which makes the experience more like a traditional camera. The round self-portrait mirror does double-duty as a sliding lens cover.
Advertisements article continues below...
I briefly tested the A800's camera, but the lens had some smudges I couldn't completely clean away, and it is a prototype. It's not fair to judge camera quality of a pre-release device, but some people might appreciate the first-glimpse anyway, so here are some sample shots I snagged and saved to my TransFlash card:
Again, if you think these aren't so hot, please reserve judgement. The A800 is 2-megapixel, (well, 1.92 megapixel, technically, but close enough,) plus it uses CCD technology, and it has a true auto-focus lens (yes, it really moves). All of those put together should equal very high quality in the final version.
The A800 features a trendy sliding-keypad design and internal antenna, but it's a good deal larger than Samsung's other sliders, like the P777. Given the huge screen and the specs in general, I guess that's to be expected.
That QVGA display, by the way, is gorgeous: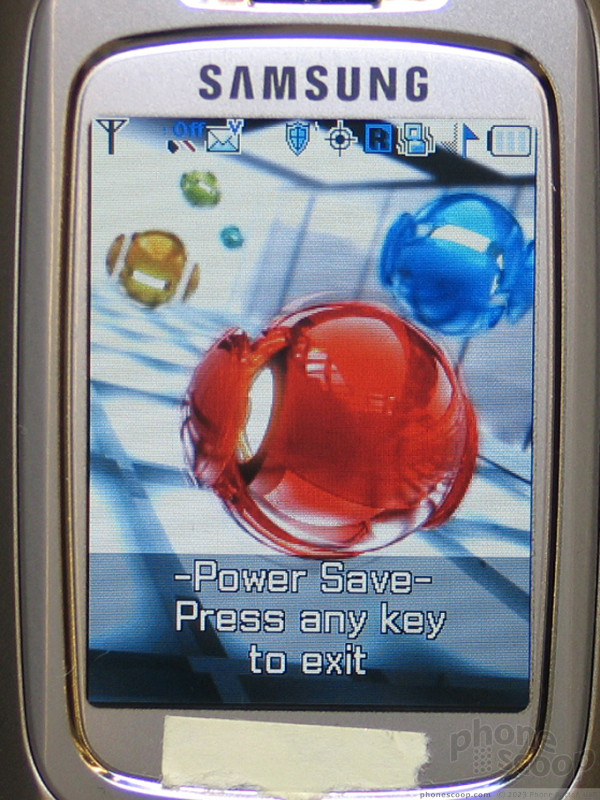 One really slick and clever feature of the A800 is the business card scanner. While it sounds gimmicky, it's actually a relatively sophisticated OCR (optical character recognition) system. The process is illustrated below:
First, you select the card scanner feature and snap a photo of the card. Then the phone automatically analyzes the image to find individual snippets of text.
Then you simply scroll right to a contact field (like "name"), then scroll down to the matching snippet (in my case "Rich Brome", which the phone has automatically extracted from the image.) Then press okay and move on to the next field.
When you've selected all the snippets you want to import, just hit "Next" and the phone uses OCR to "read" the snippets, and pumps the data right into a new contact entry in your phone book.
The accuracy wasn't perfect when I tried it, but it was a prototype, and that's the kind of thing I'd expect to improve prior to release.
Although Samsung had tape over the carrier logo of the one I tried, the A800 appeared on samsung.com this week bearing a Sprint logo.
Samsung also announced that they are planning a 5-megapixel phone with 3x optical zoom for the U.S. for release later this year.