Review: LG LX370
Article Comments 7
Jul 29, 2009, 4:37 PM by Eric M. Zeman @zeman_e
LG's LX370 brings the simple basics to the table and does them well. It may lack star power, but those needing a phone for everyday needs ought to give the LX370 a look.
AD article continues below...
Form
Is It Your Type?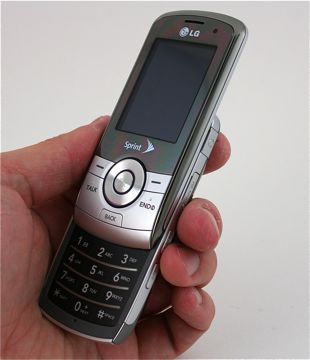 If you're looking for a run-of-the-mill handset for basic, everyday needs, the LG's LX370 for Sprint is probably going to fit the bill. It has a fair number of features and the easy-to-use Sprint OneClick user interface. It may fall flat in the thrills department, but the workhorse underneath is what's more important.
Body
The LX370 takes the ho-hum approach to its design. It's a slider, with silver, chrome and grey styling cues. Nothing really sets it apart from the wide crop of other middle-range feature phones, and that's probably just what LG was shooting for when it designed this phone. It has a nice weight to it, and gently curves that make it easy to hold. Slipping it into a pocket is a breeze, as is retrieving it. Everything about it is comfortable.
The front has a smallish screen, with the controls underneath. The D-pad is circular and about the size of a quarter. There is a very subtle texture to the D-pad, so your thumb knows when it has found it. It has great travel and feedback, and feels just right in every direction. Same goes for the center button. To the left and right of the D-pad are the soft keys. They are a little bit hard to find by feel, but their size means you'll probably get there sooner or later. These keys have a huge amount of travel and very noticeable feedback. Below the soft keys are the send/end buttons. This are absolutely ginormous keys. They are very easy to find and even easier to use. Nestled directly below the D-pad is a small key that serves to take you back a screen. In all, these controls are functional and make the LX370 that much easier to use.
The slider mechanism feels very solid. It has slight spring assistance, which will snap it up or down. The slide feels solid, and I didn't notice any weakness in it during my time testing the phone.
When open, you have access to the numeric keypad. All 12 keys are large, easily found, and have good travel and feedback. There are three side-to-side ridges between the rows of keys, and they help guide your thumb as you dial numbers or input text. The keypad may not make any great leaps forward in design, but it does just what it is supposed to do, and does it well.
If you're looking for the volume toggle, you'll find it on the left side of the phone. There are tiny numbs at the top and bottom of the toggle, letting you know exactly which is up and which is down. Below that is the hatch covering the microUSB port for charging and data transfer.
On the right, there are a number of other controls. At the tippy top corner is the hatch covering the 2.5mm headset jack. Below that is the hatch for microSD cards. Both hatches peel back with no problem. Below these hatches are the voice key and camera key. These buttons are a little bit on the small side and have less travel and feedback than most of the other buttons, but they still work well enough.
The camera is on the back of the LX370. The battery comes off easily enough.
In sum, the hardware may not set the world on fire with excitement, but it works very well and is a good phone for lots of daily use.
The Three S's
Screen
The LX370's screen is OK. Brightness, clarity, sharpness and all that are fine. My biggest complaint is the size. It feels a bit cramped. Given the 3.5-inch screens gracing the front of some phones, it seems like even feature phones should pack a bit more display to compete. Sadly, that's not the case here. I was, however, able to read it outside just fine.
Signal
Sprint's signal is amazingly consistent where I live. Nearly every phone I test on the Sprint network exhibits the same signal coverage, and the LX370 is no different. It shows two bars of coverage in most of my house, but drops to zero bars or one bar in my basement. What really mattered was that the phone didn't drop any calls while I was testing it. It came up empty in the NJ vault, losing Sprint's signal entirely. I also experienced several data calls that timed-out.
Sound
The LX370 is one of the best Sprint phones I've tested in recent memory when it comes to call clarity. There was no hiss, static, or other noise, just crystal clear phone calls. When it comes to volume, the LX370 is a bit too loud when turned all the way up, audible in most environments when the volume is set to about 60%, and still pretty good with the volume knocked down to 30%. Ringers, on the other hand, were wildly inconsistent. Some were simpler louder than others. Be sure to pick one that stands out to you and fiddle with the volume until you reach the right balance. If you find the right one, you can make it loud enough to be heard.
Battery
The LX370 made it though three days consistently on a single charge. Testing it with a combination of calls, messaging, web browsing and so on didn't seem to have that much of an effect on battery life. I'd say it's safe to leave the charger at home for a weekend getaway, but be sure it's fully charged when you leave.
Basics
Menus
The LX370 uses Sprint's OneClick user interface. The home screen has a series of tabs running along the bottom of the screen. Using the D-pad you move sideways through the tabs to access different menu items. As you pass over each item, a list of options appears above it that you can choose from. For example, if you scroll over the messaging icon, you'll get a list of different things to choose from, such as going to your inbox, initiating a new message, etc.
The tabs are fully customizable. You can add or delete icons at will, and move them around to an order that suits your usage needs or style. As with other OneCLick phones we've tested, there is a slight delay as you move from item to item in the carousel.
The tabbed items serve as shortcuts to sections of the phone. The Browser icon, for example, lets you choose to open the browser, see your recent history or go to your bookmarks. This lets you jump straight to the web page you really want to go to rather than launching the browser first and then scrolling to your bookmarks or history.
One tab item is Google. When you scroll to it, it opens a Google search bar, and below that are links to Google Maps, Gmail, and several other Google services.
As is common to Sprint phones, there is a tab item for your favorites. This lets you populate a bunch of shortcuts to action items or applications.
There is also a full regular menu that houses all of the phone's applications and services. This larger menu appears in a standard list or grid view.
Calls/Contacts
Calls
No surprises here. Pressing the green send key on the LX370 brings you to a list of your recent calls. Numbers that are stored in your contacts display the name and what type of phone call it was (work, mobile, home). Pressing the D-pad will open up information about the call, and show you recent correspondence with that person, including text messages and emails. Being able to see all correspondences from a single contact in one place is a nice feature. You can view contact details, the main menu or your entire contacts list during a call.
Contacts
The contacts application can be reached from the home screen in several different ways, including using the right soft key. Each contact can hold a bevy of numbers, email addresses, URLs, IM screen names.
The LX370 carries forward the "secret" option in the contacts app. You can choose to make a detail's contact information invisible. This means the contact can still be seen in the list, but the actual details (i.e., their phone number, email address, etc.) are not displayed. In order to access secret contacts, you need to use the phone's unlock code. This means you can protect your loved ones' or colleagues contact details if you wish, or simply make sure that certain people's information in unavailable to anyone who might pick up your phone.
Messaging
The LX370 offers SMS, PictureMail, IM, VoiceSMS, Chatting and Email. Not all of them are available from the Messaging icon in the carousel. You have to open the messaging center from the main menu to get at the IM, Voice SMS and Chatting applications. Or, you can choose to add those to your favorites list.
Text messaging is always the default messaging mode. You can also insert pictures after the fact to turn it into a Picture Mail message. My favorite feature of OneClick is that it offers threaded messaging. The LX370 may not be a phone targeted at heavy texters, but the feature make interacting with messages just that much better.
Configuring a POP3 email account was easy. The LX370 supports AOL, AIM Mail, Hotmail, Yahoo, Gmail and "Work" and other IMAP or POP3 accounts. The "Work" email lets you configure an Outlook Web Access account, meaning you can retrieve company email via the Web if you want to.
The email app has three tabs across the top, one each for home, the inbox and your contacts. Having these tabs makes it a bit easier to navigate around your email account and get to what you want to see without clicking all around the screen. You can set mail to automatically sync every so often as well as manually sync it. You can set the email app to show just the subject, as well as one or two lines of text in the preview pane.
Extras
Music
The LX370's media player is on par with what you expect from any mid-range feature phone. Using the Sprint Music Store to discover and download music is reasonably easy. Browsing takes longer than performing searches for what you may want to buy. Purchasing and downloading takes about one minute per song.
The music player itself displays album art and a progress bar. The D-pad lets you play/pause or rewind/fast-forward. The options menu really only lets you navigate around your playlists or the music store. There are no equalizer presets at all. Pressing the D-pad up or down lets you cycle through the songs in your playlist quickly.
Music can be side-loaded through the phone's microUSB port, or placed directly onto a microSD card.
In the end, the music player is hamstrung by the LX370's lack of a 3.5mm headset jack for regular stereo headphones, but it gets the job done in a pinch.
Camera
Camera
The LX370 has a 2 megapixel camera that takes reasonably good pictures. The camera launches quickly when the camera button is pressed. Images are taken as they appear in the display, which is in the portrait orientation. Pressing the shutter button or camera key takes the picture almost instantly. With the fast launch speed and quick shooting process, you have a better chance of catching several shots of the same action sequence in a row.
The options include the usual crop of settings controls, such as the resolution, brightness, white balance, and so on.
Gallery
The gallery application opens up to show a large grid of thumbnails. One thing I found frustrating was that if you select a picture and click on the D-pad, the images don't automatically open. Instead, you've placed a check mark next to the photo. You have to press the left soft key to actually open the image. As you move the selector over each thumbnail, the image expands slightly so you can get a better look at the image before opening it. Once you've opened an image, pressing the D-pad left or right will cycle through your images.
The right soft key offers a wide range of options for moving, editing or uploading the picture. These same options are available with the image open. If you subscribe to a picture sharing service such as Flickr, it is easy to set up the phone to upload pictures there.
Photos/Video
Photos
Pictures taken with the LX370 are solid. I was pleased with all the images I captured, even those taken indoors. The camera does a good job of figuring out white balance and exposure correctly. Most images were sharp and clean and showed little to no grain. Colors looked good, and light sources such as windows or lamps didn't confuse it too much. No only will you be sending pictures taken with the LX370 to your FaceBook or MySpace pages, they're good enough that you may even want to share them via Flickr or Picasa.
Video
The LX370's video capabilities are on par with its still images. Video was steady and free of any odd jitters or distortion if you pan the camera around. There was no ghosting or smearing, and the video recorder adjusted well to large changes in the amount of light available. The videos looked good enough to share, which is how I judge things.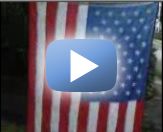 3GPP2 / MPEG-4 format (viewable with QuickTime)
File size: 597 KB
Browse/Customize
Browser
The LX370's browser defaults to WAP sites, but can display full HTML Web sites if you wish. WAP sites load quickly, but HTML sites do not. In fact, I'd go so far as to say skip HTML, you're going to be happier just hitting mobile and WAP web sites.
The main landing page is Sprint's new Web portal, which features links to news, sports, finance, weather and content such as that. A Google search bar is built into the top of the portal, and you can easily conduct searches.
As mentioned earlier, one of the carousel items in the OneClick UI is for Google services. Sprint has also loaded a dedicated Google tool into the browser. You can find it in the options menu, which brings up a navigation tool. The nav tool shows you your previously visited pages, as well as jump quickly to the Sprint home page, your bookmarks and the settings menu.
The browser was one app that just didn't seem to want to work quickly at all. Navigating web sites was simply painful; a definite weak point for the LX370.
Customize
The LX370 allows you to customize it as much as any other feature phone. Ringers, wallpapers, screen savers, etc., can all be set by the user. Perhaps the most useful customization feature is the OneClick user interface itself. Having total control over the tabs and what icons are in them and where they are placed means you can really set the phone to act the way you want it.
Extras
Apps
The LX370 can access and download third-party content via the "MyStuff" folder in the main menu. This includes games, ringers, screen savers and other applications. You can browse through all the folders, or use the search tool to drill down faster.
Bluetooth
The LX370 supports mono and stereo Bluetooth headsets. Pairing with either kind was a snap. Sound quality through both was decent, though I thought the sound quality via mono headsets was better than I've heard on phones in recent memory. The LX370 can also be paired with PCs and send files (such as pictures) easily.
Clock
Need to check the time? The LX370 has a nice, bright digital clock that is visible when you press any button as the phone sleeps. The time is also visible at the bottom of the home screen, but it is a bit on the small side.
Sprint Navigation
Sprint Navigation is preloaded onto the LX370. It lets you get turn-by-turn directions from point A to point B. It worked well, and was able to pinpoint my location in about 30 seconds. The software came up with viable directions, and was able to re-route me when I purposely veered off course.
Wrap-Up
The LX370 has a number of decent features that work pretty well. The camera and video camera, for example, are nothing to laugh at. The music experience, in comparison, is not all that great. I liked that threaded messaging was available in the SMS department, but the email application is a bit clunky in my opinion.
Where the LX370 really shines is with the basics. The hardware simply works. The controls are well placed and do what they are supposed to. For those who need a phone more to make phone calls than to take care of social networking needs and media consumption, the LX370 from LG is a solid pick.
Curious... How do you pick what phones you review?
For a while, it seemed like just high-end phones. But I like things like this, for the people (like my Dad) that just want a phone and no thrills.
There are a few factors:
There is generally more demand for reviews of higher-end phones. There are generally: A. people who do a lot of research and are willing to spend more on a phone, and B. people who don't care as much and won't spend
...
(continues)