Review: Red Hydrogen One
Hardware Software 3D / 4-View Wrap-Up Comments
If we're to believe Red's marketing materials, the Hydrogen One's top feature is its 3D display and 3D camera. Red calls the phone "the world's first holographic 4-view media machine. Better than 3D without glasses." I'm not convinced Red is taking the right angle here.
First, the 3D screen: Typical 3D displays have a lenticular filter, or series of micro-lenses, in front of the LCD panel. Lenticular displays are often limited in resolution and suffer from reduced brightness. Moreover, lenticular 3D screens only work in one orientation (typically landscape.) Worse, the filter is still there when viewing normal 2D content on the screen, reducing image quality in 2D mode.
H4V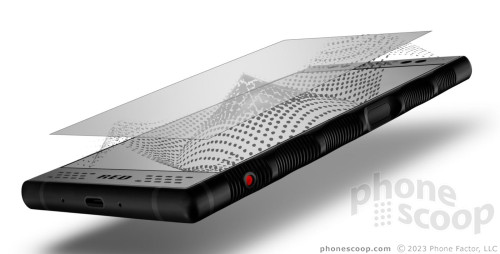 H4V
Advertisements article continues below...
Red is using proprietary nanotechnology behind the LCD panel to "animate 4-view" footage with what Red says is a "shimmering field of light." It's called H4V. There are a couple of benefits of this tech. First, the 3D effect is visible in both landscape and portrait orientations. We've never seen that before, as it isn't possible on lenticular-style 3D screens. Second, since there are no micro-lenses in the way, the screen looks and behaves like any other quad-HD LCD screen when viewing regular content.
With that said, the Hydrogen One's 3D unique screen technology still suffers from some of the same issues as lenticular 3D screen. For example, it has a horrible "screen door" effect. The resolution of 3D content is so low that you can see pixels everywhere. It's incredibly distracting.
The 3D effect itself is somewhat exaggerated. Objects that appear in the foreground are pulled away from the background too much, leaving a gaping space in between the two. This is odd when, for example, a pumpkin sitting at the front of a table looks like it is yards closer to your eyes than a vase, which is actually just inches behind it. Also, there are lots of stray 3D artifacts that randomly pop out, like part of a shirt, or one leaf of a plant, when that portion of the image should reside in the background plane.
Further, the phone needs to be held at just such a distance, and at just such an angle in order for you to see the 3D effect. Tilting the phone around makes the 3D effect — which is hardly sharp to begin with — go into and out of focus. This makes it hard to share the 3D content with even one other person sitting next to you, let alone a larger group.
Bottom line: seven years after HTC first tried to make 3D smartphones a thing, I'm still not convinced that 1. Anyone wants this; and 2. it's worth paying extra for.
What about the content? Well, there are a handful of ways to find and consume 3D content on the Red Hydrogen One.
Want apps and games? Check out the Leia Loft. This is a Red-curated app store for H4V-compatible apps and games. At the moment, there aren't many titles lining the virtual shelves of the Leia Loft. Surely this will change over time. We'll have to give Red the benefit of the doubt and believe that the Loft will be more robust down the road.
Want video content? Check out the Hydrogen Network. Here, you can browse through channels and categories, seek out sports, movies, and documentaries, as well as see what's popular. Like the Leia Loft, there isn't too much in the Hydrogen Network just yet. Red says that Warner Bros. has committed to bringing some 55 3D feature films to the platform. (No idea of they'll be free or carr some fee.)
Then there's the Red Player. This is a content playback app. Any 3D/H4V pictures, movies, or downloads all show up here. Basically, the stuff you capture with the Hydrogen One lands here, though there are some preloaded sample shots too. The UI is pretty basic.
The most interesting 3D app on board is Holopix. It's Instagram for 3D pictures. The contributors are other people who own a Red Hydrogen One. There are dozens and dozens of images here, and you can follow people and they will follow you. This is fun to browse through.
I expect (hope?) that these content spaces will fill up over time. There is sort of a chicken-or-egg situation here. Are there enough Hydrogen One phones in the market for content creators to bother with H4V? Is there enough H4V content to entice smartphone buyers to weigh the Hydrogen One? I can't tell you which way this scale is leaning.
Note: Red says several system updates are planned to reach the Hydrogen One over the next few weeks. The update will target performance of the 3D system. We'll update our review if these updates make noticeable improvements to the phone.