Review: Apple iPhone Xs Max
Hardware Software Wrap-Up Comments 1
Sep 27, 2018, 9:28 AM by Eric M. Zeman
This fall Apple debuted its biggest-ever iPhone, the Xs Max. This phone boasts a 6.5-inch screen, Apple's A12 Bionic processor, dual rear cameras, wireless charging, a waterproof chassis, and Apple's new iOS 12 platform. Together, these make for a powerful machine that can nearly do it all. Here is Phone Scoop's in-depth review of the Apple iPhone Xs Max.
Is It Your Type?
No other phone is as expensive as Apple's new iPhone Xs Max, and none is as polarizing. This heavyweight is for people who want the biggest of the best, accept no compromises, and have money to spend.
Body
The defining feature of the Apple iPhone Xs Max is the huge 6.5-inch display; the biggest ever on an iPhone. This new, gigantic iPhone goes head-to-head with Samsung's Note series and Google's Pixel XL series. All three devices offer cinematic experiences and raw power that put them on a pedestal above most others.
If the Xs Max looks familiar to you, it should: it's a bigger, badder version of the iPhone X. That means it has an identical glass-and-steel design, just more of it. The frame is forged steel and wraps all the way around the outer edge. The stainless steel is colored black to match the space gray model, gold to match the gold model, and simply polished for the silver model. Each shade has its own appeal. The front and rear glass panels are flat save for the subtle curve right where the glass and metal meet. I like the curves of the metal frame, which give the sides a rounded profile that's comfortable against the skin.
The phone is class all the way. It's black-tie ready.
Since the word "max" appears in the name, you should not be surprised to learn that the Xs Max is a large piece of hardware. It's just a bit shorter than the humongous Galaxy Note9, and about the exact same size as the Google Pixel 2 XL. The Xs Max stands 6.2 inches tall and sits 3.05 inches wide. I wish it were a tiny bit narrower (preferably <3 inches), but I can't complain about the 7.6mm thickness. At 7.34 ounces, it's fairly heavy. The iPhone will fit into most guys' pockets, but might strain gals' pockets. The Xs Max is not for small hands unless you buy into the idea of a two-handed device. A case only makes it bigger.
Apple makes some of the highest-quality phones in the world and the iPhone Xs Max serves as yet more evidence backing its status. A few phone makers play in this space. I've seen devices of this quality from Samsung and Huawei this year. Apple did improve the iPhone's water resistance to IP68. That means it can sit in 1.5 meters (~5 feet) of water for up to 30 minutes. I ran it under the faucet and it came through none the worse for wear. Apple claims the glass on either side of the metal frame is the "strongest ever" found on a mobile device. It's still glass, which is in danger of shattering when dropped onto hard surfaces. I'd slap a case on it. (We'll be reviewing some options soon.)
The Xs Max offers a corner-to-corner, full-screen experience (save for the notch). The 6.5-inch display covers nearly the entire front surface of the phone. Only a thin black bezel wraps around the edges between the display and the metal frame. The notch annoyed the bejesus out of me a year ago, but I'm now accustomed to it. Notches are already common on major phones from LG, Huawei, and many others. This notch contains the earpiece speaker, the user-facing camera, and the fancy sensor array that 3D-scans your face for Face ID security.
The ringer silence switch is on the left side and is easy to find and use by feel. The action is excellent. Few phones offer the convenience of a true ringer switch. It's a helpful feature to have, and the physicality is satisfying.
Ringer Switch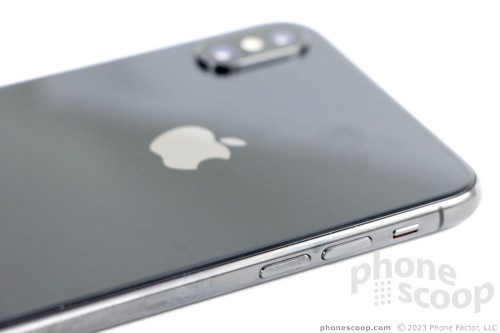 Ringer Switch
The volume buttons are below the ringer switch. The buttons have good profiles, but travel and feedback is minimal. The screen lock button and SIM card tray are positioned on the right edge of the phone. The screen lock button is a decent size, has a good profile, and offers excellent travel and feedback.
Like all iPhones of the last few years, the Xs Max doesn't include a headphone jack. Moreover, Apple no longer includes an adapter in the box. You have to buy the $9 adapter, use Apple's crummy Lightning-based EarBuds, or use Bluetooth.
Lightning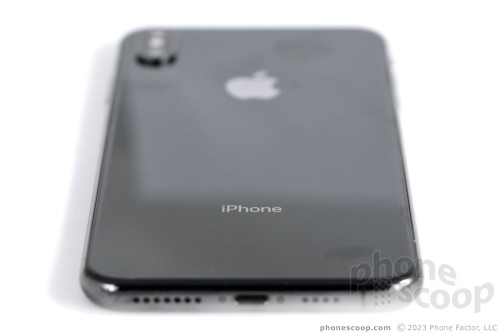 Lightning
As for charging and syncing, Apple continues to use its proprietary Lightning port, which is centered on the bottom. The company apparently doesn't care that the entire industry has adopted the more-capable USB-C connector. Even Apple has gone all-in on USB-C for its laptop products.
At the very least, Apple could switch to USB-C chargers and include a Lightning-to-USB-C cable with its new phones. That would provide compatibility and some sanity across Apple's product lineup. But no, inexplicably, they've stuck with an outdated, full-size USB connector on the cable and charger. That charger also charges slowly, even though the phone is capable of fast-charging. The competition includes a fast charger in the box; Apple is weirdly behind the competition here on some seriously low-hanging fruit.
The rear panel is flat except for the camera module, which juts out significantly. I wish the module weren't so large, as it makes the phone wobbly when placed on a hard surface. (You can solve the wobble with a case.) You cannot remove the rear panel nor the battery.
Camera Module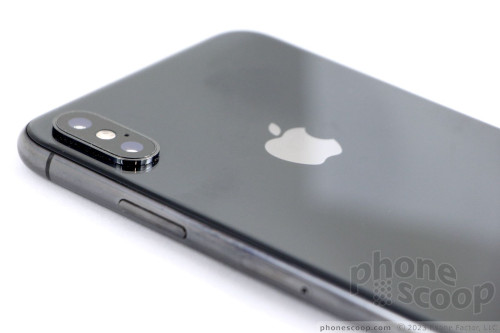 Camera Module
Apple has created a massive slab in the iPhone Xs Max. It meets or beats competing phones in core features, such as screen size, materials, and water resistance. If you want the biggest iPhone available, this is it.
Screen
The iPhone Xs Max has a big screen. It measures 6.5 inches from corner to corner and packs in 2,688 pixels by 1,242 pixels, giving it a pixel density of 458ppi. That's technically shy of the full quad HD+ offered by the competition, but it still offers insane detail.
It's an OLED panel with a 1,000,000:1 contrast ratio, meaning blacks are deep. The screen supports HDR10 and Dolby Vision, and is one of Apple's True Tone displays. All this jargon means the iPhone Xs Max delivers a huge amount of color, and it does so taking into consideration the ambient lighting. This makes it easier on your eyes in a wider range of environments.
Last, it puts out 625 nits of brightness. That's a bit less than the Note9's 710 nit rating, but well more than the Pixel 2 XL's ~438 nit rating. This mostly means the iPhone Xs Max is pretty easy to use outside, which we confirmed on a sunny Saturday.
Watching movies on the Xs Max is truly the best experience I've had with an iPhone. If you subscribe to high-quality services such as Netflix Premium, you can really appreciate what the Xs Max delivers.
The software offers a full array of controls over tint, blue light, and such.
Signal
Apple took the radio modem of the iPhone Xs Max in a different direction. Over the last few years, Apple diversified its supply chain and sourced modems from Qualcomm and Intel. Thanks to a bruising legal battle between Apple and Qualcomm, the iPhone maker used Intel exclusively this year. This means there's a single version of the iPhone Xs Max for the U.S. This is great news for consumers, as any iPhone Xs Max will work on any network in the U.S. (AT&T, Sprint, T-Mobile, and Verizon) so long as the phone is unlocked.
We tested an unlocked iPhone Max on AT&T and Verizon and, unfortunately, were not impressed. The Xs Max has fallen prey to some sort of network-related bug. It connected to AT&T and Verizon just fine, and often indicated solid LTE, but data speeds are not where they should be. The Intel modem supports gigabit LTE with LTE-Advanced features, such as 256QAM and 4x4 MIMO. It should deliver just about the fastest speeds available on any network. It did not. Speeds were often slower than those tested on a year-old iPhone X, and definitely trailed those of the Indycar-quick Note9. The iPhone is fast enough to stream YouTube and Spotify, but you may have to stick with standard def content for now.
Apple's support forums backup our experience, with many owners reporting similar speed problems. Apple has not yet publicly responded to the issue. Hopefully it will, and soon.
Each call I placed through the iPhone Xs Max connected on the first dial, and held on tight over miles of highway driving. No issues there at all.
The Xs Max is the first iPhone to support dual SIM cards. The arrangement isn't traditional. Rather than include a tray that holds two cards, the SIM tray accommodates just one card and Apple built an eSIM into the phone itself. This means you can put your normal SIM card in the tray and then sign up for service with another provider via the eSIM. This functionality is not yet active. Apple will turn it on later this year with a software update.
Sound
The clearest I've ever heard. Period. No phone has provided me with such noise-free calls. Voices come through the earpiece as pure as a nightingale's song. The Xs Max delivers a solid amount of sound, meaning calls are easier to hear than on older iPhones. I was able to enjoy calls just about everywhere I took the Xs Max, including coffee shops, shopping malls, supermarkets, outdoor parks, and speeding cars.
The speakerphone is significantly improved when compared to the iPhone X. It's clearer, punchier, and brighter. The sound cuts through your surroundings enough so that you can nearly always tell what's being said through the speaker. It works well in many spaces, including moving cars.
The ringers and alerts can be set to annoyingly loud volumes, ensuring you never miss a call. Apple's haptic vibrations for alerts and feedback are among the best.
Apple says it improved the stereo sound that comes from the earpiece and bottom-firing speakers. Not only are the two speakers capable of pushing more air, the sound is cleaner and better balanced. Turning the phone on its side to watch videos is a pleasing experience.
Battery
The battery has a capacity of 3,174mAh. That's the biggest we've seen in an iPhone. Apple says it lasts about 1.5 hours longer than the battery of last year's iPhone X. That's about right. Testing saw the phone push through the majority of a day with a comfortable cushion left at bedtime. I will caution that you take care with the background processes, which may sap battery life.
iOS 12 provides lots of ways to manage the battery, but you have to remember to use them. You can control background processes for each individual app, as well as set limits on apps' connectivity. It requires some effort to truly fine-tune it all. Thankfully, the low-power mode lets you quickly shut down select background processes (email sync., etc.) and wireless radios to conserve power.
The Xs Max includes a Battery Health Meter that tells you just how well the battery is performing as far as life expectancy is concerned. Because this phone is brand new, the battery is operating at 100% efficiency and at 100% capacity. As the lithium ion battery loses some capacity over time, you'll be able to switch between better battery life or better performance.
Last, the iPhone Xs Max supports wireless charging based on the Qi standard. It works with most of the wireless chargers being sold in stores today. I tested it on several in my office and found it worked with each. It charged fastest on a 10W wireless charger; much faster than the ridiculous included wired wall plug Apple's refusal to offer rapid wired charging continues to leave me flummoxed. It's not as fast to charge as the Note9, which charges at ludicrous speed, but it's the fastest-charging iPhone I've used.
Bluetooth, GPS, NFC, WiFi
The Xs Max has a Bluetooth 5.0 radio on board. It supports mosts profiles for connecting to headsets, headphones, speakers, other phones/PCs, and cars. It paired easily with a half dozen different devices, including all of the above-mentioned accessories. Apple's AirPods pair with the iPhone instantly thanks to Apple's proprietary technology, but I didn't run into trouble with third-party Bluetooth headphones. Phone calls sound excellent through my car's hands-free system and music sounded very good via speakers and headphones. The Bluetooth works really well.
I have no complaints about the iPhone's GPS radio. I tested both Apple Maps and Google Maps and both delivered very good real-time, point-to-point navigation. The speed and accuracy of both mapping apps was similar, meaning quick and accurate to within about 15 feet. The iPhone makes for a good navigation device.
The iPhone Xs Max has an NFC radio built in. It's primarily meant to facilitate tap-and-go mobile payments through Apple Pay. In this respect, it works perfectly. Setting up Apple Pay is a breeze and I used the Xs Max to make several mobile payments over the last few days. The latest software from Apple has opened up the NFC radio to more functionality, but I have yet to see it interact with NFC tags, or use NFC for pairing with certain headphones.
Similar to the LTE radio, the WiFi radio is sub-par. Though the iPhone Xs Max supports the latest dual-band WiFi tech, speeds over WiFi are just not good enough. The initial setup process for the Xs Max was painful due to how long it took the phone to download apps over WiFi. It should be much faster, and in fact the 2017 iPhone X and other phones are faster. This appears to be related to the same bug impacting the LTE speeds. Again, I hope Apple responds to this issue soon and offers a fix.
Shocking price?
In the world of high end smartphones, the iPhone XS Max is right in line with other premium devices of similar quality. If a customer is looking to spend 800 to 1000 dollars on the competition, then how is 1100 dollars "shockingly high"?