Review: Motorola Moto X4
Article Comments 2
Nov 2, 2017, 6:00 AM by Eric M. Zeman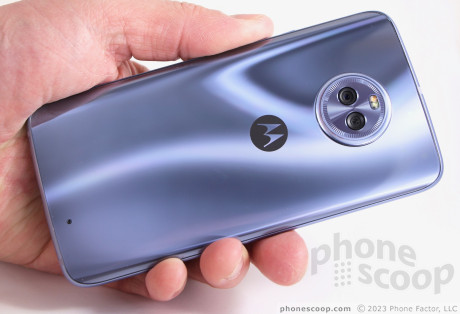 Motorola's mid-range Moto X4 is a classy glass-and-metal Android handset that boasts two cameras, rapid charging, and advanced software features. The phone is affordable and sold unlocked with support for most U.S. LTE 4G networks. Here is Phone Scoop's in-depth report.
Advertisements article continues below...
Hardware
Is It Your Type?
The Moto X4 from Motorola is a mid-range handset wrapped in a stylish glass shell. It fits right in the middle of Motorola's lineup and might be a good option for those who prefer unlocked handsets.
Body
The Moto X lost its heart and soul sometime back in early 2015, but the phone still has a place in Motorola's modern-day lineup of Android smartphones. This year's iteration is a unique addition thanks to the metal frame, curved glass panels, and high-class design.
The X4 surely embodies Motorola genealogy. The phone's general shape is reminiscent of previous generations of the X, even if the warm personality is gone. (Raise your hand if you miss the wood and leather finishes.) You've got gently curved corners and slightly bowed top and bottom edges. The metal frame wraps all the way around the exterior edges. Glass panels form the front and rear surfaces. Where the front glass has 2.5D curves right along the very edges, the rear panel features more significant bends in the glass. Motorola polished the frame along the front edge to give it a nice chamfer. It's shiny, but still color-matched to the rest of the frame's more matte appearance. The phone comes in black and blue. Our blue review unit looks great, though the mirror-like finish on the rear shows fingerprints like crazy.
Some might find the X4 is their Goldilocks phone: it's not too big and not too small. I found the phone was generally easy to hold and use. I think it's one of those phones that will work well for most people. Thanks to all that glass and metal, it's a medium weight. I wouldn't call it heavy, but it is weighty. I had no problem carrying the phone around in my hands or pockets. You might call it a bit slippery.
Motorola opted for high-quality materials for the X4 and managed to glue them together tightly. The seams between the glass and metal are tight. Everything about the X4's fit and finish is impressive.
There's no doubt in my mind at all that the face is pure Motorola. The design is very similar to this year's crop of E, G, and Z models. First off, the bezels are annoying. Motorola has yet to design a near bezel-less handset and it is starting to get late in the game. You've got thick framing above and below the screen. The earpiece, user-facing camera, and user-facing flash are clearly visible in the forehead, while the multi-function home/fingerprint button fills out the chin.
The screen lock button is a squat button with a chunky profile and ribbed texture. Travel and feedback is excellent. The separate volume buttons are a bit further up. Each is small and nubby, but they both offer good travel and feedback. I like that they can be set to snap photos or zoom in/out when using the camera.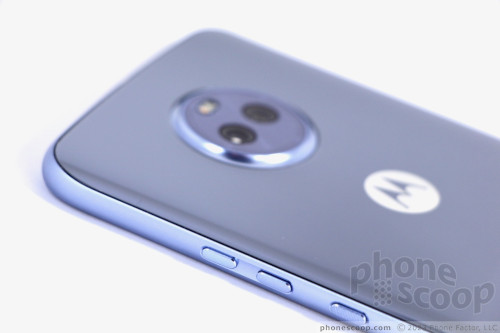 The USB-C port and 3.5mm headphone jack are in the bottom edge.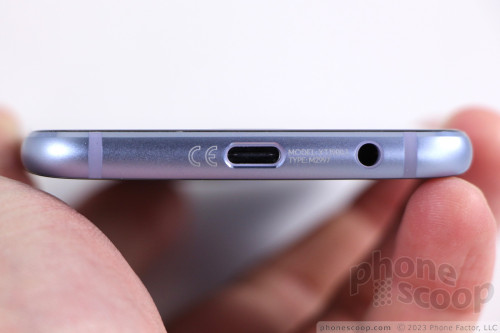 The rear panel should look somewhat familiar to anyone who's spotted a Motorola phone in the last year. It's mostly smooth, but the oversized camera circle dominates the top half. The camera bump is H U G E! It looks like an upside-down face. There's an odd watchface-like dial that encircles the camera module. The stylized "M" logo is painted underneath the glass in chrome. The rear panel, and thus the battery, cannot be removed.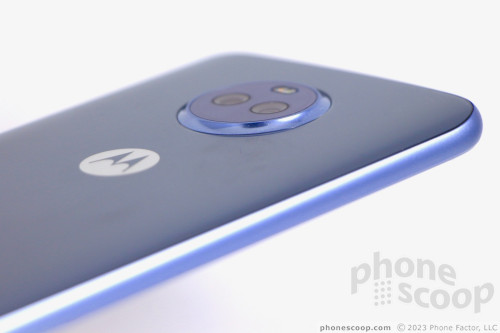 The all-glass X4 may be fragile, but at least you can get it wet. The phone has an IP68 rating, which means it can sit in 4.5 feet of water for up to 30 minutes. It easily brushed aside running water and some time at the bottom of my sink. Waterproofing is a table-stakes feature in today's flagship phones, and it's nice to see it available to this mid-ranger from Motorola.
The Moto X4 is perhaps the classiest handset Motorola has ever designed. It's a nice addition to the company's ever-growing stable of devices.
It's worth mentioning that this phone is not compatible with Moto Mods. (That's what the Z series is about.)
Screen
At 5.2 inches across the diagonal, the X4 has a mid-sized screen. It's a fine size and works well with the full HD resolution. The pixel density is great at 424ppi, meaning everything on the screen is sharp and free of visible pixels. Text, images, icons, graphics, and video all look really good on this screen. Motorola opted for an LCD panel. It pumps out plenty of light. I found it bright enough to use indoors and out with no problem. Color is quite accurate, and viewing angles are very, very good. There's no blue shift at all and only the most minor drop in brightness when tilting the phone.
The resolution doesn't make the X4 the best VR candidate. You can use it with Google Cardboard, but the experience will leave you pixelated, not titillated.
Signal
Motorola sells an unlocked version of the X4 online. It has good support for all U.S. LTE networks, including T-Mobile's Band 66. It doesn't support AT&T's bands 29 and 30, but those are not essential. I tested the phone on AT&T's network in and around New York City. The phone showed a strong connection to AT&T's network throughout the metro area. I didn't see the phone drop to 3G, and it never lost the network completely.
Data speeds were on par with other unlocked devices I've tested on AT&T's network. That is to say, it does a fine job when browsing social networks and streaming audio and video. The phone was able to connect phone calls even under poor signal conditions and it did not drop any calls. It performed well from a radio perspective.
(Google also sells a version of the phone through its Project Fi carrier. The Project Fi variant of the phone runs Android One software. We didn't get to test this variant.)
Sound
The Moto X4 is a very good voice phone. The earpiece pushes clear voices with plenty of volume. I was able to enjoy conversations at home and even in the car with the volume set to medium levels. I had to turn it up when walking on city streets or sitting in a busy coffee shop. High volumes introduced a small amount of distortion, but it wasn't too bad. People I spoke to through the X4 said I sounded "right next door."
The speakerphone also does well. It offers bright voice tones at moderate volumes that are easy to hear in spaces such as your home or office. Cranking up the volume does impact quality a bit, but you can still easily hear calls in a moving vehicle.
Ringers and alert tones always got my attention. The vibrate alert is very good.
Battery
Motorola gave the X4 a good-sized battery at 3,000 mAh. I was generally pleased with battery life. The phone often had 25% battery capacity left at the end of the day. Only when I pushed it to the extreme did it drop to 10%.
The phone ships with the stock Android battery management tool. It can help you eke out a few more hours if you get into trouble. You can set it to turn on automatically, or toggle it on manually if you prefer.
Perhaps the best news here is that the X4 supports Motorola's TurboPower rapid charging. Incredibly, plugging your phone into the included charger for just 15 minutes nets you 6 hours of additional usage. That's awesome.
The phone doesn't support wireless charging.
Bluetooth, GPS, NFC, WiFi
The X4 includes Bluetooth 5.0 and works with most accessories you might encounter. I was able to successfully pair the phone with myriad devices, including headsets, speakers, and my car. Calls pushed through my vehicle's hands-free system were a bit on the rough side in terms of quality, though they were loud enough to hear. Music sounded very good through my favorite headphones and speakers.
The NFC radio is handy when pairing Bluetooth accessories, as well as making mobile payments with Android Pay. It works as it should.
The X4's GPS radio was able to narrow down my location within a few seconds and it was accurate to about 20 feet. Real-time, voice-guided directions performed flawlessly.
I didn't run into any issues with the WiFi radio.
Software
Lock Screen
The Moto App controls the ambient display, lock screen, and notifications.
The Moto Display function in the Moto App can wake the screen regularly with a list of the current notifications; show important notifications on the lock screen as they arrive; or leave the screen entirely dark. The behaviors are fully customizable, which is something I've long appreciated about Motorola smartphones. It's a shame you can't double-tap the screen to wake the phone, as you can on higher-end Moto phones, but gently touching or moving the phone will wake the Moto Display. In other words, any time you grab the phone, it will light up to show you the clock, battery life, and notifications. That's good.
If you press the screen lock button, the display wakes fully to show the clock, wallpaper, and notifications listed below the clock. There are also shortcuts to the Google Assistant and camera on this screen. You can't customize these shortcuts.
The X4's fingerprint reader performed very well. It was consistent at recognizing fingerprints on the first try.
The fingerprint sensor doubles as a navigation pad and that's also managed via the Moto App. You have to turn this feature on manually. It works well enough when I remembered to use it. Basically, it acts like a trackpad and accepts swiping gestures for navigating back and forth through the UI. It takes practice.
A new addition to the Moto App is called Moto Key. With this tool you can opt to use your fingerprint to sign in to apps and web sites. You can even use it to unlock nearby Windows PCs and even sign into PC-based apps. It supports just about any mobile app. You'll need to register the a fingerprint and then set up the app's login via Moto Key.
Home Screens
The X4 ships with Android 7 Nougat with minimal tweaks from Motorola.
The X4 does include a Google Now-style home screen panel to the left. It's not something you can turn on or off; it's just there. As long as you're signed in to your Google account, this panel shows you your local weather, calendar appointments, travel times to local points of interest, and so on.
The app drawer is almost standard Android. It doesn't include a dedicated button on the home screen. Instead, you swipe up from the dock to bring up the app drawer, similar to Pixel phones. Apps are listed alphabetically in the drawer, with four app suggestions lining the top. The app drawer doesn't support folders, nor does it allow you to hide apps.
The notification shade, Quick Settings tool, and main settings screens are all standard Android, and work accordingly. There are no themes or other fancy interface tricks on board, which is fine as far as I am concerned.
You can use Moto Actions (once again, controlled via the Moto App) to augment how your phone behaves. Moto Actions are basically gestures. For example, drag three fingers down the display to take a screenshot, make a chop motion with the phone twice to turn on the flashlight, pick it up to stop ringing, and much more. These are all easy to enable and use.
As for performance, the Moto X4 has a 2.2 GHz Snapdragon 630 processor with 3 GB of RAM and 32 GB of storage. The 630 delivered consistent performance across the board on our review unit. The phone ran really, really well.
Camera
The X4 does not have a dedicated physical camera button, but there are several ways to open the camera. The good-old wrist-twisting gesture (a Moto Action) that Motorola has included on its phones for years is still my favorite way to open the camera. The app opens swiftly.
I like that both the flash and HDR tools can be set to "auto". As for shooting modes, the X4 offers auto, video, panorama, depth-effect, color match, face filters, and "professional". The first three function more or less how you might expect them to.
The depth-effect uses depth-of-field data generated by the two lenses to create in-focus and out-of-focus regions within the photo. It's become a popular feature and is available on flagships from Apple, Google, Huawei, and others. Your subject has to be close, (within a few feet,) and the background has to be at least several feet further away. It works best outdoors, with portraits of people. The mode is a little slow; there's no hurrying this tool along.
The color match feature is fun. You select the color in the viewfinder you want to keep. Once you select the color, everything else in the photo turns black and white. It's great for making subjects pop, like a red sports car or orange tree leaves.
Face filters are just what the name implies. It includes a narrow area of focus in the viewfinder where it expects you to center on a face. It's best put to use with the selfie camera. It includes options like sunglasses, unicorns, rainbows, and space helmets. It offers a way for selfie fans to augment their pix before sharing across social media. It's a cinch to use.
The "professional" mode lets you take full control over focus, white balance, shutter speed, ISO, and brightness. The controls line the top of the screen and are easy to adjust. It's a shame the shutter only lets you select speeds as slow as one-third of a second; that's hardly long enough to get creative or take really great night shots. There's no time-lapse mode, nor is there any sort of GIF maker.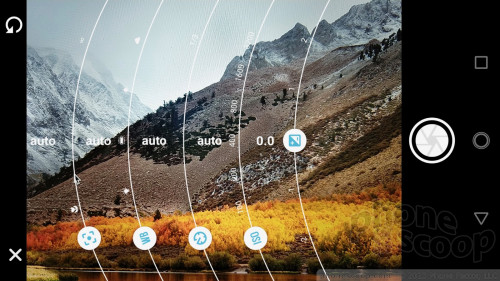 The default is always auto mode. Because the X4 has standard and wide-angle lenses, you can easily switch between both by tapping the new "lens" tool that floats in the viewfinder. Press the shutter button to take standard pictures, or press-and-hold to capture a burst. Swipe from the left side of the screen to access more settings such as grid-lines and resolution.
Motorola moved the slow-motion video capture tool to the video section of the app, which makes sense. The slow-mo tool is easy enough to use.
The layout of the camera app is fine for novices and experts alike. The X4's processor and RAM combo ensure relatively quick performance of the camera, which ran smoothly while I evaluated it.
Photos/Video
The X4's main camera has a 12-megapixel sensor at f/2.0 and the secondary camera has an 8-megapixel sensor with a wide 120-degree field of view, at f/2.2. Both have phase-detection autofocus and are able to take advantage of the various shooting modes.
On a basic level, the X4 takes very good photos. It's above average when it comes to focus, exposure, and white balance. I really like the various shooting modes, which produce results in line with what I expected to see.
I relish the wide-angle camera, which really helps in tight quarters, or those times when you simply want to squeeze more into the picture. The wide-angle mode does include some slight image distortion at the corners, but is otherwise really awesome.
The selfie camera is particularly powerful. It has a 16-megapixel sensor at f/2.0 with a selfie flash and even a low-light mode. You can snag selfie panoramas for those times a wide background is necessary (groufies!), and the face filters are best put to use when having fun with the selfie cam. Images are mostly sharp, exposed properly, and show little grain (even in low light.)
You can capture video up to 4K with the X4. The results look very good. Most people should be pleased with what they see.
The X4 can definitely serve as an everyday shooter, and might often get the job done on vacations and other important events.
Voice Assistant
The Moto App contains a fourth tool called Moto Voice. We saw it on the Z2 Force earlier this year. The tool sort of mimics Google Now in that you blurt out voice commands and the X4 obliges. It takes several minutes to walk through the tutorial. Rather than say "Hey Google" or "OK Google" you simply say "Show me my…" to see your calendar, your call log, and so on. It will react even when the phone is locked.
It works pretty well for opening apps and seeing basic personal info, but Moto Voice can't complete more complex actions such as composing a message. Just use Google Assistant, which is on board and fully functional.
If Google Assistant isn't your thing, you can opt for Amazon's Alexa instead. The Alexa app is preinstalled on the phone and you can elect to set that up instead as your go-to voice pal. If found it works well enough, but you have to have an Amazon Prime account to get the most out of Alexa.
Wrap-Up
The Moto X4 from Motorola is a great alternative to the Z-branded, mod-compatible line of handsets. It doesn't pack the truly high-end specs of the Z2 Force, but it has a classy design that puts it in a different league when compared to Motorola's lower-end G series.
I like the metal-and-glass build of this phone. It may be fragile, but it is waterproof and looks great. The mid-sized screen is really nice, and wireless performance was as good as any other phone. Data speeds were fine, and even battery life managed to impress.
Motorola's additions to the stock Android platform are tasteful and genuinely helpful. Who doesn't want control over their lock screen, gestures, and more? The company gave the X4 a unique set of camera features when compared to Motorola's other phones that make it a compelling picture machine. I'm particularly fond of the color match tool. What's more, the phone takes good pictures.
At $399, the Moto X4 falls right in the middle of Motorola's roster. It shares its price with the Z2 Play, which is compatible with Moto Mods. I'd recommend the X4 to those who want an unlocked phone from Motorola and aren't interested in investing in the Mods ecosystem. It's a classier handset that covers the basics with style.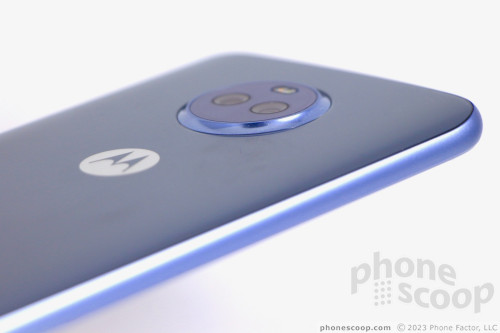 No messages