Review: Motorola Moto X4
Hardware Software Wrap-Up Comments
Nov 2, 2017, 6:00 AM by Eric M. Zeman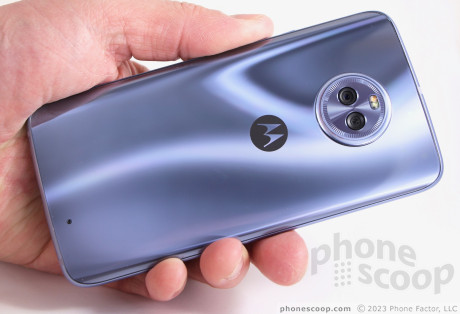 Motorola's mid-range Moto X4 is a classy glass-and-metal Android handset that boasts two cameras, rapid charging, and advanced software features. The phone is affordable and sold unlocked with support for most U.S. LTE 4G networks. Here is Phone Scoop's in-depth report.
Is It Your Type?
The Moto X4 from Motorola is a mid-range handset wrapped in a stylish glass shell. It fits right in the middle of Motorola's lineup and might be a good option for those who prefer unlocked handsets.
Body
The Moto X lost its heart and soul sometime back in early 2015, but the phone still has a place in Motorola's modern-day lineup of Android smartphones. This year's iteration is a unique addition thanks to the metal frame, curved glass panels, and high-class design.
The X4 surely embodies Motorola genealogy. The phone's general shape is reminiscent of previous generations of the X, even if the warm personality is gone. (Raise your hand if you miss the wood and leather finishes.) You've got gently curved corners and slightly bowed top and bottom edges. The metal frame wraps all the way around the exterior edges. Glass panels form the front and rear surfaces. Where the front glass has 2.5D curves right along the very edges, the rear panel features more significant bends in the glass. Motorola polished the frame along the front edge to give it a nice chamfer. It's shiny, but still color-matched to the rest of the frame's more matte appearance. The phone comes in black and blue. Our blue review unit looks great, though the mirror-like finish on the rear shows fingerprints like crazy.
Some might find the X4 is their Goldilocks phone: it's not too big and not too small. I found the phone was generally easy to hold and use. I think it's one of those phones that will work well for most people. Thanks to all that glass and metal, it's a medium weight. I wouldn't call it heavy, but it is weighty. I had no problem carrying the phone around in my hands or pockets. You might call it a bit slippery.
Motorola opted for high-quality materials for the X4 and managed to glue them together tightly. The seams between the glass and metal are tight. Everything about the X4's fit and finish is impressive.
There's no doubt in my mind at all that the face is pure Motorola. The design is very similar to this year's crop of E, G, and Z models. First off, the bezels are annoying. Motorola has yet to design a near bezel-less handset and it is starting to get late in the game. You've got thick framing above and below the screen. The earpiece, user-facing camera, and user-facing flash are clearly visible in the forehead, while the multi-function home/fingerprint button fills out the chin.
The screen lock button is a squat button with a chunky profile and ribbed texture. Travel and feedback is excellent. The separate volume buttons are a bit further up. Each is small and nubby, but they both offer good travel and feedback. I like that they can be set to snap photos or zoom in/out when using the camera.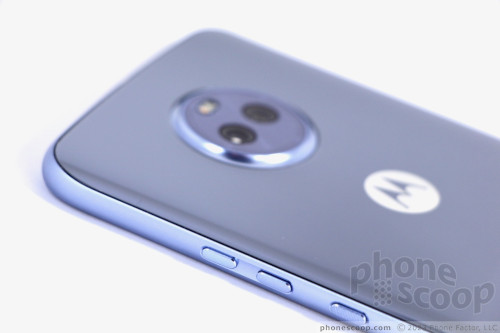 The USB-C port and 3.5mm headphone jack are in the bottom edge.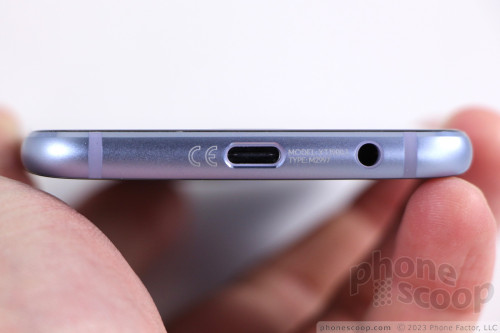 The rear panel should look somewhat familiar to anyone who's spotted a Motorola phone in the last year. It's mostly smooth, but the oversized camera circle dominates the top half. The camera bump is H U G E! It looks like an upside-down face. There's an odd watchface-like dial that encircles the camera module. The stylized "M" logo is painted underneath the glass in chrome. The rear panel, and thus the battery, cannot be removed.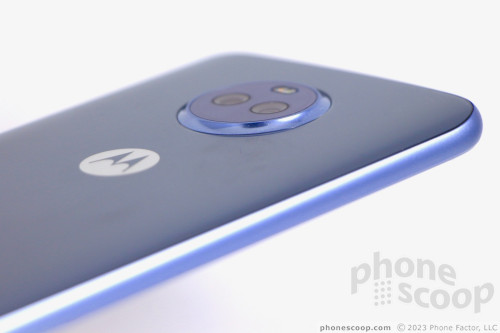 The all-glass X4 may be fragile, but at least you can get it wet. The phone has an IP68 rating, which means it can sit in 4.5 feet of water for up to 30 minutes. It easily brushed aside running water and some time at the bottom of my sink. Waterproofing is a table-stakes feature in today's flagship phones, and it's nice to see it available to this mid-ranger from Motorola.
The Moto X4 is perhaps the classiest handset Motorola has ever designed. It's a nice addition to the company's ever-growing stable of devices.
It's worth mentioning that this phone is not compatible with Moto Mods. (That's what the Z series is about.)
Screen
At 5.2 inches across the diagonal, the X4 has a mid-sized screen. It's a fine size and works well with the full HD resolution. The pixel density is great at 424ppi, meaning everything on the screen is sharp and free of visible pixels. Text, images, icons, graphics, and video all look really good on this screen. Motorola opted for an LCD panel. It pumps out plenty of light. I found it bright enough to use indoors and out with no problem. Color is quite accurate, and viewing angles are very, very good. There's no blue shift at all and only the most minor drop in brightness when tilting the phone.
The resolution doesn't make the X4 the best VR candidate. You can use it with Google Cardboard, but the experience will leave you pixelated, not titillated.
Signal
Motorola sells an unlocked version of the X4 online. It has good support for all U.S. LTE networks, including T-Mobile's Band 66. It doesn't support AT&T's bands 29 and 30, but those are not essential. I tested the phone on AT&T's network in and around New York City. The phone showed a strong connection to AT&T's network throughout the metro area. I didn't see the phone drop to 3G, and it never lost the network completely.
Data speeds were on par with other unlocked devices I've tested on AT&T's network. That is to say, it does a fine job when browsing social networks and streaming audio and video. The phone was able to connect phone calls even under poor signal conditions and it did not drop any calls. It performed well from a radio perspective.
(Google also sells a version of the phone through its Project Fi carrier. The Project Fi variant of the phone runs Android One software. We didn't get to test this variant.)
Sound
The Moto X4 is a very good voice phone. The earpiece pushes clear voices with plenty of volume. I was able to enjoy conversations at home and even in the car with the volume set to medium levels. I had to turn it up when walking on city streets or sitting in a busy coffee shop. High volumes introduced a small amount of distortion, but it wasn't too bad. People I spoke to through the X4 said I sounded "right next door."
The speakerphone also does well. It offers bright voice tones at moderate volumes that are easy to hear in spaces such as your home or office. Cranking up the volume does impact quality a bit, but you can still easily hear calls in a moving vehicle.
Ringers and alert tones always got my attention. The vibrate alert is very good.
Battery
Motorola gave the X4 a good-sized battery at 3,000 mAh. I was generally pleased with battery life. The phone often had 25% battery capacity left at the end of the day. Only when I pushed it to the extreme did it drop to 10%.
The phone ships with the stock Android battery management tool. It can help you eke out a few more hours if you get into trouble. You can set it to turn on automatically, or toggle it on manually if you prefer.
Perhaps the best news here is that the X4 supports Motorola's TurboPower rapid charging. Incredibly, plugging your phone into the included charger for just 15 minutes nets you 6 hours of additional usage. That's awesome.
The phone doesn't support wireless charging.
Bluetooth, GPS, NFC, WiFi
The X4 includes Bluetooth 5.0 and works with most accessories you might encounter. I was able to successfully pair the phone with myriad devices, including headsets, speakers, and my car. Calls pushed through my vehicle's hands-free system were a bit on the rough side in terms of quality, though they were loud enough to hear. Music sounded very good through my favorite headphones and speakers.
The NFC radio is handy when pairing Bluetooth accessories, as well as making mobile payments with Android Pay. It works as it should.
The X4's GPS radio was able to narrow down my location within a few seconds and it was accurate to about 20 feet. Real-time, voice-guided directions performed flawlessly.
I didn't run into any issues with the WiFi radio.
No messages