A Visual Guide to 700 MHz
Intro Band Plan Verizon AT&T Qualcomm, etc. Comments 32
Qualcomm has already been using the Lower 700 MHz D block for its MediaFLO service that broadcasts live TV directly to phones. In Auction 73, Qualcomm picked up just a few of the similar (unpaired) E block licenses. It picked top markets, though: Boston, LA, New York, Philadelphia, and San Francisco.
Qualcomm 700 MHz Licenses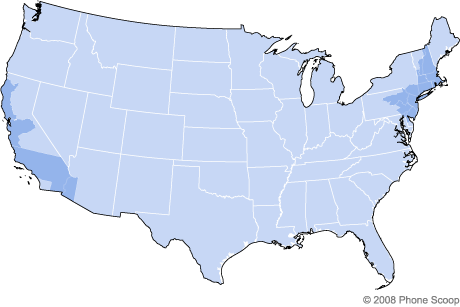 Since the E block is also unpaired, and so close to the D block, it would make sense for Qualcomm to use it for MediaFLO as well, or a related service. One guess is that Qualcomm will use it to offer local TV channels in those five key markets.
Even though it only bought five licenses in the E block, it cost Qualcomm over $550 million.
One familiar - but odd - name in Auction 73 was MetroPCS. It bought a large A-block license covering Boston... and that one license is all it bought, which is what's odd. It didn't participate in auctions 44 or 49, either. To have one lone city that uses a completely different frequency band from the rest of your network is generally not a good idea. MetroPCS felt sure enough about it to spend over $310 million on that license, though, so we assume it has some kind of plan.
Cox, Vulcan, Frontier, and King Street* were other companies laying out large sums for various licenses in Auction 73.
(Update: King Street is associated with US Cellular.)
Cox is a major cable TV company. It purchased a mix of Lower A and B block licenses. That's paired spectrum, so it's possible it could launch some kind of phone service with it. Major cities covered by those licenses include Las Vegas, Phoenix, and San Diego.
Frontier is a part of EchoStar, known for its Dish Network satellite TV service. Frontier is a curious entry, partly because it bought unpaired Lower 700 E-block licenses. Since the largest cities in the Lower E block were snapped up by Qualcomm, that leaves Frontier with the relative scraps. Whatever it does, it probably won't be anything like mobile phone service, though, since the band is unpaired.
None of these smaller bidders came away with anything approaching a national reach.