A Visual Guide to 700 MHz
Intro Band Plan Verizon AT&T Qualcomm, etc. Comments 32
AT&T Mobility just bought some fresh 700 MHz spectrum in the Lower B block, but it owned quite a bit of 700 MHz spectrum even before Auction 73, thanks to the recent purchase of Aloha Partners, which in turn had previously acquired Cavalier Group and DataCom Wireless. Aloha, Cavalier, and DataCom were the three biggest players in Auctions 44 and 49, where they bought most of the important licenses in the Lower 700 MHz C block. (Not to be confused with the Upper 700 C block just purchased by Verizon.)
AT&T also went after a number of smaller existing 700 MHz license holders with names like Harbor Wireless, McElroy Electronics, and even some guy named Scott Reiter. AT&T's purchase of Aloha - together with its spoils from Auction 73 - gave it coverage of most major markets. It took deals with the smaller companies, though, to secure the few remaining key markets like Miami, Des Moines, and Raleigh-Durham.
Now that AT&T has swallowed up all of these companies (or at least their 700 MHz licenses,) and done its thing in Auction 73, its combined B & C block holdings in the Lower 700 MHz band look like this:
Advertisements article continues below...
AT&T 700 MHz Licenses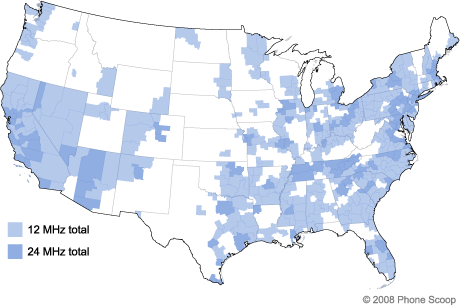 There are a number of places where AT&T now has both the B and C block licenses in the Lower 700 MHz band. This gives it double the bandwidth - 24 MHz total - in those areas. Such areas include Baltimore, Boston, Cleveland, Dallas, Detroit, Houston, New York, Philadelphia, St. Louis, San Francisco, and Washington.
Chicago, LA, and Miami are key cities missing from that list, because Verizon Wireless out-bid AT&T in those cities. AT&T still has the 12 MHz C block in those cities, but whatever AT&T has planned for its 700 MHz spectrum, it won't have as much capacity for it in those cities.
Both the Lower B and Lower C blocks are divided up by CMAs. By avoiding the Lower A block - which is divided by EAs instead - AT&T kept its 700 MHz holdings a bit simpler by sticking to one system of geographic divisions. That way all of its licenses fit together like a jigsaw puzzle, with no unnecessary overlap.
AT&T hasn't announced what it will do with its 700 MHz spectrum, although LTE and WiMAX seem like the two most likely options.
What is known is that it spent at least $9 billion between Auction 73 and buying Aloha, so it's doubtful it'll let such valuable purchases sit idle for too long.