A Visual Guide to 700 MHz
Intro Band Plan Verizon AT&T Qualcomm, etc. Comments 32
Verizon really whipped out its wallet in Auction 73. It spent a whopping $9.4 billion in this auction.
Verizon won the most prized spectrum in the auction: the Upper 700 MHz C block. This particular slice of spectrum is valuable for two reasons: geography and bandwidth.
First, the FCC offered the Upper C block in just a handful of very large regions: six licenses cover the entire continental US. Verizon snagged all six, plus Hawaii.
Advertisements article continues below...
Second, the Upper C block is a full 22 MHz wide, compared to 12 MHz for the other major blocks. That extra bandwidth means extra capacity, for handling more voice calls and/or more data.
(The Upper C block is the only Upper 700 MHz block successfully auctioned off to date, since the Upper D block failed to sell in Auction 73. Therefore any other blocks discussed in this article are in the Lower 700 MHz band.)
Verizon didn't stop there, though. It also picked up scattered extra licenses in the Lower A and B blocks in Auction 73. In some areas, it picked up both, giving it a grand total of 46 MHz of fresh 700 MHz spectrum in those areas, which include LA, Chicago, and Miami.
Verizon Wireless 700 MHz Licenses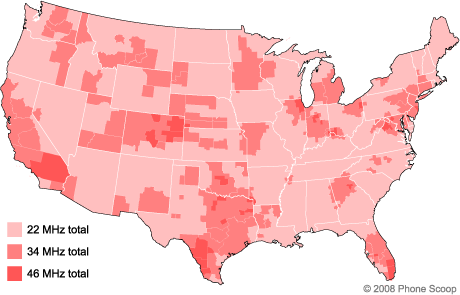 Each of these blocks is set up slightly differently. Besides the bandwidth difference mentioned above, the Lower A and B blocks are divided into different, smaller geographic areas. The Lower A block is divided up by EAs, while the Lower B block is divvied up by the much smaller CMAs. For example, Verizon's new A-block license for the LA area stretches all the way into Arizona, while their new B-block license for LA just covers LA and Anaheim.
Having 700 MHz spectrum completely nationwide gives Verizon the unique opportunity to launch a whole new national network with relative ease, which is extremely rare. Although they haven't announced specific plans, it would be perfect spectrum for Verizon to launch its new LTE network.