A Visual Guide to 700 MHz
Intro Band Plan Verizon AT&T Qualcomm, etc. Comments 32
Here is how the 700 MHz band fits with the existing major bands in the US:
Major US Bands

The "700 MHz band" is actually two bands: Upper 700 MHz and Lower 700 MHz. Each has its own set of blocks. That means you need to be careful when talking about the 700 MHz "C Block", for example, because there are two different "C Blocks": one in Upper 700, and one in Lower 700.
Advertisements article continues below...
To make it even more confusing, the FCC auction that just concluded - Auction 73 - included a mix of blocks from both Upper 700 and Lower 700 MHz bands.
700 MHz Blocks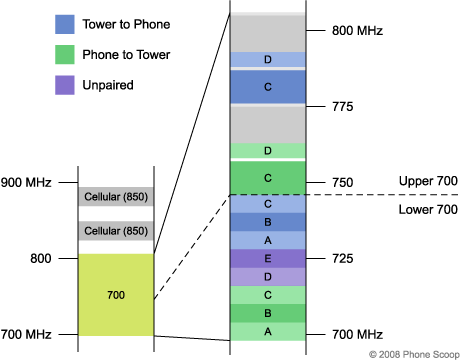 Prior to the recent Auction 73, there were Auctions 44 and 49. These saw the Lower 700 MHz blocks C and D auctioned off. Auction 44 was a first attempt, but didn't go very well, requiring Auction 49 to finish the process.
By the time Auction 49 was over, a variety of small no-name companies had grabbed various Lower C block licenses, and Qualcomm had grabbed the Lower D block nationwide.
Qualcomm currently uses the Lower D block for its MediaFLO mobile TV service for Verizon, and soon AT&T.
The Lower 700 D and E blocks are unpaired - shown above in purple. Unpaired means it is one continuous block of spectrum, ideal for one-way broadcasting (as Qualcomm does with MediaFLO.)
The alternative to unpaired is paired, meaning there are two separate bands: one for towers to transmit to phones, and one for phones to transmit back to towers. Most popular mobile phone technologies are designed to work with paired spectrum. As you can see above, the Lower 700 A, B, and C blocks are paired, as are the Upper 700 C and D blocks.
The Upper 700 MHz band also includes some very narrow paired bands, shown above in light gray. These are the Upper 700 A and B blocks. They're so small, though (1 MHz in each direction,) that they're not useful for mobile phone service. In slightly darker gray are blocks reserved for public safety radio systems.
Auction 73 included the Lower 700 blocks A, B, and E, plus Upper 700 blocks C and D.
700 MHz Blocks by Auction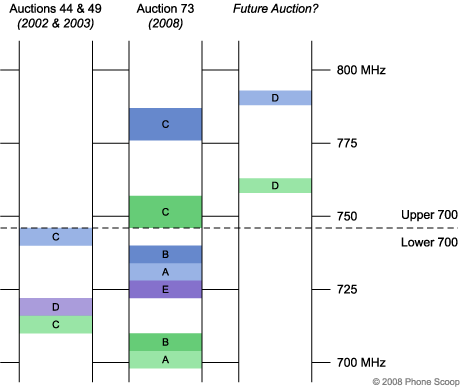 Aside from the paired versus unpaired issue, the Lower 700 MHz blocks are all standard fare. The Upper 700 blocks, though, come with strings attached.
The Upper C block has "open access" rules that require the license holder to allow third-party devices and applications to use the network built using that spectrum. This was quite a controversial issue when the rules were being drafted for this band, but in late 2007 - right before Auction 73 - the whole industry magically embraced open access, and has even started to compete on just how "open" they can be. Of course this didn't happen until the FCC was about to force it on them.
The Upper D block had special rules attached that would require the spectrum to be shared with public safety. A number of things went wrong with this plan, and there are even accusations of fraud, although that's beyond the scope of this article. What's important for now is that the reserve price was not met, so the Upper D block was not sold in Auction 73. The FCC is in the process of reviewing various options and will probably re-auction that block at a later date.