Review: Microsoft Windows 10 Mobile
Intro Major Features Minor Features Tweaked Wrap-Up Comments 7
Dec 11, 2015, 5:00 PM by Eric M. Zeman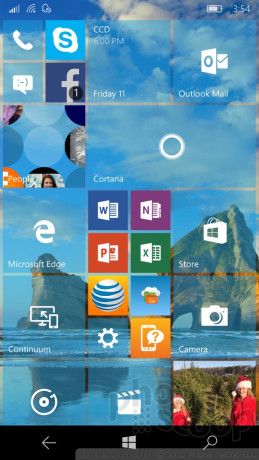 Window 10 for smartphones builds on the foundation created by Microsoft for its desktops, laptops, and tablets. Windows 10 is a unifying platform that boasts universal apps and common, key functions that make for a seamless experience across form factors. The update moves Microsoft's mobile platform closer than it's ever been to Apple's iOS and Google's Android, but it still trails in a few core areas. Here is Phone Scoop's in-depth report of Windows 10 Mobile.
Windows 10 Mobile is the second major re-write for Microsoft's mobile operating system since Windows Phone 7 arrived in 2010. This time around, Windows 10 Mobile more closely matches the features and design of Windows 10 for PCs, which Microsoft put great effort into redesigning earlier this year. Microsoft believes the allure of truly universal apps and its fresh look will appeal to hardcore Windows devotees.
Design
Windows 10 Mobile is at once familiar and fresh. Microsoft carried over many of the platform's essential elements, but breathed new life into them. The user interface is a bit less colorful thanks to an increase in the number of transparent Live Tiles, but it feels more airy and light.
With W10M, people have far more control over the Start Screen's appearance. For example, the transparency of the Live Tiles can be dialed up or down. This lets you see more or less of your background wallpaper, depending on your preference. The Tiles can be arranged in two or three columns, and the Tiles themselves are still available in three sizes (small/large squares, large rectangle).
I love that the wallpaper image is also visible in the full list of all apps.
Microsoft kept the light and dark themes and color options. The light theme uses a white screen with black text and the dark theme uses a black screen with white text. This mostly impacts settings screens and select apps, such as email, the phone, and messaging. The platform lets you dress up these themes with splashes of color here and there, though the prevailing hues are still black and white.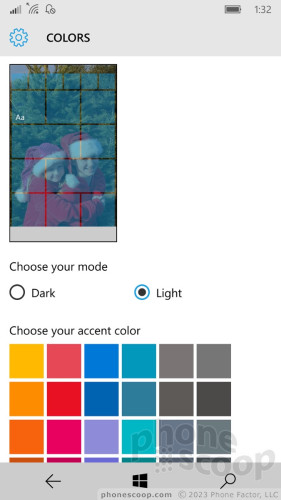 Those familiar with Windows for phones will notice the fonts. The fonts are changed throughout. It's most obvious on screens with lots of text. The font sizes are more varied, too, which helps create different areas of emphasis and focus when exploring the operating system. For example, the system settings uses a mix of white and blue text, rather than just white. The default font size is pretty small, but you can adjust it to suit your eyes.
The other big change pertains to how some core apps are arranged. Gone is the left-to-right setup with different parts of the app spread across a series of horizontal pages. In its place is an in-app menu system that relies on the hamburger button. In the top-left corner of core apps (people, photos, music, messaging, etc) you'll see three lines stacked on top of one another. This menu button is the key to opening apps' settings menus and other functions, which now slide out from the left edge of the screen. This is a critical design change to how we interact with many of the apps within Windows 10. Microsoft is going with the flow here by adopting a navigation scheme common to apps on other phone platforms.
Windows Phone has always featured a modern design, and Windows 10's design is welcome refresh. It keeps the platform feeling current. The real key here is consistency. The mobile platform now mirrors the desktop platform much more closely. This makes moving from PC to phone to tablet easier on end users who now experience the same user interface no matter which Microsoft device they're using.
Performance
We tested Windows 10 on the Lumia 1520 and the new Lumia 950. It's important to note this is a shipping operating system, but it is also sort of still a work in progress. Microsoft is finessing the code and plans to offer system updates about once every two weeks for a few months until all the initial bugs are ironed out. We're running build 10586.29 on both devices, and performance is about even — which is to say slightly buggy.
I've been testing Windows 10 on the 1520 (a handset that is two years old) for more than six months. It started off rough with the earliest builds — as expected — but is now stable and performing well enough for a not-quite-complete operating system. I see small hiccups here and there, but the bulk of apps run smoothly and without issue. It's not slow, but it is somewhat crashy. You'll see apps hang up here and there, or suddenly quit without warning. I'd say it's solid enough to serve as a daily driver with the understanding that you're going to see some weirdness every now and then.
Microsoft is plans to release Windows 10 to a decent range of older Lumia handsets, though the exact timing of that release is unknown. (Most anyone can install Windows 10 Mobile through the Windows Insider program.) The Lumia 1520 is a 2013-era flagship device with a fast processor, and it stumbles here and there with W10 aboard. Right now, I'd only recommend people install Windows 10 on older devices if they're comfortable with the idea that the platform isn't 100% baked yet. Given that Windows 10 runs less-than-perfectly on the 1520, it's safe to assume lesser phones may not perform as well. Caveat emptor.
Performance was only marginally better on the Lumia 950, a brand new phone.
Mobile Phone Lumia 950 XL Just a disappointment
I am a previous owner of a Lumia 1520 and loved the quality, build, and feel of the phone. All of the new microsoft phone products, including this one, feel extremely cheap, light, hollow, and flex when you hold them. Not to mentioned as you change screens you constantly get the 'Loading' message.

I'm sorry but at this point in the game, you should not receive a 'Loading' message unless you are downloading a file to your phone.

Many of the major US banks are pulling their apps from the windows platform. For example, Chase, Bank Of America, etc. The apps are going in the wrong direction.

I struggled to stay with a windows phone because I truly loved my Lumia 1520 but now I have to bid them farewell. This is just a disappointment....
(continues)
The Apps
I don't quite understand the apps issue. How can the banks, especially the big ones, deny windows phone users of bank apps when Microsoft is willing to write them? Apple is not even an American company anymore, at least it pays no US Corp tax on device sales to anywhere in the world, NOT EVEN HERE IN THE US and their devices are in most of our schools but they have bank apps. Something seems fishy here, perhaps restraint of trade, collusion etc. Someone needs to inform Americans about this.
Hmm well that's good to know, what about android? is that also not US based company?
Whoa!
Ok, so maybe it's a little buggy NOW. But this is definitely the mobile OS of the future. My next device will definitely be a Windows Mobile device. Thanks for this great review.
Great Review!
Thank you for the very in-depth review of Windows 10 Mobile ("W10M"). Typical thoroughness and fairness that are Phonescoop hallmarks.

I've added my comments below, but first I have to ask again when you think we might see a hardware review of the Lumia 950 and 950 XL...I'm keen to see how they stack up as phones, in addition to all of the good stuff in W10M. How is their signal-holding ability? How do the incoming calls sound to you and how do you sound to the other party, in regular phone mode and speakerphone mode? How do they sound for music playback?

I apologize for the lengthy stream-of-consciousness post below, written as I read Eric's review, so if you're not that interested in Windows Phone (WP8.1) or W10M, please just stop r...
(continues)
Does Edge on W10M have the "Reading View" like W10-Tablet/Desktop Edge does? That is a major, marvelous feature.

yes it does

Cortana on my Lumia 635 AUTOMATICALLY delivers incoming texts over the Bluetooth headset, reading them aloud to me, then...
(continues)