Review: Microsoft Windows 10 Mobile
Intro Major Features Minor Features Tweaked Wrap-Up Comments 7
Camera
The Lumia Camera app is another carryover from Windows Phone. Microsoft changed the fonts and reorganized the UI fractionally, but it otherwise offers the same basic toolset and functionality offered to any older Windows handset.
The camera user interface is easy to digest thanks to its plain arrangement. A small strip of options lets you switch to the front camera, turn on the flash, or turn on Rich Capture Mode. (This mode purports to do a better job of getting accurate exposure, focus, and color.) The app also includes full manual controls. You can manage white balance, exposure, ISO, brightness, and focus all on your own. For knowledgeable users, these tools can lead to much more creative results.
The camera includes several Lenses, which are software add-ons for the camera. One of those pre-installed is Lumia Selfie. If you want to snag the best-possible self portrait, this mode gives you the tools to get it done right. It includes a timer and some quick editing tools, such as cropping and mirroring, so you can make adjustments before sharing to social networks.
This is a fine camera app and there was no real reason for Microsoft to refresh it. It performs well and offers more tools than the basic Android and iOS camera apps.
Keyboard
Picture an old IBM laptop. What's the standout feature of an IBM laptop keyboard? The answer is the little red nub, called a TrackPoint. It sort of doubles as a mouse and lets you move the cursor without requiring you to move you fingers to the trackpad. Well, the Windows 10 keyboard has a TrackPoint nub of its own.
The idea is to improve on-screen editing. A long-press of the nub calls up four arrows that you can use to push the cursor left, right, up, or down. It takes practice to master. The nub is positioned in the bottom-left part of the keyboard, where the Z, X, and spacebar converge. It's quite easy to accidentally insert a bunch of zzzzzzzs into your text rather than open the navigation nub. This feature works much better on Windows 10 tablets.
I still like the WIndows keyboard better than the iOS keyboard, especially since it supports trace-style typing. It also has excellent word prediction. I think the native Google keyboard is still the best of the three.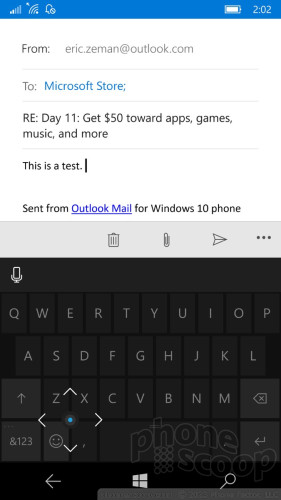 Phone
The phone app adopts the basic Windows 10 design and is much easier to use than the old Windows Phone app. There are three views: history, speed dial, dial pad. Quick links at the bottom of these screens let you check voicemail, jump to your contacts app, perform searches, or manage the phone app settings. The phone app is simple, straightforward, and I like it. It's on par with the calling apps offered by Android and iOS.
Messages
The messaging app looks a lot like the phone app. One of the key changes is native Skype integration. The messaging app handles SMS, MMS, and Skype messaging now. Skype messaging is still available in the separate Skype app, but the conversations are mirrored in the simpler messaging app. I noticed some performance issues with Skype on both the 1520 and 950. It was one of the slower apps on the phone. Microsoft has said Skype isn't 100% complete for Windows 10.
Text messaging tools are about the same across Android, iOS, and Windows.
Cortana
Microsoft spent more energy porting Cortana to Windows 10 PCs and tablets than it did giving Cortana any new features for smartphones. Microsoft did revamp the Notebook feature within Cortana, however, which is the core tool for configuring Cortana's behavior. This is where you set your preferences, such as whether or not you want Cortana to track flights or packages mentioned in your email. The new settings are far more granular than before and provide more control over individual behaviors.
Other than that, Cortana is still great at setting reminders, dictating messages, and firing up Groove Music.
Cortana, Siri, and Google Now are on a relatively even playing field these days, though Cortana and Siri have more personality than Google Now.
Maps
Much like the camera app, Windows 10 carries over the mapping program from Windows Phone, with minimal tweaks to the UI to make it more cohesive with the rest of the platform.
Maps supports offline navigation, mass transit, driving, and walking directions. I found it was great at pinpointing my location, worked perfectly for planning trips, and offered a rich set of tools. Real-time traffic alerts are useful, and "street-side" views offer a glimpse of destinations in the same manner as Google's Street View.
My favorite feature? The app can help you avoid a speeding ticket. For example, you can set the speed limit for the road on which you're traveling and then have Maps warn you if you travel more than X miles per hour above or below the speed limit. Amazingly, it worked.
Maps for Windows 10 is excellent and competes well with Google Maps and Apple Maps.
Microsoft Health
Much like Apple Health and Google Fit, Microsoft now provides an on-device app that will interact with wearables to help manage health and fitness data. The Microsoft Band is the primary accessory intended for Microsoft Health. If you don't have a Band, Health can still track daily steps and calories, but that's about it. The interface is functional and I had no trouble using it to count steps.
Wallet
Windows 10 includes a mobile wallet app, but it can't do much. You can use it to store credit/debit cards for making online purchases. It can also store some loyalty card data. The Wallet cannot be used for NFC retail payments, like Apple Pay or Android Pay.
Xbox
The Xbox app used to serve as a central hub for managing your games, music, and movies. Now it's meant to help manage your Xbox profile. For example, you can check your games and achievements, peruse the store, and of course interact with your gaming buddies. You can send messages to individuals or groups, choose to receive alerts when friends reach new achievements, and comment on everything that happens in your gaming sphere.
The Xbox Smartglass app mirrors many of these functions, but also allows you to connect directly the the Xbox in your house. Xbox Smartglass lets you manage the Xbox console to a small degree, such as view the installed apps/games, modify select settings, and such.