Review: Microsoft Windows 10 Mobile
Intro Major Features Minor Features Tweaked Wrap-Up Comments 7
Action Center
The Windows 10 Action Center, which mirrors the notification shade on Android devices, was upgraded with more powers. The old version offered shortcuts and/or toggles to just a few components of the platform. In Windows 10, the Action Center has been expanded to include far more.
Swiping down from the top of the screen opens Action Center. It includes 16 controls, including WIFi, Bluetooth, settings, mobile hotspot, rotation lock, airplane mode, location, battery saver, and a handful of others. The default view shows just four, but you can easily expand it to see all 16. I dislike that you can't customize the tools within the Action Center, which is something some Android OEMs permit. Still, it's nice to have quick access to a broader set of controls.
The Action Center also contains incoming notifications. You'll see a list of your missed calls, emails/messages, calendar alerts, and other notifications in this spot. I like that you can dismiss individual notifications, just your calls, or everything at once.
Windows 10 now lets you respond to certain notifications from the notification center, which is awesome. For example, let's say I received a text message. I can swipe open the Action Center and tap the right side of the alert to open a text box for writing a reply. Alternately, I can tap on the left side of the notification to open the messaging app in full. This is truly helpful, and something Android and iOS have added to their own notification tools.
Settings
Microsoft completely overhauled the system Settings app, and that's a very good thing. The settings tools have been virtually unchanged since Windows Phone 7 and were due for an update.
The refreshed settings screen more clearly calls out what's under each section and lumps them together into fewer categories. In Windows Phone, the settings were a haphazard mishmash of functions. Windows 10 more closely matches how Android and iOS arrange their settings screens. For example, controls for wireless connections are close to the top.
The search box is truly useful. Don't want to bother digging around to find the exact setting you need? Just search for it. For example, search for "Cortana" and the settings tools will take you straight to those that control Cortana. This is a function Apple added to iOS 9 this year.
Whether we want to or not, we interact with our device's system settings often. In Windows 10, it's no longer a painful experience.
Notifications
We discussed notifications in brief above, but there's more to the story in Windows 10. The platform adds more granular control over notifications for each app, in a manner similar to iOS 9.
To start, Windows allows users to customize how select notifications appear on the lock screen. This is carried over from Windows Phone. You can elect to show in-depth notifications from a single app (I prefer email), which displays the content from the most recent mail, call, etc. under the clock. You can also elect to have unread counts pop up on the screen. For example, I have counts appear for the phone, messaging, Facebook, and Messenger apps. This way, I know that I have notifications for these apps waiting for me in the Action Center.
Windows 10 allows users to control which apps can deliver notifications to the Action Center. For example, I can choose to let email, and messaging deliver notifications, but keep alerts from the Microsoft News app and the AT&T address book out of there. It is possible to view the Action Center when the phone is locked, or you can prevent that if you wish.
Bottom line, Windows 10 is better at handling notifications than it ever has been, and comes close to matching Android and iOS.
Gadgets
Gadgets is a new tool meant to help handle hardware accessories. I found it to be useful, though it duplicates the efforts of the general system settings.
Gadgets is best put to use when first setting up Bluetooth headphones, speakers, or other devices. Opening up the Gadgets app automatically begins scanning for nearby devices and puts your phone into pairing mode. It worked well when testing stereo Bluetooth headphones, but it wasn't able to help me connect to my car's hands-free system, which required more direct pairing through the Bluetooth menu.
Gadgets also helps with wired attachments. The Lumia 950 includes a USB Type-C port, for example, and the Gadgets app can help control whether or not the 950 sends power to a device attached via the Type-C port.
This app is somewhat unnecessary, but some may find it to be a helpful addition to the platform. It lets you control accessories from a single place, rather than disparate parts of the system settings.
Media
Windows 10 now includes the Groove Music and Movies & TV apps for consuming music and video content. In Windows Phone, the music and video apps each had their own content store, but that is no longer the case. The Windows Store contains all the apps, games, music, and movies/TV for sale or purchase. That means Groove Music and Movies & TV are really only meant for playback. This mirrors what Apple and Google do with iOS and Android, respectively.
Groove Music is a decent app for playing music. You can add music to the handset manually, purchase it from the Windows Store, or import it from OneDrive (if you've stored it there). Alternately, you can pay Microsoft $10 per month to stream music ad-free to your handset. This subscription carries over to any other Windows devices you have, as well as the Xbox gaming platform. Groove lets you sort by artist, song, album, and recent plays, and the controls for managing playback are intuitive. I like that it imports artist details and album art. I will say, however, that it is a bit slow on the Lumia 1520.
The Movies & TV app is a bit simpler. It truly only handles what you've rented or purchased from Microsoft. Like Groove music, the Movies & TV app syncs everything with your other Windows devices. You can stream movies over WiFi or download them for offline playback.
At this point, the basics for listening to music and watching movies are about even across Windows, Android, and iOS. Each platform has its own content store and playback mechanisms. These new apps for Window 10 are far less complicated and convoluted than Apple Music or Google Play Music. In fact, the interfaces come across as somewhat simplistic. But considering how disastrous Apple Music is, simplistic is a good thing here.
People
The contacts app is no longer a Hub. In older versions, the People Hub was a content-rich space that served as a microcosm of your social networks. Windows 10 dials things back a little bit.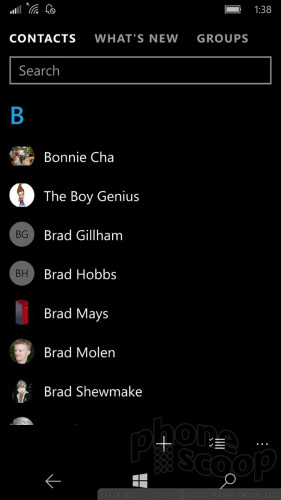 There are three main views in the app: your Contacts, What's New, and Groups. The Contacts list a simple affair. The search bar is key if you have hundreds or thousands of contacts. Individual contact cards have been simplified dramatically. You can view a headshot, and essential contact details at a glance. The app lets you pin individual contacts to the home screen if you wish, and you can link contacts' various profiles to create a single, more complete contact card.
The What's New view is a sort-of carryover from Windows Phone. It imports new content from your Facebook and Twitter feeds (but not LinkedIn). In Windows Phone, this feature only pulled in the social content generated by your contacts. In Windows 10, it pulls in your entire Twitter feed, rather than the updates specific to those in your contact database. This can really choke up the What's New view if you follow a lot of people on Twitter (as I do) and have an active feed. Moreover, it no longer includes your own most recent contributions and interactions with others. Still, I suppose some people may enjoy perusing their social news feeds in a single spot.
The Groups tool is a re-think of the defunct "Family Room" feature from WP8.x. It lets you create groups of contacts and then interact with them in a smaller scale than the What's New tool. Groups will show social updates from participants, but it also lets you text or email them all together. It is probably best used by families or small subsets of colleagues, teams, etc.
Apple's contact app is completely devoid of social networks, but Google's offers a modicum of recent activity. The new People app from Microsoft is functional, for the most part. I liked the old app a bit better.
Photos
Like the People app, the Photos app is no longer a Hub. It is now a more straight-forward photo-management tool.
Photos' core benefit is a direct link to OneDrive. The default view of your images includes both on-device and cloud-based photos in one, gigantic chronological grid. You can elect to remove OneDrive images from the Photos app, but I don't see any reason to do that. Like the People app, the Photos app has three basic views: Collection, Albums, Folders. If those three names seem like they should be one and the same, you're not alone. It's unnecessarily confusing.
The Collection view is everything, OneDrive included. Every image on the device and every image stored in OneDrive is visible here in the order they were taken. The Albums view breaks things down into the camera roll, local saved images (e.g., on storage cards), and screenshots. You can also create unique albums in this space and share them. Think of Albums as the social part of the new Photos app. The Folders view is a bit more basic and simply breaks down what's on the device and what isn't. The biggest difference between Albums and Folders is that folders cannot be shared.
One problem with OneDrive integration is speed. Because OneDrive requires a network connection, photos stored in the cloud can be slow to load when scanning through your library. Further, if you want to share or edit a photo that's in OneDrive, you have to download it to your handset first.
The Photos app does include some basic editing functions. For example, you can crop and rotate images, or apply auto-enhance. If you want to perform more advanced edits you need to switch to the Lumia Creative Studio. The Creative Studio itself is more or less carried over directly from Windows Phone. It offers an incredible array of tools for managing exposure, color, brightness, contrast, and focus, and has Instagram-like filters and more. It's not clear of Lumia Creative Studio will be offered to non-Microsoft Windows 10 Mobile devices.
Last, Photos makes sharing images via other apps a breeze. The sharing icon opens a dead-simple UI for pushing photos to email, messaging, Facebook, and so on.
I prefered the visual flair of the Photos Hub in Windows Phone, but the new Windows 10 Photos app is good enough for managing your local and cloud-based images.
Apple and Google both offer decent cloud-syncing photo tools. Google Photos is probably the best of the bunch, thanks to its incredible searching, sharing, and organizing features. Native OneDrive integration helps Windows 10 a lot.