Review: Microsoft Windows 10 Mobile
Article Comments 7
Dec 11, 2015, 5:00 PM by Eric M. Zeman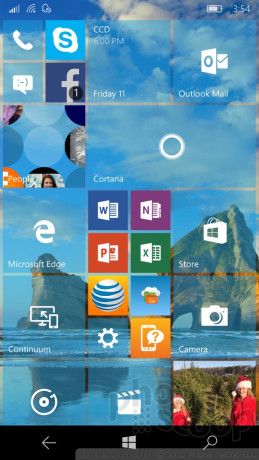 Window 10 for smartphones builds on the foundation created by Microsoft for its desktops, laptops, and tablets. Windows 10 is a unifying platform that boasts universal apps and common, key functions that make for a seamless experience across form factors. The update moves Microsoft's mobile platform closer than it's ever been to Apple's iOS and Google's Android, but it still trails in a few core areas. Here is Phone Scoop's in-depth report of Windows 10 Mobile.
Intro
Windows 10 Mobile is the second major re-write for Microsoft's mobile operating system since Windows Phone 7 arrived in 2010. This time around, Windows 10 Mobile more closely matches the features and design of Windows 10 for PCs, which Microsoft put great effort into redesigning earlier this year. Microsoft believes the allure of truly universal apps and its fresh look will appeal to hardcore Windows devotees.
Design
Windows 10 Mobile is at once familiar and fresh. Microsoft carried over many of the platform's essential elements, but breathed new life into them. The user interface is a bit less colorful thanks to an increase in the number of transparent Live Tiles, but it feels more airy and light.
With W10M, people have far more control over the Start Screen's appearance. For example, the transparency of the Live Tiles can be dialed up or down. This lets you see more or less of your background wallpaper, depending on your preference. The Tiles can be arranged in two or three columns, and the Tiles themselves are still available in three sizes (small/large squares, large rectangle).
I love that the wallpaper image is also visible in the full list of all apps.
Microsoft kept the light and dark themes and color options. The light theme uses a white screen with black text and the dark theme uses a black screen with white text. This mostly impacts settings screens and select apps, such as email, the phone, and messaging. The platform lets you dress up these themes with splashes of color here and there, though the prevailing hues are still black and white.
Those familiar with Windows for phones will notice the fonts. The fonts are changed throughout. It's most obvious on screens with lots of text. The font sizes are more varied, too, which helps create different areas of emphasis and focus when exploring the operating system. For example, the system settings uses a mix of white and blue text, rather than just white. The default font size is pretty small, but you can adjust it to suit your eyes.
The other big change pertains to how some core apps are arranged. Gone is the left-to-right setup with different parts of the app spread across a series of horizontal pages. In its place is an in-app menu system that relies on the hamburger button. In the top-left corner of core apps (people, photos, music, messaging, etc) you'll see three lines stacked on top of one another. This menu button is the key to opening apps' settings menus and other functions, which now slide out from the left edge of the screen. This is a critical design change to how we interact with many of the apps within Windows 10. Microsoft is going with the flow here by adopting a navigation scheme common to apps on other phone platforms.
Windows Phone has always featured a modern design, and Windows 10's design is welcome refresh. It keeps the platform feeling current. The real key here is consistency. The mobile platform now mirrors the desktop platform much more closely. This makes moving from PC to phone to tablet easier on end users who now experience the same user interface no matter which Microsoft device they're using.
Performance
We tested Windows 10 on the Lumia 1520 and the new Lumia 950. It's important to note this is a shipping operating system, but it is also sort of still a work in progress. Microsoft is finessing the code and plans to offer system updates about once every two weeks for a few months until all the initial bugs are ironed out. We're running build 10586.29 on both devices, and performance is about even — which is to say slightly buggy.
I've been testing Windows 10 on the 1520 (a handset that is two years old) for more than six months. It started off rough with the earliest builds — as expected — but is now stable and performing well enough for a not-quite-complete operating system. I see small hiccups here and there, but the bulk of apps run smoothly and without issue. It's not slow, but it is somewhat crashy. You'll see apps hang up here and there, or suddenly quit without warning. I'd say it's solid enough to serve as a daily driver with the understanding that you're going to see some weirdness every now and then.
Microsoft is plans to release Windows 10 to a decent range of older Lumia handsets, though the exact timing of that release is unknown. (Most anyone can install Windows 10 Mobile through the Windows Insider program.) The Lumia 1520 is a 2013-era flagship device with a fast processor, and it stumbles here and there with W10 aboard. Right now, I'd only recommend people install Windows 10 on older devices if they're comfortable with the idea that the platform isn't 100% baked yet. Given that Windows 10 runs less-than-perfectly on the 1520, it's safe to assume lesser phones may not perform as well. Caveat emptor.
Performance was only marginally better on the Lumia 950, a brand new phone.
Major Features
Universal Apps
Microsoft has pitched universal apps — where one instance of an app can run in both phone and desktop mode — before. Cross-device apps were behind the major code-rewrite between Windows Phone 7.5 and 8.0. With Windows 10, that dream is finally realized. Developers can write a single app that runs on smartphones, tablets, and PCs. This is great news for Windows smartphone owners.
Windows Phone has long trailed its Android and iOS counterparts when it comes to the number of apps. The full version of Windows enjoys more developer support (than Windows Mobile) thanks to its greater numbers. By giving Windows 10 Mobile the ability to run Windows desktop apps, it bolsters the selection of apps available to handsets in a big way.
Microsoft is able to do this thanks to the core kernel, which is the same for all three form factors. Apps are now able to scale depending on the screen being used. Microsoft says universal apps do take a bit more work for developers, but believes developers and end users will both benefit over time.
What does that mean for Windows 10 Mobile right now?
The Windows Store is entirely new. Gone is the left-to-right sliding app design in favor of an app that scrolls vertically. I found the new app to be more immersive and user-friendly for browsing and searching.
Though it is still early days, I was able to find most of the core apps I want/need. For example, Twitter, Facebook, and Instagram are all available, as are Amazon, eBay, United, Fandango, Spotify, Pandora, and many others. There's no Snapchat, Periscope, or Vine, however.
Worse, many banks — including my own, JPMorgan Chase — have abandoned Windows altogether. Chase used to offer a Windows app but pulled it earlier this year. That means no mobile banking for me, and that's a bummer. Banks are just one example. Microsoft is betting on desktop apps being ported to phones, but the world has moved on. The apps people care about aren't on desktops at all. Can you even imagine installing a Starbucks app on your laptop? Big, consumer-facing companies need mobile apps, but desktop apps aren't even a consideration. Many of these companies aren't on Windows for mobile, and Windows 10 won't change that.
Universal apps look and behave the same across form factors, for the most part, with obvious and needed tweaks for mobile handsets, tablets, and PCs to aid usability. For example, PC apps default to landscape orientation, while smartphone apps default to portrait. Further, PC apps add a UI layer for interacting with the broader operating system, such as access to the Start menu and action bar at the bottom of the screen. I am generally pleased with the quality of the apps on Windows 10 Mobile, but they do lag behind Android and iOS. For example, the Instagram app, which is still in beta, doesn't let you upload videos.
Put simply, there aren't as many apps available for Windows 10 as there are for competing platforms. Universal apps are meant to help change that, but don't expect the change to be dramatic or happen overnight. Microsoft has done what they can to address the issue of improving the number of apps, but it still has to improve the quality.
It has made available a tool to help developers port their iOS apps to Windows. This has great potential, but Microsoft canned a similar tool planned for Android. If Microsoft can convince iOS developers, of which there are a great many, to port their apps to Windows it could be a boon to the platform.
Continuum
Beyond universal apps, Continuum is the biggest new feature in Windows 10 Mobile. Through Continuum, you can use any HDTV or monitor to turn your phone into a full PC. It's not magic; it requires a bunch of cables and a special accessory from Microsoft. The end result, however, is a portable PC platform that runs full Windows 10 from a smartphone.
The setup includes a little hub. The hub needs to be plugged into a power socket and an HDMI cable needs to stretch from the hub to your TV/monitor. The phone needs to be plugged into the hub, too, and thankfully will charge while plugged in. Continuum supports a mouse and keyboard. The mouse and keyboard can be plugged directly into the Continuum hub via USB, or connected via Bluetooth. Got all that?
Does it work? You bet. I was able to convert my TV set into a Windows 10 computer in less than five minutes. I found the experience works best with a physical mouse/keyboard setup. With Bluetooth components, I was able to sit on my couch and control my TV from about 8 feet away, with the peripherals on my coffee table.
The UI is definitely Windows 10, but the Start menu will show you all the apps on your phone arranged as they are on the phone itself. This is helpful if you're looking for something particular, like an app or file. Speaking of which, all the apps work. Outlook, the Edge browser, Office, Groove Music, XBox, and so on. Every microsoft app on the phone runs on the TV/monitor without issue. It's really quite nifty. Third-party apps can be a bit odd. I'll pick on Instagram again, which was somewhat slow and didn't want to accept the landscape orientation without putting up a fight. The third-party app experience varies through Continuum.
Continuum is one area where you might see some performance issues. I noticed some sluggishness here and there.
My favorite feature lets you do one thing on the phone while you do something else on the PC. For example, you can send text messages from your phone while editing a PowerPoint file on the monitor. That's what I call multitasking.
Who might use this? I can only guess that Microsoft is targeting road warriors — who somehow don't have company-issued laptops or tablets, but need to be productive when traveling. Using Continuum, it would be easy to turn a hotel room TV set into a computer. You'd be able to access work files, respond to email, and so on. Of course, you have to bring the hub (which is blessedly small), all the bloody cables, mouse, and keyboard. You're not saving any space in your briefcase, that's for sure.
Personally, I thought it was a great way to push videos from my phone to the TV.
Neither Apple nor Google offers an equivalent function to Continuum. The Apple TV and Google Chromecast allow you to mirror your Android/iOS screen or push video/audio content to your TV, but they don't transform the bigger screen into a fully-functional computer. Continuum does.
It's important to note that Continuum only works with the Lumia 950 and 950 XL right now; it's not available to older Windows handsets.
Office
Microsoft's productivity suite has never been more accessible or more powerful. The core Word, Excel, PowerPoint, and OneNote apps are all brand new and much better when used on smartphones.
When creating fresh Word documents, the app offers a number of prebuilt forms for generating notes, lists, journals, brochures, newsletters, flyers, catalogs, resumes, letters, and much more. These offer excellent starting points for putting together documents on the fly. I prefer typing on a full keyboard, but I was able to pen a cover letter without problem using the on-screen keyboard and editing tools. PowerPoint is fun to use, but I was less enamored with Excel, which can be a bit tedious. Even so, Excel includes plenty of sample formulas to help ease the process of putting together those TPS reports for accounting.
Thanks to OneDrive (Microsoft's cloud service), every document, spreadsheet, or slideshow you generate on your phone is automatically synced to your tablet and PC complete with changes and formatting intact. The convenience factor here cannot be understated. You don't have to do anything, it just happens in the background. I had no trouble starting a document while riding the bus and then picking up where I left off on my PC when I got home.
Mobile professionals, students, or anyone who has to generate documents can benefit from the new Office and OneDrive productivity suite.
Apple and Google each offer their own productivity apps and cloud-syncing services. All three platforms are relatively even when it comes to the base set of tools and features. Microsoft has a bit of a leg up here, however, because it is the default productivity suite used by businesses around the world. Microsoft stepped up to the challenge and created a dynamic set of apps and services that work well in today's world.
Outlook
Outlook is Microsoft's business-class email app and it is amazing.
I'd call the design somewhat spartan, but Microsoft's mobile email app has always been heavy on the white space. Outlook is a universal app and functions much the same across phones, tablets, and PCs. It really shines in Windows 10 Mobile.
To start, it supports most every email service there is, including Exchange, Gmail, POP, and IMAP. I easily added several accounts to the app, which it synced in real-time without issue. You can choose to keep your email inboxes separate, or link them into a master inbox that collects and displays all your emails in a single spot. When you respond to any email from the linked inbox, it will address it from the appropriate account.
The app includes an incredible number of features for customizing messages. For example, you can insert images, files, tables, or documents, and the tool for doing so is quite simple to use. Outlook supports high- and low-importance messages, spell check, proofreading, and more. Tools make it simple to highlight text, use bold/italics, create bulleted or numbered lists, and even draw on emails with your finger.
My biggest and only real complaint pertains to HTML emails, which render too small in my opinion. The formatting and images all come across fine, but for some reason Outlook won't fill the entire screen with the contents of the message. Instead, it leaves too much white space framing the HTML designs.
Outlook plays well with the new calendar app. The apps work hand-in-hand to manage your daily appointments. The calendar app supports multiple accounts, (like my Outlook calendar and Google calendar,) and can be customized through the use of labels, colors, and so on. I like that Outlook and the calendar share a consistent interface. This is especially helpful if you switch from the phone to a PC.
For my money, Outlook crushes the native iOS email app. Apple's app isn't even close. Gmail on the Android platform offers about the same feature set and performance that Outlook does on Windows Phone, but I'd say Outlook is the best core email app available from today's leading mobile operating systems. (It's so good, I use the iOS version on my iPhone.)
Edge Browser
Internet Explorer is no more. Edge has taken its place. The Edge browser has a new name in part to escape IE's marred legacy. Beyond the name, however, Edge is a dramatically improved tool for surfing the web.
First, and most importantly, Edge is faster to load pages and better at rendering them. I was pleased with the appearance of Phonescoop.com and every other web site I tested using Edge. It handles HTML just fine, and can display mobile-optimized and full desktop sites as well as any other mobile browser in the market. That said, I experienced a few crashes here and there.
Edge has an expanded set of tools. It supports multiple open tabs, as well as private tabs. Individual sites can easily be shared, saved, viewed in Reading List form, pinned to the home screen, or added to favorites. The favorites tool works well and syncs across Windows 10 devices. There's also a great search tool for finding text on any given web site. Last, Edge includes a way to manage downloads so they are easier to find after the fact.
Edge is highly usable because the address bar and controls are all positioned at the bottom of the screen. Microsoft carried this over from IE on Windows Phone. Placing the address bar and other tools by your thumb makes one-handed browsing a snap.
Studies say that most of the time people spend on their smartphones is within apps, rather than straight-up browsing the web. That may be true, but Edge makes a great case for surfing the web the old-fashioned way.
Microsoft did a great job closing the gap between Edge and Safari/Chrome on iOS/Android.
Minor Features
Action Center
The Windows 10 Action Center, which mirrors the notification shade on Android devices, was upgraded with more powers. The old version offered shortcuts and/or toggles to just a few components of the platform. In Windows 10, the Action Center has been expanded to include far more.
Swiping down from the top of the screen opens Action Center. It includes 16 controls, including WIFi, Bluetooth, settings, mobile hotspot, rotation lock, airplane mode, location, battery saver, and a handful of others. The default view shows just four, but you can easily expand it to see all 16. I dislike that you can't customize the tools within the Action Center, which is something some Android OEMs permit. Still, it's nice to have quick access to a broader set of controls.
The Action Center also contains incoming notifications. You'll see a list of your missed calls, emails/messages, calendar alerts, and other notifications in this spot. I like that you can dismiss individual notifications, just your calls, or everything at once.
Windows 10 now lets you respond to certain notifications from the notification center, which is awesome. For example, let's say I received a text message. I can swipe open the Action Center and tap the right side of the alert to open a text box for writing a reply. Alternately, I can tap on the left side of the notification to open the messaging app in full. This is truly helpful, and something Android and iOS have added to their own notification tools.
Settings
Microsoft completely overhauled the system Settings app, and that's a very good thing. The settings tools have been virtually unchanged since Windows Phone 7 and were due for an update.
The refreshed settings screen more clearly calls out what's under each section and lumps them together into fewer categories. In Windows Phone, the settings were a haphazard mishmash of functions. Windows 10 more closely matches how Android and iOS arrange their settings screens. For example, controls for wireless connections are close to the top.
The search box is truly useful. Don't want to bother digging around to find the exact setting you need? Just search for it. For example, search for "Cortana" and the settings tools will take you straight to those that control Cortana. This is a function Apple added to iOS 9 this year.
Whether we want to or not, we interact with our device's system settings often. In Windows 10, it's no longer a painful experience.
Notifications
We discussed notifications in brief above, but there's more to the story in Windows 10. The platform adds more granular control over notifications for each app, in a manner similar to iOS 9.
To start, Windows allows users to customize how select notifications appear on the lock screen. This is carried over from Windows Phone. You can elect to show in-depth notifications from a single app (I prefer email), which displays the content from the most recent mail, call, etc. under the clock. You can also elect to have unread counts pop up on the screen. For example, I have counts appear for the phone, messaging, Facebook, and Messenger apps. This way, I know that I have notifications for these apps waiting for me in the Action Center.
Windows 10 allows users to control which apps can deliver notifications to the Action Center. For example, I can choose to let email, and messaging deliver notifications, but keep alerts from the Microsoft News app and the AT&T address book out of there. It is possible to view the Action Center when the phone is locked, or you can prevent that if you wish.
Bottom line, Windows 10 is better at handling notifications than it ever has been, and comes close to matching Android and iOS.
Gadgets
Gadgets is a new tool meant to help handle hardware accessories. I found it to be useful, though it duplicates the efforts of the general system settings.
Gadgets is best put to use when first setting up Bluetooth headphones, speakers, or other devices. Opening up the Gadgets app automatically begins scanning for nearby devices and puts your phone into pairing mode. It worked well when testing stereo Bluetooth headphones, but it wasn't able to help me connect to my car's hands-free system, which required more direct pairing through the Bluetooth menu.
Gadgets also helps with wired attachments. The Lumia 950 includes a USB Type-C port, for example, and the Gadgets app can help control whether or not the 950 sends power to a device attached via the Type-C port.
This app is somewhat unnecessary, but some may find it to be a helpful addition to the platform. It lets you control accessories from a single place, rather than disparate parts of the system settings.
Media
Windows 10 now includes the Groove Music and Movies & TV apps for consuming music and video content. In Windows Phone, the music and video apps each had their own content store, but that is no longer the case. The Windows Store contains all the apps, games, music, and movies/TV for sale or purchase. That means Groove Music and Movies & TV are really only meant for playback. This mirrors what Apple and Google do with iOS and Android, respectively.
Groove Music is a decent app for playing music. You can add music to the handset manually, purchase it from the Windows Store, or import it from OneDrive (if you've stored it there). Alternately, you can pay Microsoft $10 per month to stream music ad-free to your handset. This subscription carries over to any other Windows devices you have, as well as the Xbox gaming platform. Groove lets you sort by artist, song, album, and recent plays, and the controls for managing playback are intuitive. I like that it imports artist details and album art. I will say, however, that it is a bit slow on the Lumia 1520.
The Movies & TV app is a bit simpler. It truly only handles what you've rented or purchased from Microsoft. Like Groove music, the Movies & TV app syncs everything with your other Windows devices. You can stream movies over WiFi or download them for offline playback.
At this point, the basics for listening to music and watching movies are about even across Windows, Android, and iOS. Each platform has its own content store and playback mechanisms. These new apps for Window 10 are far less complicated and convoluted than Apple Music or Google Play Music. In fact, the interfaces come across as somewhat simplistic. But considering how disastrous Apple Music is, simplistic is a good thing here.
People
The contacts app is no longer a Hub. In older versions, the People Hub was a content-rich space that served as a microcosm of your social networks. Windows 10 dials things back a little bit.
There are three main views in the app: your Contacts, What's New, and Groups. The Contacts list a simple affair. The search bar is key if you have hundreds or thousands of contacts. Individual contact cards have been simplified dramatically. You can view a headshot, and essential contact details at a glance. The app lets you pin individual contacts to the home screen if you wish, and you can link contacts' various profiles to create a single, more complete contact card.
The What's New view is a sort-of carryover from Windows Phone. It imports new content from your Facebook and Twitter feeds (but not LinkedIn). In Windows Phone, this feature only pulled in the social content generated by your contacts. In Windows 10, it pulls in your entire Twitter feed, rather than the updates specific to those in your contact database. This can really choke up the What's New view if you follow a lot of people on Twitter (as I do) and have an active feed. Moreover, it no longer includes your own most recent contributions and interactions with others. Still, I suppose some people may enjoy perusing their social news feeds in a single spot.
The Groups tool is a re-think of the defunct "Family Room" feature from WP8.x. It lets you create groups of contacts and then interact with them in a smaller scale than the What's New tool. Groups will show social updates from participants, but it also lets you text or email them all together. It is probably best used by families or small subsets of colleagues, teams, etc.
Apple's contact app is completely devoid of social networks, but Google's offers a modicum of recent activity. The new People app from Microsoft is functional, for the most part. I liked the old app a bit better.
Photos
Like the People app, the Photos app is no longer a Hub. It is now a more straight-forward photo-management tool.
Photos' core benefit is a direct link to OneDrive. The default view of your images includes both on-device and cloud-based photos in one, gigantic chronological grid. You can elect to remove OneDrive images from the Photos app, but I don't see any reason to do that. Like the People app, the Photos app has three basic views: Collection, Albums, Folders. If those three names seem like they should be one and the same, you're not alone. It's unnecessarily confusing.
The Collection view is everything, OneDrive included. Every image on the device and every image stored in OneDrive is visible here in the order they were taken. The Albums view breaks things down into the camera roll, local saved images (e.g., on storage cards), and screenshots. You can also create unique albums in this space and share them. Think of Albums as the social part of the new Photos app. The Folders view is a bit more basic and simply breaks down what's on the device and what isn't. The biggest difference between Albums and Folders is that folders cannot be shared.
One problem with OneDrive integration is speed. Because OneDrive requires a network connection, photos stored in the cloud can be slow to load when scanning through your library. Further, if you want to share or edit a photo that's in OneDrive, you have to download it to your handset first.
The Photos app does include some basic editing functions. For example, you can crop and rotate images, or apply auto-enhance. If you want to perform more advanced edits you need to switch to the Lumia Creative Studio. The Creative Studio itself is more or less carried over directly from Windows Phone. It offers an incredible array of tools for managing exposure, color, brightness, contrast, and focus, and has Instagram-like filters and more. It's not clear of Lumia Creative Studio will be offered to non-Microsoft Windows 10 Mobile devices.
Last, Photos makes sharing images via other apps a breeze. The sharing icon opens a dead-simple UI for pushing photos to email, messaging, Facebook, and so on.
I prefered the visual flair of the Photos Hub in Windows Phone, but the new Windows 10 Photos app is good enough for managing your local and cloud-based images.
Apple and Google both offer decent cloud-syncing photo tools. Google Photos is probably the best of the bunch, thanks to its incredible searching, sharing, and organizing features. Native OneDrive integration helps Windows 10 a lot.
Tweaked
Camera
The Lumia Camera app is another carryover from Windows Phone. Microsoft changed the fonts and reorganized the UI fractionally, but it otherwise offers the same basic toolset and functionality offered to any older Windows handset.
The camera user interface is easy to digest thanks to its plain arrangement. A small strip of options lets you switch to the front camera, turn on the flash, or turn on Rich Capture Mode. (This mode purports to do a better job of getting accurate exposure, focus, and color.) The app also includes full manual controls. You can manage white balance, exposure, ISO, brightness, and focus all on your own. For knowledgeable users, these tools can lead to much more creative results.
The camera includes several Lenses, which are software add-ons for the camera. One of those pre-installed is Lumia Selfie. If you want to snag the best-possible self portrait, this mode gives you the tools to get it done right. It includes a timer and some quick editing tools, such as cropping and mirroring, so you can make adjustments before sharing to social networks.
This is a fine camera app and there was no real reason for Microsoft to refresh it. It performs well and offers more tools than the basic Android and iOS camera apps.
Keyboard
Picture an old IBM laptop. What's the standout feature of an IBM laptop keyboard? The answer is the little red nub, called a TrackPoint. It sort of doubles as a mouse and lets you move the cursor without requiring you to move you fingers to the trackpad. Well, the Windows 10 keyboard has a TrackPoint nub of its own.
The idea is to improve on-screen editing. A long-press of the nub calls up four arrows that you can use to push the cursor left, right, up, or down. It takes practice to master. The nub is positioned in the bottom-left part of the keyboard, where the Z, X, and spacebar converge. It's quite easy to accidentally insert a bunch of zzzzzzzs into your text rather than open the navigation nub. This feature works much better on Windows 10 tablets.
I still like the WIndows keyboard better than the iOS keyboard, especially since it supports trace-style typing. It also has excellent word prediction. I think the native Google keyboard is still the best of the three.
Phone
The phone app adopts the basic Windows 10 design and is much easier to use than the old Windows Phone app. There are three views: history, speed dial, dial pad. Quick links at the bottom of these screens let you check voicemail, jump to your contacts app, perform searches, or manage the phone app settings. The phone app is simple, straightforward, and I like it. It's on par with the calling apps offered by Android and iOS.
Messages
The messaging app looks a lot like the phone app. One of the key changes is native Skype integration. The messaging app handles SMS, MMS, and Skype messaging now. Skype messaging is still available in the separate Skype app, but the conversations are mirrored in the simpler messaging app. I noticed some performance issues with Skype on both the 1520 and 950. It was one of the slower apps on the phone. Microsoft has said Skype isn't 100% complete for Windows 10.
Text messaging tools are about the same across Android, iOS, and Windows.
Cortana
Microsoft spent more energy porting Cortana to Windows 10 PCs and tablets than it did giving Cortana any new features for smartphones. Microsoft did revamp the Notebook feature within Cortana, however, which is the core tool for configuring Cortana's behavior. This is where you set your preferences, such as whether or not you want Cortana to track flights or packages mentioned in your email. The new settings are far more granular than before and provide more control over individual behaviors.
Other than that, Cortana is still great at setting reminders, dictating messages, and firing up Groove Music.
Cortana, Siri, and Google Now are on a relatively even playing field these days, though Cortana and Siri have more personality than Google Now.
Maps
Much like the camera app, Windows 10 carries over the mapping program from Windows Phone, with minimal tweaks to the UI to make it more cohesive with the rest of the platform.
Maps supports offline navigation, mass transit, driving, and walking directions. I found it was great at pinpointing my location, worked perfectly for planning trips, and offered a rich set of tools. Real-time traffic alerts are useful, and "street-side" views offer a glimpse of destinations in the same manner as Google's Street View.
My favorite feature? The app can help you avoid a speeding ticket. For example, you can set the speed limit for the road on which you're traveling and then have Maps warn you if you travel more than X miles per hour above or below the speed limit. Amazingly, it worked.
Maps for Windows 10 is excellent and competes well with Google Maps and Apple Maps.
Microsoft Health
Much like Apple Health and Google Fit, Microsoft now provides an on-device app that will interact with wearables to help manage health and fitness data. The Microsoft Band is the primary accessory intended for Microsoft Health. If you don't have a Band, Health can still track daily steps and calories, but that's about it. The interface is functional and I had no trouble using it to count steps.
Wallet
Windows 10 includes a mobile wallet app, but it can't do much. You can use it to store credit/debit cards for making online purchases. It can also store some loyalty card data. The Wallet cannot be used for NFC retail payments, like Apple Pay or Android Pay.
Xbox
The Xbox app used to serve as a central hub for managing your games, music, and movies. Now it's meant to help manage your Xbox profile. For example, you can check your games and achievements, peruse the store, and of course interact with your gaming buddies. You can send messages to individuals or groups, choose to receive alerts when friends reach new achievements, and comment on everything that happens in your gaming sphere.
The Xbox Smartglass app mirrors many of these functions, but also allows you to connect directly the the Xbox in your house. Xbox Smartglass lets you manage the Xbox console to a small degree, such as view the installed apps/games, modify select settings, and such.
Wrap-Up
Windows 10 Mobile is a fine operating system and most certainly the best yet from Microsoft. On a feature-for-feature basis, it is nearly equal to what's available from Apple and Google. The biggest issue facing Windows 10 will continue to be apps.
The fresh design of Windows 10 is a welcome change and improves the day-to-day usability of the platform immensely. Only Microsoft can claim to offer an operating system that functions the same across phones, tablets, and PCs. That's a major advantage, though Microsoft hasn't yet figured out how to market it effectively. Universal apps might help close the app gap some, but that's entirely up to developers.
Continuum — turning your phone into a full PC — is genuinely cool and something other platforms don't truly offer. It's a shame this feature is limited to just the newest and best hardware.
Windows 10's greatest strength rests with Office and Outlook, Microsoft's productivity tools. The refreshed mobile apps and their cross-device compatibility are excellent. Toss in seamless syncing via OneDrive, and Microsoft has solved a major pain point for mobile professionals.
There's no question Windows 10 Mobile is a powerful and feature-rich operating system. A few remaining bugs aside, Windows 10 Mobile has more potential than any previous smartphone OS from Microsoft. If you're a die-hard Windows fan, you've probably already installed one of the technical previews. If not, I recommend checking it out as soon as you can.
Mobile Phone Lumia 950 XL Just a disappointment
I am a previous owner of a Lumia 1520 and loved the quality, build, and feel of the phone. All of the new microsoft phone products, including this one, feel extremely cheap, light, hollow, and flex when you hold them. Not to mentioned as you change screens you constantly get the 'Loading' message.

I'm sorry but at this point in the game, you should not receive a 'Loading' message unless you are downloading a file to your phone.

Many of the major US banks are pulling their apps from the windows platform. For example, Chase, Bank Of America, etc. The apps are going in the wrong direction.

I struggled to stay with a windows phone because I truly loved my Lumia 1520 but now I have to bid them farewell. This is just a disappointment....
(continues)
The Apps
I don't quite understand the apps issue. How can the banks, especially the big ones, deny windows phone users of bank apps when Microsoft is willing to write them? Apple is not even an American company anymore, at least it pays no US Corp tax on device sales to anywhere in the world, NOT EVEN HERE IN THE US and their devices are in most of our schools but they have bank apps. Something seems fishy here, perhaps restraint of trade, collusion etc. Someone needs to inform Americans about this.
Hmm well that's good to know, what about android? is that also not US based company?
Whoa!
Ok, so maybe it's a little buggy NOW. But this is definitely the mobile OS of the future. My next device will definitely be a Windows Mobile device. Thanks for this great review.
Great Review!
Thank you for the very in-depth review of Windows 10 Mobile ("W10M"). Typical thoroughness and fairness that are Phonescoop hallmarks.

I've added my comments below, but first I have to ask again when you think we might see a hardware review of the Lumia 950 and 950 XL...I'm keen to see how they stack up as phones, in addition to all of the good stuff in W10M. How is their signal-holding ability? How do the incoming calls sound to you and how do you sound to the other party, in regular phone mode and speakerphone mode? How do they sound for music playback?

I apologize for the lengthy stream-of-consciousness post below, written as I read Eric's review, so if you're not that interested in Windows Phone (WP8.1) or W10M, please just stop r...
(continues)
Does Edge on W10M have the "Reading View" like W10-Tablet/Desktop Edge does? That is a major, marvelous feature.

yes it does

Cortana on my Lumia 635 AUTOMATICALLY delivers incoming texts over the Bluetooth headset, reading them aloud to me, then...
(continues)