Review: Amazon Fire Phone for AT&T
Form Performance Basics Extras Wrap-Up Comments 1
Media
The Fire is chock full of media apps, but not the ones you're likely used to. Instead of the Google Play Store, you'll find the Amazon Appstore. Amazon has its own music, video, and book-reading apps. Amazon's music selection is just as good as Apple and Google's, and Amazon Instant Video is really, really great. Amazon's media apps are available to regular Android phones and some of them are available to the iPhone. The apps (Kindle, Audiobooks, Newsstand) look and behave on the Fire Phone just as they do on regular Android devices.
One of the key selling points of the Fire Phone is that it hooks into your Amazon Prime account. If you didn't have one before buying the Fire, you'll get a year subscription for free (value $99). Prime gives you online music storage and streaming, and access to Amazon Instant Video's large collection of free, streaming TV shows and movies. Instant Video alone might be worth the $99 for some people. Add to that the benefits you get with your Amazon account (free two-day shipping on amazon.com orders and cheaper one-day shipping for many products) and you have a real deal. I've used Amazon's online music service for years, and all 20,000 of my songs became instantly available as soon as I signed into my account. All of my bookmarked TV series also showed up in Amazon Instant Video. Very nice.
AD article continues below...
The stereo speakers sound pretty good when viewing movies or when playing music. I like how well the music app integrates with my online library, but downloading songs for offline playback was a bit of a hassle. There's no way to sync songs directly to the Fire Phone through your computer other than via the Android Connector app (which is a horrid piece of software).
There isn't anything advanced, such as a TV remote, but the Fire Phone is supposed to support Miracast and screen mirroring on TVs. I couldn't get Miracast to work, despite the fact that my TV supports it, but I'm not surprised by this at all because Miracast generally doesn't function as it is supposed to. The Fire Phone is supposed to stream seamlessly with the Fire TV, but we don't have one to test with.
Suffice it to say, the Fire Phone is a fine media companion.
Camera
The camera has its own button. A quick press launches the camera. The camera launches fast, and can be opened even when the phone is locked.
The camera user interface is rather simplistic, and that's OK. The viewfinder fills up most of the screen and there are strips down the left and right sides holding the controls and settings. There are controls for the flash, selfie cam, and full settings. It's a pretty standard set-up.
The flash toggles between on, off, and auto. The selfie (front) camera is pretty obvious. The "full" settings are *really* limited. You can turn HDR on or off, set image review on or off, and choose the "Lenticular" or Panorama shooting modes. Don't know what "Lenticular" means? Don't worry, I didn't either. The Lenticular tool takes photos that are similar to a Panorama, but allow you to stitch together a full 360-degree image that users can view by panning the phone around. So it's sort of like Photo Sphere for Android, but not quite the same. The tool is confusing to use and the results are pretty much garbage. That's it, though. There are no other shooting modes or settings. You can't adjust anything else about the camera's behavior.
When the flash is off, the Fire's camera focuses really quickly. It features a burst shooting mode, but its "burst" is rather slow. When the flash is on, focusing takes a lot longer and it's easy to miss shots. The camera is straight-forward and gets the job done, but a few extras (sports mode, portrait, etc.) might have been nice.
Photos
The Fire Phone has a 13-megapixel sensor and it takes decent photos. I had zero expectations and was pleasantly surprised by the results. The camera app itself may lack advanced shooting modes, but the Fire Phone takes good photos, and, in the end, that's far more important than whiz-bang features in the camera app itself.
Focus was generally sharp, white balance generally accurate, and exposure mostly spot-on. I achieved the best results when the flash was turned off. Using the flash, especially indoors, plays havoc with white balance and exposure. I'd say most people who buy the Fire Phone will be pleased with the results they get.
Video
I'd say the same thing of the video camera's capabilities. I was surprised at how good the 1080p HD footage was, and enjoyed the results. Focus and exposure are mostly great, with only white balance causing some goofy results here and there. Most people ought to be happy with the video they capture. Even the sound is good.
Gallery
The gallery app is rather interesting. It's organized in a fairly simple fashion. The photos are arranged in a plain old grid, which is laid out chromologically from most recent photos downward. It makes sense and works. You can tilt the phone toward you or away from you to automatically scroll through the library if you wish (this feature also works in the browser). The left-side panel lets you sort between photos stored on the device, the camera roll, and videos. You can also manage your Cloud Drive account from the left-side panel.
The editing features are beyond crazy and completely make up for the lack of advanced camera features. For starters, the editing screen resembles that of the standard Android gallery app. The editing controls run along the bottom of the screen in a strip that scrolls sideways. The options include: enhance, crop, rotate, red-eye, effects, stickers, text, meme, draw, brightness, contrast, saturation, warmth, whiten, blemish, sharpness, focus, and splash.
When was the last time you saw a smartphone offer a Meme editor out of the box? Really all it does is allow you to add blocky text at the top and bottom of photos, but hey, now you can start your own Twitter or Facebook sensation right from your phone.
I found the editing tools a cinch to figure out and use. You can share photos quite easily through the gallery app with tools that look and function like those on most Android handsets.
Apps
Since the Fire Phone runs a modified version of Android, the selection of apps is fairly decent. Amazon claims to have about Android 185,000 apps in their app store that are compatible with FireOS and the Fire Phone. A lot of the marquee apps that people care about are available (Facebook, Pandora, Twitter, Weather, eBay, Flixster, SoundCloud, Tumblr, Evernote, Vevo, Instagram, Groupon, et al.). The Appstore is fairly simple to use, but I wish it were easier to browse via category, for example.
One nice thing: there's almost no AT&T bloatware. I don't know if AT&T was too lazy to recode its apps for the Fire Phone or if Amazon forbade it. The only AT&T app is the MyAT&T for managing your account. That works for me!
Bluetooth
The Fire supports Bluetooth 3.0 and a handful of the most common profiles, such as stereo Bluetooth, phone book access, and object push. I didn't have any trouble connecting the Fire to a range of devices thanks to the dead-simple Bluetooth menu. Calls sent to a mono headset sounded decent, but not great. Calls sounded better through my car's hands-free system. I wasn't all that impressed with the quality of music sent to my favorite Bluetooth speaker. The Fire doesn't support the aptX profile, which is best for music lovers. For a media-centric phone, that's a shame.
Browser
The Fire Phone has its own browser, called Silk. I couldn't find any third-party browsers, such as Chrome or Opera, in the Appstore. Silk functions just fine. It features an address bar at the top and back/forward buttons that hover at the bottom-left corner of the screen. The browser supports multiple tabs, which are accessible through a separate button that hovers at the bottom-right corner. Advanced tools are limited to sharing pages, bookmarking them, saving them, or searching through them. There is no private browsing mode. Silk renders web sites cleanly and quickly. I like that it maintains an on-going list of the sites you've visited most often.
Clock
I don't like the clock. Amazon probably thought it was being creative by hiding the time (in white, digital form) in the lock screen animations and 3D screens. It's definitely creative. But it's not at all useful. The clock just isn't as visible as it needs to be, and it sometimes moves around depending on the lock screen animation you've selected. Just give me the time, Amazon.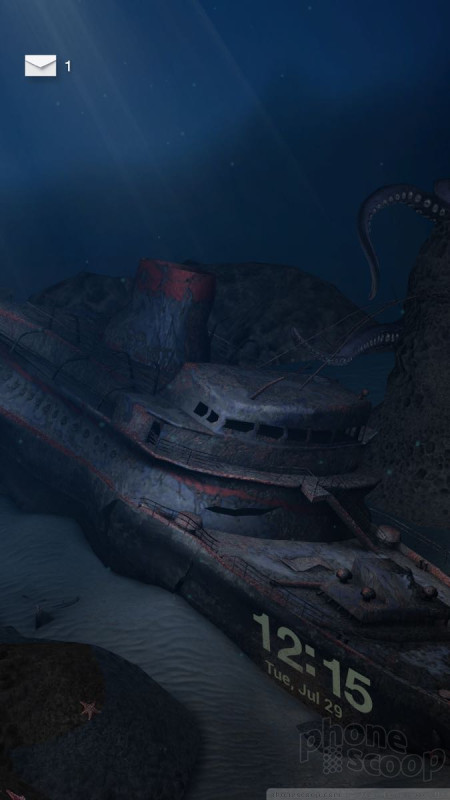 Firefly
Firefly is Amazon's product and media search tool. It borrows heavily from other apps that so similar things. First up is the product scanner.
Firefly uses the camera to capture images of stuff and then searches for items that match what's in front of you. If you're in a supermarket and see some Cheerios, long-press the camera button to launch Firefly and take a shot of the box. Firefly will search for Cheerios and then provide results on where you can buy Cheerios online, including, of course, Amazon. The app also displays reviews of the item, as well as general information and provides links to the manufacturer web site if/when available.
I tried Firefly with a wide range of household items and found that it worked only about two-thirds of the time. It successfully identified a box of crayons and a smartphone, but misidentified a beer can coozie as a greeting card. It was able to correctly identify my Stormtrooper helmet, Gran Turismo 5, and a Sony PS3 controller. It was able to tell me I was holding an Energizer battery, but couldn't give me the right size. It was able to tell me I was looking at a Pioneer receiver, but had no idea what model. I could go on.
Firefly also acts like Shazam and can recognize music, TV shows, and movies. You have to tell it when to listen to music and when to listen for TV shows/movies (it must search a different database. Accurracy when listening to music was quite good. It missed only one song in 10. Of course, Firefly provides a link to the MP3 on Amazon's Music Store, as well as a link to the CD, vinyl, and other editions if available from Amazon.com. As for TV/movies, it did well there, too. I found it to be most accurate when theTV was loud and there was no other noise. It was even able to tell me what show I was watching even during a commercial. The TV search results include links to purchase the content (if available), as well as links to other information sources, such as IMDB.
None of these features by themselves is novel, but it is nice to see them packaged together in one app. While the music and TV seaching performed well, Amazon needs to bone up on the product recognition.
Amazon's prices were never all that competitive with what was actually in my hand, but I suppose there are times when it is more convenient to buy something online and have it shipped home when you're not able to carry it around all day. Like Dynamic Perspective, Firefly is a bit of a gimmick, though it certainly has its uses.
GPS/Maps
The maps app is certainly functional, though not quite as feature rich as Google Maps or HERE Maps. The Fire Phone's GPS radio is quite accurate and pinpointed me within the Maps app down to about 25 feet in mere seconds. The map allows you to select from normal and satellite views, and see the traffic. Traffic is shown on roads in the standard green-yellow-red for good, slow, stopped traffic. I was able to route myself from Point A to Point B with no problem. The app supports car, mass transit, and walking directions in order to help everyone get around.
The one cool feature is Dynamic Perspective. In select cities, you can tilt the phone around to peer around buildings and structures. The concrete jungle of Manhattan looks pretty cool when you're tilting the buildings around, and the Fire Phone map app gives you a reasonable idea of what the structures really look like. Apple Maps' 3D feature is far more amazing thanks to the colorful images, and Google's 3D maps is faster at rendering the buildings.