Review: Apple iPhone 5s
Article Comments 27
Sep 23, 2013, 1:30 PM by Eric M. Zeman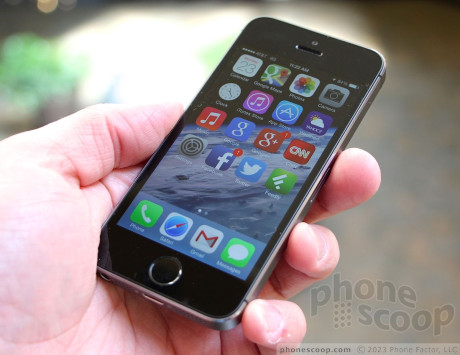 Apple's latest iPhone offers an improved camera, fingerprint sensor, and powerful processor in the same body as last year's phone.
Form
Is It Your Type?
The iPhone has always been a polarizing device. The iPhone 5s is a device for the iPhone faithful. It takes everything about the iPhone 5 and raises the bar. As good as it is, the 5s isn't for everyone. Here's our take on the Apple iPhone 5s.
Body
Last year's iPhone 5 was a stunning achievement in design and engineering. It may have looked like a common, oblong slab from a distance, but up close it was obvious just how much attention Apple paid to the details. This year's 5s is, for all intents and purposes, the same device. From an external point of view, only the colors differentiate the 5s from the 5.
It looks so similar because Apple has adopted an every-other-year refresh cycle for its iPhone hardware. The iPhone 4S was identical to the iPhone 4. Thus we have the familiar-looking iPhone 5s.
The iPhone 5s is a finely crafted piece of hardware. The frame and back panel are forged from aluminum, while the front and portions of the back are made of glass. The metal-and-glass combination has always evoked an aura of high-class quality. The chamfered edges, the exactness of the design, the quiet simplicity all give the iPhone 5s an appeal all its own. There's nothing cheap about it. There is no creaky plastic, there are no uneven seams: this hardware is as good as it gets.
In the hand, the 5s is slim, light, and comfortable to hold. Its weight is kept at a minimum. Some might prefer the edges to be more rounded. Despite the chamfers along the side surface, there are still hard angles between the back/front panels and the aluminum frame. The narrow profile helps offset the edges. It's small enough that it will fit into any pocket without trouble. It's so light, I often forgot I had the device on me.
The 5s comes in three shades: "space" gray, white/silver, and gold (or champagne.) All three look elegant. We purchased a slate gray one, but looked at the white and gold models in the Apple Store. To be honest, I expected the gold model to be gaudy looking. Instead, the light champagne color is quite attractive. I wouldn't buy it for myself, but I certainly understand the appeal it holds for others. Plus, it's the color that lets everyone know you have the new iPhone.
The gray model has an entirely black front. You can see the slit for the earpiece at the top, and the round Home button at the bottom. The LCD screen itself vanishes into the black frame when it's off. The 5s's bezels surrounding the display are not the thinnest around; not by far. LG and Samsung have thinner bezels on the G2 and Note 3, for example. The 16:9 aspect ratio of the display gives the iPhone 5s an elongated look.
The Home button is different from years past, and is the most obvious change to the design when compared to the iPhone 5. The Home button includes a fingerprint sensor that Apple calls Touch ID. (We'll discuss Touch ID in detail separately.) The button itself is less concave than before. In fact, it is nearly flat. There's a ring that surrounds it, that's easy for your finger to feel. The ring isn't raised, but instead rims the slightly recessed button. The travel and feedback of the button is excellent, but the sound is pretty loud. I was surprised at the "clacky" sound it makes.
The volume buttons are on the left edge, exactly where they were on the iPhone 5. The volume buttons are little circles that are separated by about a centimeter. The "up" volume button doubles as a camera shutter button. The travel and feedback of these buttons is perfect, and their shape makes them easy to find without looking. The little flip switch to turn the ringer on and off is there, too, and works perfectly. The lock button is all by itself on the top of the 5s. It also has excellent travel and feedback.
Both the headphone jack and Lightning port are on the bottom. The Lightning port is Apple's proprietary port for connecting and charging its iOS devices. It was introduced with the iPhone 5 last year. It is very easy to use, as it accepts the plug in either orientation. It is worth pointing out, however, that Apple ignores the worldwide microUSB standard, which is used by every other phone maker for charging and syncing. The Lightning port is less frustrating than microUSB, though; I'll give Apple that.
As with all iPhones, the 5s's battery is inaccessible. You can't swap it out or pull it. Same goes for memory. You're stuck with 16, 32, or 64GB, there's no expansion slot. The nano SIM card port is in the same spot on the right edge of the phone. The nano SIM card is smaller than the micro SIM card that is currently used by most phones. You can't remove the SIM card and use it with other phones unless you have an adapter. Granted, few people ever eject their SIM card, but it's something worth knowing.
The iPhone 5s is a really, really nice piece of hardware. It carried over all the good things of the IPhone 5, though it would have been nice to see Apple make a few changes. I mean, every other phone maker introduces new stuff constantly, and I think it is a bit lazy on Apple's part to skate through two years with the same design. Even so, you can't knock the quality of the iPhone 5s. It still leads the pack.
Performance
Screen
Perhaps the biggest disappointment about the iPhone 5s — at least to me — is the display. Apple carried over the same 4-inch, 1136 x 640 pixel screen from last year's iPhone. There's absolutely nothing wrong with the LCD panel itself. It is incredibly bright, razor sharp, and shows accurate color. The Retina Display's pixels are packed so tightly that picking out individual pixels is near impossible. The auto-brightness feature works very well when transitioning from bright environments (such as outdoors) to dark environments (indoors). Everything about the screen is exceptional, apart from the size.
Apple has resisted pressure to increase the size of the iPhone's display. According to Apple CEO Tim Cook, the company doesn't want to sacrifice one-handed operation of the phone. That's a valid point. Some phones, such as the Galaxy Note line from Samsung, have screens that are so large the device becomes awkward to operate. Most of today's leading Android devices have 5-inch screens and full 1080p resolution. However, not only is the iPhone's screen among the smallest of most modern flagship smartphones, it also has the fewest pixels. For example, the iPhone has about 727,000 pixels, while a 720p HD screen has about 922,000 and a 1080p HD screen has 2.1 million pixels.
The size of the iPhone 5s display won't appeal to everyone, despite how good the quality actually is.
Signal
We tested an AT&T-specific version of the iPhone 5s on AT&T's network around the metro NYC area. The iPhone 5s performed on par with other AT&T devices tested in this region of the country. The iPhone remained connected to AT&T's network throughout our review period. It always showed an HSPA+ or LTE connection, depending on what was available. It never dropped to EDGE, even in areas that I know have poor AT&T coverage. More to the point, the iPhone connected every call I dialed on the first attempt and it never dropped or missed any calls. Further, data speeds were solid across the board, and appreciably quick in areas with good LTE coverage.
Sound
The iPhone 5s is a decent device with which to make phone calls, but it's not the best. The quality of calls sent to the earpiece was a bit scratchy in my experience. Voices were overly sharp and crackled from time-to-time. The volume produced by the earpiece was good, but not great. I was able to hear calls during a busy street fair and when at a noisy coffee shop, but screaming kids in the same room were easily able to drown it out. The speakerphone produces much better volume, but the quality nosedives a little. The 5s speakerphone was easily heard when in a car or my office, but there was even more crackling and distortion in the sound. Ringer volume is heavily dependent on which ringtone you choose. For example, the "Classic Phone" is loud enough to make your ears bleed. But some of the new ringtones in iOS 7 - while really lovely - are much harder to hear in even moderately quiet environments. The vibrate alert is strong enough to get your attention when the phone is in your pocket.
Battery
After testing the iPhone 5s for three full days, I'd say it has average battery life. It should get most people through most of a day, but will chew through battery life quickly with heavy use. I found that it lasted a minimum of 11 hours, but at most 15 with moderate use. I used it in areas with a mix of HSPA+ and LTE, and had the screen brightness set to 50% throughout my testing. I left both the Wi-Fi and Bluetooth radios on, as well as GPS, and used the device heavily to check email, Facebook, RSS, and Twitter throughout the day. I also played some games, watched some video content, and listened to music. As with all iPhones, you're going to need to learn to manage its power useage. Apple doesn't offer any special battery-life-management features, so you're on your own to figure it out.
Basics
Menus
The iPhone 5s runs iOS 7. For a full run down of all the new features in iOS 7, see Phone Scoop's separate review of iOS 7 here. If you're looking for the quick and dirty version, read on.
iOS 7 is a complete redesign of Apple's tried-and-true operating system. It looks entirely different and adds tons of features. There's a nice, big, digital clock that's visible on the lock screen. In addition to the clock, you can access both the notification shade and new Control Center from the lock screen. The notification center has been dramatically improved. It offers a nice "Today" screen complete with your appointments, weather, and stocks. It also shows you missed calls, emails, messages, and so on.
The Control Center is a new feature that you access by swiping up from the bottom of the screen (you can disable it in the lock screen if you want.) It provides quick access to hardware functions, such as the wireless radios, screen brightness, volume, and several apps (flashlight, calculator, timer, camera.) The lock screen can be used with or without a pass code.
The home screens have a new look, but they're one area of iOS that has remain virtually unchanged as far as behavior goes. You're stuck with a rigid grid of app icons that populate the screens. You can place up to 20 apps, shortcuts, or folders onto a single home screen. The folders can hold an innumerable number of applications, but you can't see them all at once inside the folder. iOS doesn't offer dynamic or resizable content on the home screen like Android and Windows Phone do.
The settings menu has a different look thanks to the new design, but it behaves about the same as before. The settings have been rearranged together in clumps of controls, such as all the radios in one spot, all the account tools in another, and so on. There's a lot in the settings menu, but it is all very easy to understand and control.
As far as customization goes, users can adjust wallpapers, ringtones, and alerts. iOS 7 includes a wide array of new wallpapers and sounds (thanks goodness!). Text size is easily changed. Apps can be placed in any order that you like on home screens, including in the permanent dock at the bottom that spans all home screens.
Multitasking has been changed, too. Rather than a list of open apps appearing in the dock, open apps now float in the middle of the screen with previews that show the app. The user interface is nice and lets you flick apps off the screen to close them. It doesn't let you see as many open apps at a time, though, which means you have to scroll sideways a bit more to see what's running.
Performance of iOS 7 on the iPhone 5s was a bit uneven. The first version of any major new operating system from Apple is typically buggy, and iOS 7 is no different. Despite updating to 7.0.1 right away, the iPhone 5s had plenty of app crashes (including Apple stuff like the Settings menu and Safari.) There were some jitters here and there, and the screen transitions — especially the ones that occur when you jump to/from the home screen — were sometimes slow. It's by no means bad, and Apple will probably patch iOS 7 in a month or so, but don't be surprised if you notice a few quirks here and there.
Bugginess aside, iOS 7 is a fast platform and it rarely felt bogged down. Further, the iPhone 5s processor (Apple A7, speed unknown) was able to handle incredibly complex and textured games, such as Infinity Blade III, without breaking a sweat. Most apps opened in a blink, and processing time for tasks such as piecing together videos in iMovie was noticeably quicker than on the iPhone 5.
Calls and Contacts
Apple changed the look and feel of its phone and contact applications, but the changes are only skin deep. One of the more disappointing aspects to iOS 7 is how skimpy the phone and contact apps are. Sure, the phone works fine for dialing numbers and storing favorites, but it doesn't offer advanced features. The phone app offers a basic set of tools, including speakerphone, contact search, add a line, and send to Bluetooth.
The contact application is breeze to set up and use, but it is really lacking in social skills. It may port over social networking profile images (why are they so tiny?!) and contact data, but it doesn't offer status updates or views of your contacts' recent photos. You can reach out to people easily, and syncing data to the contact app is a cinch, but I wish it were more visually and socially immersive. Both Android and Windows Phone excel with their contact apps. There are also no active widgets/tiles for the iOS home screen.
Both the phone and contact apps work fine at handling the basics, and FaceTime continues to be the most user-friendly video chatting application out there.
Messages
The messaging apps are another area to which Apple paid little attention during the iOS 7 redesign.
The SMS application has been warmed over with the new design language, but it doesn't many any significant leaps in usability or features. It offers the same threaded conversations that appear in bubbles. The one thing you can do now is to easily check when each message arrived/was sent with a new swiping gesture. Of course, you can set up iMessage so that texts are sent either over your data network (when available) or as SMS as a back-up. iMessage can also be used on iPads, iPods, and Mac computers. For those fully invested in Apple's hardware ecosystem, it can be really helpful to have your messages accessible from other devices. Turning iMessage off, however, can be problematic and lead to lost messages. It's one of those features that you either need to jump into with both feet, or leave alone entirely.
The email application also gains new swiping gestures to help with accessing menus and features, but the overall behavior is hardly changed compared to the previous version. It's still just as cumbersome to add attachments, and doesn't have as many features as Gmail does on Android devices. That said, it syncs with POP3, IMAP4, and Exchange, and is as flexible as ever as far as delivering messages is concerned.
Both Facebook and Twitter have been baked into the operating system to a small degree. This means you can share content from the photo gallery directly to Facebook or Twitter, but beyond that the sharing options in iOS aren't as varied as on Android devices. You still need to download and install the dedicated Facebook and Twitter apps to really use them. Google+ and other social networks can only be reached through third-party applications.
Extras
Media
The iTunes Store has been completely redesigned in iOS 7, and it's one of the apps that truly benefits from the new look. Browsing through the store is pleasant, as is searching, and iTunes offers more content than just about every other platform out there. iTunes remains the most powerful and attractive on-device content store available on a smartphone.
Additionally, the music player has been revamped so that it looks and behaves more like the iTunes Store. The two apps complement one another well. The music player also adds iTunes Radio, a free streaming service that lets you listen to curated radio stations or build your own. iTunes Radio draws from Apple's extensive online library and I found the selection of tunes to be quite good. Quality of the music files streamed over the network isn't as good as locally-stored music, nor is it as good as what Pandora offers, at least to my well-practiced ears.
The video player was glossed over by Apple in iOS 7, but it doesn't behave any differently than before.
There are no third-party content apps preinstalled on the iPhone 5s.
Camera
The camera is another app that's been completely redesigned. It makes some modest usability improvements and adds new features at the same time.
For starters, there is no dedicated camera button, so the camera must be launched from the lock screen shortcut, the Control Center, or the app icon. It launches very quickly on the 5s. There's a basic viewfinder that lets you compose your image. There are tools placed along the left edge that allow you to switch to the user-facing camera, turn HDR on/off, and adjust the flash. The tools on the right edge include the shutter button, photo gallery shortcut, and filters, which can be applied before you take the shot.
The camera can shoot in several different modes, including square (think Instagram), regular (4:3 ratio), burst (press-and-hold shutter button to take continuous shots), panorama, video, and slow-mo (720p HD video at 60 frames per second). The camera defaults to the regular mode when first opened, and the default cannot be changed. In order to access the other modes, you swipe the entire camera interface left or right. It makes sense, but it takes two swipes to get to the panorama tool and two swipes to get to the slow-mo tool. Aside from the clunky double-swiping gestures, everything else about the camera app is very, very fast.
The camera does not offer some of the advanced functions that are on smartphones such as the Nokia Lumia 1020 or the LG G2, but that's the way Apple wants it. It puts simplicity over complexity, and manages the behind-the-scenes controls quite well on its own. It's one of the easiest smartphone cameras to use.
The burst mode often works on accident. If you press the on-screen shutter button, the 5s takes one shot. It you press-and-hold, it will take a million shots before you have a chance to blink. The same thing happens if you press the volume button. You actually have to be careful about how quickly you press the button. The 5s won't show you all the shots you too, though. It will only show you the one it thinks is the best of the bunch. The HDR mode is simpler than ever to use because there's a simple toggle that's available in the viewfinder. You no longer have to access drop-down menu to turn it on or off. The slow-motion feature is just as easy to use as the video camera. It's no faster or slower than any other option on the phone.
Photos
The iPhone 5s has an 8-megapixel sensor with pixels that measure 1.5 microns. Apple says the pixels are larger than those on the iPhone 5 and 5c in order to let in more light. Further, the lens has been widened to f/2.2 to let in even more light. The result, according to Apple, should be better low-light performance.
The iPhone 5s produces images that are on par with what I saw last year on the iPhone 5. That is to say, the pictures are generally very good. Focus is nearly always sharp, white balance is nearly always accurate, and exposure is nearly always spot on. I saw some grain in low-light shots, but not too much. The flash helps a lot, especially when taking pictures of people. Apple specifically gave the iPhone 5s a two-tone flash in order to help people look better. The result is more accurate skin color. I achieved the best results outside on a sunny day. The pictures I got under a blue sky looked amazing.
The front camera, which rated 1.3 megapixels doesn't do as well. The images have far more grain, though they suffice for FaceTime chats. I mean, if you have no other option, you can use the front camera for selfies, but the quality doesn't come close to those taken with the rear camera.
The burst shots produced vary very little. Most people won't be able to tell the difference between the first, middle, and last shots. They look as good as any other shot taken with the camera. The panorama tool works just the same as that on the iPhone 5, and the results are really good. The iPhone's camera produces some of the best panoramas out there.
The camera on the 5s easily matches that of the Galaxy S4 and HTC One, and bests the LG G2. The Lumia 1020 is a different animal thanks to its PureView technology, but the 5s holds its own against Nokia's imaging beast.
Video
The 5s records 1080p HD video at 30 frames per second when shooting in normal mode. These results looked great. I was particularly impressed with the accuracy of the focus, white balance, and exposure. The HD results looked excellent on my large monitor and HDTV.
The 5s also lets you record 720p HD video at 60 frames per second. This is the slow-motion mode, and I love it. The 5s will record about 3 seconds of video at regular speed and then go into the slo-mo mode. It will shoot slo-mo video for as long as you're recording. When you stop the recording, it will speed back up to normal mode for about 3 seconds and then stop. This is great for adding slo-mo to existing video, as it builds in a natural transition from regular-to-slow and back again. Good thinking on Apple's part. The results are just as good as the regular HD video.
Gallery
The gallery application is much, much better in iOS 7 than it was in iOS 6. The gallery app now organizes pictures into Years, Collections, and Moments based on time and location together. Years are what they are, Collections are larger events in a general location (New Jersey), and Moments are more specific events in a more specific location (You Town). The way they are presented visually in the gallery app is really nice, and it makes sense when you drill down into each segment. Alternately, photos are also arranged into albums, and photo streams. Albums can be created and edited on the iPhone 5s, but the process is still fairly awkward.
As far as editing and sharing are concerned, the 5s does OK. Sharing is simple from the gallery to Facebook, Twitter, and email/MMS. Anything beyond that requires a third-party app. Editing features are limited to crop, rotate, red-eye reduction and applying filters for various effects. If you want hardcore editing functions (including white balance and exposure control,) you'll have to switch over to Apple's iPhoto app, which is a separate download.
AirDrop
This is Apple's proprietary sharing function. You have to turn it on, and it requires both Wi-Fi and Bluetooth to function. It's a bit like Android Beam in that it lets you send files (pictures, documents, contact details, etc.) to another iOS device. Content that can be shared via AirDrop lets you know when you press the universal "share" button. If you select AirDrop, you'll see all the other AIrDrop devices that are nearby and it is simply a matter of picking one device and sending the file over. There's no pairing, no connecting, it just sends. The person on the receiving end will get a pop-up notice alerting them to the incoming file. They simply accept and voila, the file transfers over.
Browser
Safari in iOS 7 is the best version yet, hands down. It received the same visual overhaul that the rest of the operating system got, as well as a handful of new tools.
There's less navigational junk in the way of web pages, which can now fill the entire screen. The address bar is smarter than before. For example, it can handle searches. Previously, you had to use a separate search field in the browser to perform a search, now it can be done directly from the address bar. The back/forward, share, and tab tools are all located at the bottom of the screen. There are a bit minimalistic, but they work well. I particularly like the tab function, which shows open web pages in a 3D vertical carousel complete with previews.
In terms of speed, Safari is faster than ever. The browser, combined with LTE and the processor buried in the 5s, mean web pages load incredibly fast.
Bluetooth
The iPhone 5s has Bluetooth 4.0 low energy on board. I had no problem pairing it with a number of different devices, including other iOS devices, Macs, and headphones. Speaking of which, phone calls passed to both headsets and my car's hands-free system were OK, but not great. The volume was acceptable, but quality was a bit low in my opinion. Music sent to stereo Bluetooth headphones, on the other hand, sounded amazing.
Clock
A large digital clock appears on the iOS 7 lock screen when you press either the home button or lock screen button. It is white and cannot be customized. I wish the font were thicker, as it slims down a bit compared to the clock from iOS 6. As always, you have to choose your wallpaper carefully. The clock is almost impossible to see on top of light-colored wallpapers.
GPS
The iPhone 5s ships with an improved version of Apple Maps. Apple Maps is better than last year's disastrous debut, no doubt, but it still isn't as good as Google Maps or Nokia HERE Maps. Apple Maps is fine for plotting directions between two points, and getting you there with voice-guided assistance. Its biggest weakness is handling real-time data. For example, it's not so good at displaying live traffic problem areas, nor is it good at anticipating problems and avoiding them. That said, it is still a neat bit of software, and the 3D flyovers are as cool as ever. The GPS radio in the 5s functions perfectly. It located me within 5 seconds and to within 10 feet consistently. That's as fast and accurate as it gets.
Siri
Siri in iOS 7 has been vastly improved, and the performance on the iPhone 5s is noticeably quicker than the iPhone 5. Siri has a slightly different user interface than before, and the voice has been changed to make it sound a bit more realistic. Siri's odd personality remains intact, and it is able to handle more tasks. You can ask Siri to play music, send messages, read emails, find directions, search the web and so on. Siri isn't quite as quick as Google Now on Android devices, but it's very close. The speed improvement is the biggest benefit on the iPhone 5s, as far as I am concerned, especially when Siri is listening to and transcribing spoken commands into text. The pause used to be painful. Now it is nearly instantaneous.
Touch ID
Touch ID is one of the few features on the iPhone 5s that really differentiates it from not only other iPhones, but competing smartphones as well. The Home button on the front now includes a fingerprint sensor. Apple acquired fingerprint technology when it bought a company called AuthenTec in early 2012. AuthenTec has been making fingerprint sensors for mobile devices for well more than a decade, so the technology is fairly mature. Touch ID can be used to unlock the iPhone 5s, as well as to authorize App Store and iTunes purchases.
In order to use it, Touch ID must first learn your fingerprint(s). There's a tutorial that walks you through the process for setting it up. It takes a few moments, as the software wants to learn the entire pad of your finger, including the side edges. You can add several fingerprints so you don't always have to use the same finger. Once your print is saved, though, you can use it in any orientation on the sensor (it doesn't always have to face the same direction.) Once set up, I found that it worked perfectly. It recognized my finger the first time, every time. I can't say that it's necessarily faster or slower than entering in a pass code, but it it is something different. Using your fingerprint means only you can unlock the device.
If you're worried about the security of this feature, don't be. Touch ID does not store a picture of your fingerprint, and the data is all encrypted. It's better than using a passcode in that anyone can look over your shoulder to read your passcode when you enter it, but no one can replicate your fingerprint, at least not without CSI-level fingerprinting know-how.
Wrap-Up
The iPhone 5s is a worthy successor to last year's device, though it is by no means perfect. Apple was a bit lazy in recycling the iPhone 5's design, but at least the company changed up the colors and added the Touch ID sensor to set it apart. The quality of the hardware is top notch, and the Retina display, though small, still looks fantastic.
iOS 7 runs particularly well on the iPhone 5s, even if it is slightly buggy. The 5s outpaces the iPhone 5 when it comes to browsing speeds, photo/video manipulation, Siri, and mapping tasks. The A7 processor inside is an excellent engine. The fully revised operating system is a breath of fresh air, but not confined to the iPhone 5s (it's also available to the iPhone 5, 4S, and 4.)
Despite these performance improvements, the iPhone 5s is only average when it comes to some essential tasks. Specifically, call quality was just OK, and battery life barely made it through a full day. Battery life is one area in particular where Apple needs to make major advances. Further, the camera produces very good results that are on par with - but do not necessarily surpass - the competition.
Would I recommend the Apple iPhone 5s? Anyone with an iPhone 4 or 4S should upgrade right away. If you're using an iPhone 5, there's less reason to run to the Apple store since many of the features are baked into iOS 7. The Apple iPhone 5s is an excellent device, as long as you're OK with the limitations of Apple's hardware and software.
Typical Apple Language...
... ---" Apple has resisted pressure to increase the size of the iPhone's display. According to Apple CEO Tim Cook, the company doesn't want to sacrifice one-handed operation of the phone."---

Because we can get people to purchase this size while we save tons of money and rake in even more profit. Then next year we will increase the size because we never hold to our philosophic agendas.

John B.
If that happens, they will then claim it is an "improvement" not seen on any other device before.

Again, Apple will then apply features/technologies other companies have implemented on their own devices from ages before, calling it "new" or "Apple ...
(continues)
Dead a$$ John. I hate Apple with a passion. I know they're all greedy bastards at the end of the day but Apple is pure scum. Rotten to the core.
Til they exhaust the stocks of retina displays they purchased from LG, bro. 🤣
Premium feel.
I find it funny how pople argue about that "Premium" feel when most of the people that buy this phone are going to end up buying a protective polycarbonate case to protect it ! haha

I mean honestly where's your premium feel there?? Anyone else agree's?

Plus that FingerPrint Scanning has been in the Smartphone industry for a couple of years now. Nothing new on this phone.
Android420 said:
I mean honestly where's your premium feel there?? Anyone else agree's?
Premium device?
-"The Apple iPhone 5s is an excellent device, as long as you're OK with the limitations of Apple's hardware and software."

That doesn't sounds convincing, nor like a "Quality"/"Premium" device. A "Quality" device should allow me to do more with it, at least be on par with the competition.

-"Performance of iOS 7 on the iPhone 5s was a bit uneven. The first version of any major new operating system from Apple is typically buggy, and iOS 7 is no different. Despite updating to 7.0.1 right away, the iPhone 5s had plenty of app crashes (including Apple stuff like the Settings menu and Safari.) There were some jitters here and there, and the screen transitions -- especially the ones that occur when you jump to/from the home screen -- were som...
(continues)
The build quality and premium feel of the original Iphone 5 is yet to be surpased. The 5s is the same hardware (mostly) so yes. It is a premium device.
Old Tricks Help German Hackers Bypass iPhone 5s Touch ID Security
Original Post's Here:
https://www.phonescoop.com/phones/m_forum.php?fm=m&f ... »
Apple's Touch ID authentication system can be defeated using a well-honed technique for creating a latex copy of someone's fingerprint, according to a German hacking group.
The Chaos Computer Club (CCC), which hosts an annual hacking conference and publishes computer security research, wrote on its blog that their experiment shows that fingerprint authentication "should be avoided."
Apple introduced Touch ID with its latest high-end iPhone 5S on Sept. 10. A person's "fingerprint is one of the best passcodes in the world. It's always with you, and no two are exactly alike," according to the company's website.
A hacker who goes by the name S...
(continues)