Review: Kyocera Torque for Sprint
Form Performance Basics Extras Wrap-Up Comments 4
Mar 6, 2013, 3:18 PM by Eric M. Zeman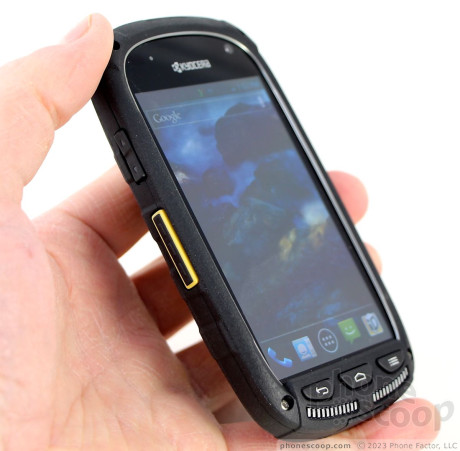 Kyocera delivers a beast of a phone in the Torque, a rugged Android smartphone for the Sprint Network. New audio technology adds a lot of firepower to the Torque's arsenal, but does it misfire? Find out in Phone Scoop's full report.
Advertisements article continues below...
Is It Your Type?
The Torque targets a pretty specific bunch of users. If you want an Android smartphone, but absolutely must have something that can withstand the abuse of an active life- or work-style, then the Torque might fit the bill.
Body
The Torque is a rugged slab. It's not pretty, but it's not supposed to be. Hard, black plastics form its grippy outer shell, and it is a bit of a bruiser. Only its semi-rectangular shape differentiates it from a hockey puck.
The Torque has the blunt features, large buttons, textured surfaces, and screwed-together look common among rugged handsets. You're not going to find anything elegant or dainty here. Take your delicate device snobbery elsewhere. The Torque is mostly black, but there are some welcome silver and yellow accents here and there to break up the black.
The overall impression is that the Torque is a solid device. It's not skinny front-to-back, but the smaller screen size (4 inches) mean the length and width are very manageable. For example, it is smaller than a device like the Nexus 4 or Galaxy S III. I can hold it in my hand comfortably and grip it tightly, no problem. It is practically as dense as a rock. Nothing about it is creaky or loose. It's tough through and through. The manufacturing quality is great. It is not exactly pocket friendly, though. The combination of the thickness and the grippy materials make sticking it in a pocket and retrieving it a bit of a chore.
The screen is recessed significantly from the bezel that surrounds it. This is to help protect the Torque from damage when placed face down on rough surfaces. It does have a weird effect on the appearance, though. It is rare to see the screen embedded so deeply. It's not bad, just different. The rectangular screen does look out of place in the ovoid shape that surrounds it. Ovals and rectangles don't necessarily mix. There are three physical buttons, positioned on the bezel itself, below the display. There are the typical Android control buttons. They are big enough that I could find them and use them with gloves on. Travel and feedback was not a problem. They felt good, even through my Isotoners.
There are two buttons on the left edge: the volume toggle and the PTT button. Both buttons are very easy to find and have excellent travel and feedback. The PTT button is set apart visually thanks to its yellow frame. It is nice and large, and works perfectly with gloves or bare-handed. The toggle button could be a wee bit bigger, but the shape and travel/feedback of the toggle are excellent. There is a single button on the right edge of the Torque, and it is (believe it or not) a dedicated camera button. It is right where you'd expect to find a camera button, and feels as good as the volume toggle and PTT buttons do.
The top of the Torque is a busy place. The are two buttons and a hatch. The hatch, which covers the stereo headphone jack, is in the middle. It takes a bit of effort to pry loose. There are two buttons flanking it: the screen lock button, and the speaker button. Both of these buttons are small nubs that could be much bigger and easier to find. Despite their small size, they have excellent travel and feedback. The microUSB port is on the bottom edge and is protected by a large hatch. This hatch is quite easy to peel back.
The battery cover fits snugly, and has a single screw holding it firmly in place. The screw can be loosened with a thumbnail, and doesn't require tools to open. Once loosened, the battery cover pulls off easily. The battery itself must be removed to access the SIM card slot and the microSD card slot.
In all, it is a solid piece of hardware that makes few concessions to earn its tough-as-nails cred.
Nice review of the new Kyo Torque
It's great to hear such a good review for a Kyocera, especially one that can do Sprint Direct Connect.

I stopped by the local Sprint corp store today (Mar. 6) to take a look at it but when they said isn't available until the 8th, I decided I'd go to AT&T's store instead to look over their PTT offerings. Now that the Torque has received such a good first review here on Phonescoop, I'll be anxious to stop back by the Sprint store on the 8th and give it a try. The increase to $20/line/mo iDEN penalty will definitely have me off of Nextel, one way or another, before the end of March. I'm glad that the Torque sounds like a good phone to try out.

Thanks for the thorough review.

BTW, has anyone heard if Verizon has any plans to upgrade it'...
(continues)
I've played with this phone and was quite impressed with Kyocera and the results of their hardened smartphone, the speaker thing is absolutely amazing and I believe was first showcased in Japan. They may have a winner for Sprint and their old Nextel ...
(continues)
I'm glad it performed well and the phone looks good, but that's all I liked you could tell it was a 99 dollar phone. The build qaulity on the G'zOne series is much better.
Had a fairly lengthy demo of a Torque this weekend, it's indeed a very nice phone, very well built, but I noticed two downsides during our in-store test.

(1) If you want to use Sprint Direct Connect (SDC) you have to turn off the LTE. Not a problem...
(continues)