Kyocera Torque Takes Tough to a New Level for Sprint
Article Comments 10
Jan 28, 2013, 9:20 AM by Eric M. Zeman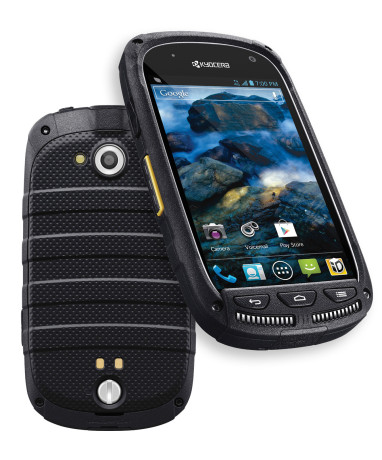 Sprint and Kyocera today announced the Torque, a new ruggedized Android smartphone that includes DirectConnect and LTE 4G. The Torque is rated at mil-spec 810G for protection from dust, shock, vibration, solar radiation, humidity, blowing rain, low pressure, salt fog, and extreme temperatures. It can also sit in a meter of water for up to 30 minutes. Other stand-out features include Kyocera's Smart Sonic Receiver audio technology, which transmits sounds via vibrations through things such as helmets or ear protection, for improved voice clarity when it might otherwise be impossible to hear. The Torque includes battery management software from Kyocera called Eco Mode and MaxiMZR, both of which help reduce the amount of energy needed by blocking background data connections. The Torque ships with Android 4.0 Ice Cream Sandwich and includes a 4-inch WVGA LCD dispaly. It is powered by a 1.2GHz dual-core Qualcomm Snapdragon processor with 1GB of RAM. It has 4GB of built-in storage and also supports microSD cards up to 32GB. It has a 5-megapixel main camera and a 1.3-megapixel user-facing camera. It includes NFC, Bluetooth, Wi-Fi, and GPS. It will be available beginning in March.
Smart Sonic Receiver audio technology
Does not work the way you think it does. Its pretty much a gimmick. You can get other items to act as a speaker, like a Glass (a cup). Let me tell you, however - if its so loud around you that you can't hear by holding the phone to your head, or by using a speaker phone, this will NOT help you. Go for a $5 bluetooth headset.
Perhaps, perhaps not. It may allow one to hear a call in some circumstances when any other method is impossible. I'm thinking industrial locations, around machinery etc. It's not always feasible to have a bluetooth on.
$5 Bluetooth headset? I never knew there were
Bluetooth headset for as little as $5, I'd be surprised if there were any Bluetooth headsets
$20, forget about $5.
Kyocera smart sonic receiver using tissue conduction is amazing!
I was reading through some of the comments people made comparing the smart sonic receiver to a Bluetooth headset or noise cancellation. Do some research before you start dismissing new technology as a gimmick. This tissue conduction technology actually was named by popular science magazine Nov 2012 issue as one the top inventions in 2012. Also, you may want actual hear it to really understand how it works. They showed it the May CTIA 2012 show in New Orleans and won a bunch of awards. Kyocera has actually launched several phones in Japan. Just check out the web for Kyocera tissue conduction for info. Or better yet when it comes out trying using in a loud environment. Just some food for thought before dismissing this as just some replacement ...
(continues)