Kyocera Torque XT Now On Sale at Sprint Stores
Article Comments 9
Oct 17, 2014, 9:44 AM by Eric M. Zeman
updated Oct 17, 2014, 3:51 PM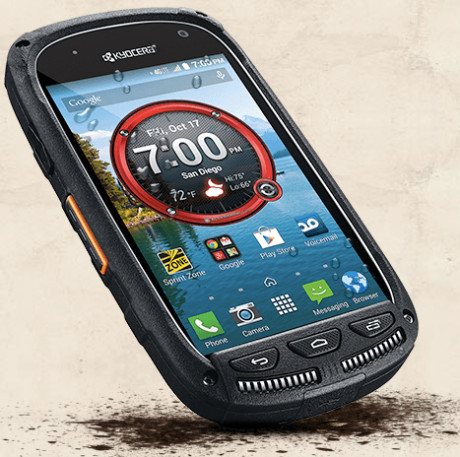 Sprint and Kyocera today announced the Torque XT, a minor update to the original Torque. The two updates include compatibility with Sprint's Direct Connect walkie-talkie service, and the improvement on onboard storage to 20GB. Otherwise, all the features are the same as the original Torque. The XT has a mil-spec rating of 810G for protection against shock, temperature extremes, solar radiation, and vibration. It has an IP rating of 67, which means it can sit in one meter of water for up to 30 minutes, as well as spend the day in the sand on the beach. The device includes standard Kyocera features, such as the Sonic Smart Receiver for phone calls, and MaxiMZR and Eco Mode for managing battery life. The Torque XT has a 4-inch WVGA screen, 1.2GHz dual-core Snapdragon processor with 1GB of RAM, 5-megapixel main camera, and a 1.3-megapixel user-facing camera. The phone includes WiFi, GPS, NFC, and Bluetooth 4.0, and runs on Sprint's LTE network. The device is based on Android 4.4.2 KitKat and includes an array of business-friendly features, such as support for VPNs, mobile device management suites, and Exchange ActiveSync. The Kyocera Torque XT is available today via most Sprint sales channels. Sprint is asking for $0 down followed by 24 payments of $15 with Sprint Easy Pay.
they finally issued a fix
As the article says THIS IS NOT A NEW PHONE

This is a two year old phone "Otherwise, all the features are the same as the original Torque"

This is like the cars with faulty parts, and they finally fixed the phone.

A new phone would have current components I.e. Kyocera brigadier

This is just a pacifier fixing on old product until they can offer the newer brigadier or similar on sprint

Due to contract, they can't bring it to sprint yet.
So you've said. Repeatedly. Possibly in every forum you can find apparently.

Do you own this version of this phone? Do you have ANYTHING useful to say about how the improvements effect performance? Or do you plan on just complaining that "it'...
(continues)
Dit they fix the wimpy PTT button?
I'm hoping the engineers at Kyocera fixed the way-way-WAY too easy to push PTT button. If they failed to do that, shame on them, and this phone will still be a fail, just as the first iteration is.

Difficult to believe that after nearly two years since introducing a new hardwired-PTT phone, the best Sprint & Kyocera can do is a warmed-over Torque. It goes to show that PTT is dead.