Apple Reveals iPhone 5 with Larger Display and LTE
Article Comments 51
Sep 12, 2012, 12:18 PM by Eric M. Zeman @phonescooper
updated Sep 14, 2012, 3:40 PM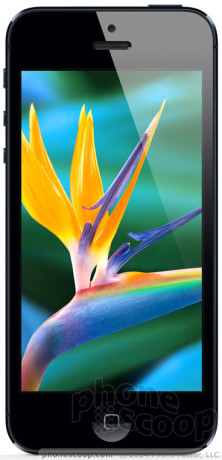 Apple today announced the iPhone 5, which features a 4.0-inch Retina Display and LTE 4G. Announced during an event in San Francisco, the iPhone 5 is the first from Apple to break from the 3.5-inch display used since the original iPhone in 2007. The iPhone 5's display measures 640 x 1136 pixels, which changes the aspect ratio to the 16:9 industry standard for video content. The display has a pixel density of 326ppi and 44% more accurate color. The display uses in-cell technology, which combines the display with the touch screen into a single panel. The exterior design of the iPhone has changed a bit to match the new display. It uses less glass than the iPhone 4/4S and more aluminum for improved durability. The device is 20% lighter than the iPhone 4S, and is 18% thinner at 7.6mm. The iPhone 5 supports LTE, dual-carrier HSDPA, and HSPA+. It uses a single chip and single radio, and has a dynamic antenna for use with the varied LTE frequencies around the world. It will work on AT&T, Sprint, and Verizon Wireless's LTE networks in the U.S., as well as those of a dozen other countries. The iPhone 5 features the new A6 processor, which Apple says is two times faster than the A5, offers improved graphics performance, is 22% smaller, and is more power efficient. The iPhone 5 battery life exceeds that of the iPhone 4S, and provides up to 8 hours of LTE surfing time. The iPhone 5's camera has been improved with backside illumination for better low-light performance, a hybrid IR filter, a five-element sapphire lens, and an f2.4 aperture. The camera module is 25% smaller than than of the iPhone 4S. The camera takes advantage of the A6 processor's added horsepower to reduce noise and capture photos 40% faster. Other improvements to the hardware include three microphones for better noise reduction, wideband audio for better phone calls, and an improved speaker for better sound. The iPhone 5 also offers 720p video capture for the iSight camera. The iPhone 5 breaks with the long-used, 30-in dock connector and switches to a new, smaller connector called Lightning. Apple says the new dock is reversible (cable can be inserted either way, making it easier to use), uses an adaptive interface, and offers better durability. The iPhone will be sold in black and white, and will be offered in 16GB, 32GB, and 64GB versions for $199, $299, and $399, respectively, with a new two-year contract. Pre-orders will open September 14, and the device will ship September 21 in the U.S., Canada, U.K., France, Germany, Australia, Japan, Hong Kong, and Singapore. It will ship in other countries starting September 28.
more info at The Verge »
more info at Engadget »
AD article continues below...
The Gold standard of ALL Smartphones hits it out of the park!
😛 😛 😛 😛 😛 😛 😛 😛 😛 😛 😛 😛 😛 😛 😛 😛

The new iPhone 5 has rewritten the entire smartphone world! You may want to sit down.

The brightest and clearest screen on any phone ever, a new IOS that works flawlessly and its the fastest smartphone with respect to the A6 chip and the LTE network!

The new iPhone 5 moves the fast and is so far ahead that the "android imitators" will need to improve the faded out screens and the mediocre operating system and build quality to even come close!

This is the "ROLEX" of smartphones and after 15 minutes with it, I am pre-ordering. Gotta have this baby right away! The Gold standard is simply gorgious!

My iPhone 4S is sold already.

What a wonderful life!

Get in li...
(continues)
More excited about the new iPod
As far as upgrades go, and new features go, the new iPod is definately a better upgrade from the old one, as compared going from iPhone 4S to iPhone 5. Definately looking forward to getting one of those new iPods.
No more shiny chrome backs! Thank gawd!!
Does it have NFC?
I did not see it when reading the specs, but does this new Iphone have NFC?
They can't add everything all at once. That'll come next year in the iPhone 5s.
I Waited For This?
Apple has become the McDonald's of smartphones...

Heavily Advertised
No real subtance or value
No will say it but, in reality no one truly likes or enjoys it.

Most of us wonder why we blew our money on it after its all done.

And if the iPhone 5 ( iPhone 4S 2.0) is in fact sack of McDonald's then..... the GSIII is a hand crafted half pound medium rare Pub burger with aged cheddar and applewood hickory smoked Bacon with Steak fries and a frothy micro brew root beer in a frozen mug (and the Note II is a double version of that same burger) ....

And people have actually asked me why my username is MadFatMan
Your example.....is so.....delicious.....[drools]
I'm going to go chew on my S3 now....
Isn't this a bit of a walkback by Apple?
They've stuck with the 3.5 inch display since day one....increasing it to 4 inches seems....a really bizarre move.....Android has been pushing larger screen sizes for the last year and now Apple follows suit...it seems like Apple is following rather than leading...
I can't tell if that's sarcastic.

There are quite a few examples of Apple being the follower from the 3GS on, and we'll be saying that again next year when they add NFC support.
Perhaps. But I hear a lot of people complain about most of today's phones being too large to hold.

In fact, surveys show that some women prefer huge phones like Note (phablets). Why? Because they've given up trying to hold most of today's ph...
(continues)
I can't believe they actually called it the iPhone5.
I mean, I know that it doesn't really make any difference, but Apple is usually infamous for pulling all sorts of crap with their devices names.

Also, with the now large 4.0 screen, I wonder if an "iPad Mini" is either feasible or even necessary.
Well...today Tim Cook claimed that Apple had a 68% market share in tablets....two years ago that number was more like 90%....which means that Apple has lost significant market share...unless they want that to continue....a smaller form iPad tablet doe...
(continues)
So rumors were right that the iPhone has LTE.
Rumors have gotten it right that the iPhone five has LTE and Apple was only only 21 months behind the release of the first LTE network in the US. December 2010.
Rumors and leaks had pretty everything nailed down a week before the actual announcement yesterday.

Aside from the new iPods, I suppose. Wouldn't buy it, but I kind of like the new Nano.
does it work on 10.5.8?
I have an older osx... do i need to upgrade it in order to work on the iphone 5.. if i do... I mean will 10.6 even run on my computer??
Stand back...
The iSheep stampede is about to begin!
😲
Since I started working almost an hour ago, 75% of my chats have featured the iPhone 5.

Le sigh.
It will! You better run for cover!

The ONLY feature that I find even the least bit interesting is this A6 processor. They claim it is 2x faster than the A5? That is an interesting claim. I would like to see how well this phone performs.
Panorama and Buddy Photo Share looks cool
I'm really excited that they announced those two great new features that Apple will surely be suing Samsung over for stealing them a year before they were announced.
And the drama continues....
They still haven't made T-Mobile an official carrier yet....


Plus, no AWS HSPA support....

T-Mobile needs to get this refarmed PCS HSPA network live STAT!!!
Plus, no AWS HSPA support....
I have yet to see that confirmed.