Motorola edge (2021)
Info Photos News Forum 4 Hands-On ›
Verizon will sell the Motorola edge 5G UW starting this Thursday, Oct. 14th for $550. Motorola sells an unlocked version with more memory and storage (but no mmWave 5G) for $700.
---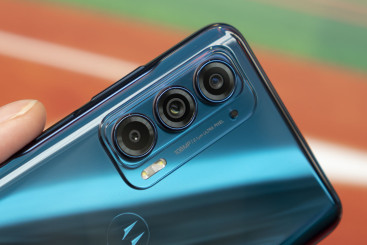 Motorola describes the new Edge as their one premium phone for the US for 2021, (besides whatever RAZR they may or may not introduce.) It's not a flagship, but it's well above the usual affordable fare that Motorola has primarily focused on in recent years. It has a fast-refresh display and a whopping 108 megapixel main camera. It will be available soon unlocked, and later on with Verizon. But it's a bit of an odd duck, with an unusual spec mix that's unlike any other mid-range phone. It looks nice enough in photos, but what's it like in person? Read on for our first impressions.
---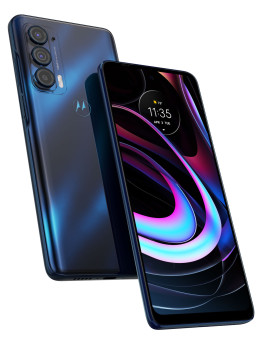 Motorola today announced a new premium-tier phone: the Motorola edge (2021). The headline features are a 108 megapixel main camera and a large 6.8-inch display with adaptive refresh up to 144 Hz. It also has a large 5,000 mAh battery, 30-watt fast charging, Qualcomm Snapdragon 778G processor, Wi-Fi 6E, and NFC. The 108-megapixel camera operates in 9-pixel pixel-binning mode by default, for excellent low-light performance with 12 megapixel output. It's accompanied by am 8-megapixel wide-angle camera, a depth camera, and a 32 megapixel selfie camera. Verizon will offer a version supporting its mmWave 5G network, while the unlocked version has excellent support for the 4G and sub-6 5G networks of both T-Mobile and AT&T. The unlocked version will be available in blue for $700. It goes on sale September 2nd with a special price of $500 for a limited time. Pre-orders start August 23rd. Verizon and Spectrum Mobile will offer the Verizon version later this fall; pricing for that version is yet to be determined.
---