Motorola's new Edge has a 108 Megapixel Camera
Article Comments 3
Aug 19, 2021, 2:30 PM by Rich Brome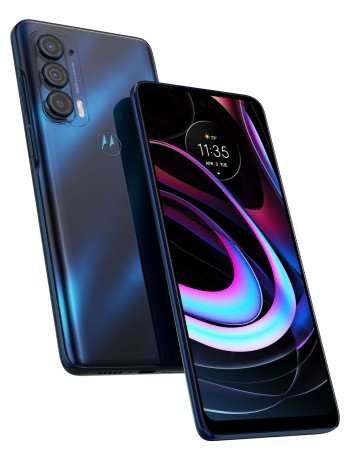 Motorola today announced a new premium-tier phone: the Motorola edge (2021). The headline features are a 108 megapixel main camera and a large 6.8-inch display with adaptive refresh up to 144 Hz. It also has a large 5,000 mAh battery, 30-watt fast charging, Qualcomm Snapdragon 778G processor, Wi-Fi 6E, and NFC. The 108-megapixel camera operates in 9-pixel pixel-binning mode by default, for excellent low-light performance with 12 megapixel output. It's accompanied by am 8-megapixel wide-angle camera, a depth camera, and a 32 megapixel selfie camera. Verizon will offer a version supporting its mmWave 5G network, while the unlocked version has excellent support for the 4G and sub-6 5G networks of both T-Mobile and AT&T. The unlocked version will be available in blue for $700. It goes on sale September 2nd with a special price of $500 for a limited time. Pre-orders start August 23rd. Verizon and Spectrum Mobile will offer the Verizon version later this fall; pricing for that version is yet to be determined.
source: Motorola
Profit
How these companies turn a profit putting out these uncompelling devices. I'm one to root for the underdog and would spend my money on moto or previously LG but it's just not there for me.
Sounded good till
I was reasonably impressed till the one speaker spec. Really???