Hands On with the Motorola edge (2021)
Article Comments 1
Aug 20, 2021, 11:17 AM by Rich Brome
updated Oct 12, 2021, 9:57 AM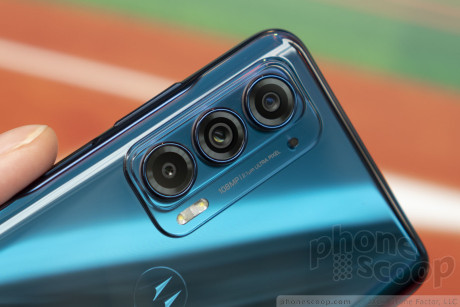 Motorola describes the new Edge as their one premium phone for the US for 2021, (besides whatever RAZR they may or may not introduce.) It's not a flagship, but it's well above the usual affordable fare that Motorola has primarily focused on in recent years. It has a fast-refresh display and a whopping 108 megapixel main camera. It will be available soon unlocked, and later on with Verizon. But it's a bit of an odd duck, with an unusual spec mix that's unlike any other mid-range phone. It looks nice enough in photos, but what's it like in person? Read on for our first impressions.
Were it not for two features, this would be a solidly mid-range phone worth, at most, $400. But Motorola pushed two specs to the absolute maximum: the 108 megapixel main camera and the 144 Hz display refresh. Certainly those specs — which are truly bleeding-edge — should command a premium.
But if you truly care about a great display, would you not prefer an OLED panel? (This is LCD.) Or if you're a gamer, would you not prefer a real gaming phone, with extra gaming features?
And if you want a great camera, you might be disappointed that there's no OIS on the main camera, or that there's no optical telephoto, or that the wide camera is only 8 megapixel.
So just based on the spec sheet alone, I'm left wondering who, exactly, this phone is for, and why on earth they would pay the $700 full retail price for the unlocked version. But the limited-time introductory price of $500 is more reasonable, particularly if you care about display refresh and a really interesting camera. And the unlocked version comes with more RAM and storage (8 / 256 GB), so there's that.
It will be interesting to see how Verizon prices it when they carry later this fall. The Verizon version adds mmWave 5G, which often means a small price premium. If it's priced at $750, well... good luck with that. But there's reason to believe the price could go the other way. That's because the Verizon version will start with less memory (6 / 128 GB). Also, Motorola tends to overprice their unlocked phones; they can end up much cheaper at carriers. That was certainly the case the Moto g stylus 5G.
Update (Oct. 12): Verizon priced it at $550, which is just about right given the specs.
Hardware
This is a big phone, but it doesn't feel as clunky as some other large phones. It's slightly taller and narrower than average, which is better for hand fit. It also helps that there's a nice curve to the back of the phone.
It feels very tall, and the side buttons are too high up for my small hands to reach easily. I really like how Motorola often puts the fingerprint reader in the "bat-wing" logo on the back of its phones. So I was slightly disappointed to see a side-mounted fingerprint reader here. But Motorola has turned that into a feature, where a light double-tap summons a pop-up bar with up to six configurable shortcuts.
The phone feels relatively thin and light, but that camera hump really sticks out quite a bit. It's three humps, actually, so it might put some extra wear and tear on your pocket lining, if that's how you carry your phone.
Quality-wise, the phone feels about right for a mid-range phone. It's attractive and feels well-made, but most of the surfaces you touch are plastic, so it doesn't feel particularly premium. There is a metal frame inside, and plastic surfaces are generally more durable, so there's a practical aspect to how they designed it.
The display is good. It's a perfectly flat display, which isn't surprising since the whole industry seems to be moving away from the fad that was curved-edge displays. The bezels are thin enough. There're some uneven backlighting around the hole punch at the top, but that's common. Otherwise, the display looks bright and sharp.
I do wish this phone had a memory card slot to expand the storage. It seems big enough that they should have been able to fit on it there. That's one reason to consider the version with 256 GB storage instead of the basic 128 GB that Verizon may offer (although that hasn't been confirmed).
Besides the fast display refresh and 108-megapixel camera, another premium feature here is Wi-Fi 6E, which is the very best Wi-Fi you can get right now, and still rare on phones. The phone also sports a Qualcomm Snapdragon 778G chip, which should keep things speedy. The 5,000 mAh battery is about as big as they get, so battery life should be excellent. And the 30-watt fast charging (fast charger included) can pump 9 hours of battery life into the phone in just ten minutes, according to Motorola.
Software
I continue to like Motorola's Android experience. They do a good job adding a ton of helpful features without compromising the excellent Google look and feeling. There are ample gestures and shortcuts to please the power user, and myriad ways to customize the look and organization of the launcher to suit your style.
I like how Motorola consolidates all of their custom stuff into the Moto app so it's easy to find. I don't think it's too difficult to get started by just diving right in. But there are a lot of options, so Motorola has enhanced the get-started experience with a new welcome tour.
If there was ever an Android phone that could justify a premium price based on its unique software alone, this would be a strong contender. Besides the Android tweaks I mentioned above, and the camera software — which I'll get to below — there's also "Ready For" and ThinkShield for Mobile.
Ready For is Motorola's own unique technology for connecting the phone to larger displays or PCs. It can now work wirelessly, and has several distinct modes and features. You can use it for playing media or gaming on a home TV, where the phone presents a special menu screen on your TV, which you navigate by tilting the phone. There's also a video chat feature where the phone will track your face and automatically crop to keep you centered in the frame. And then there's a mode where you can connect it to your PC and access phone apps on your PC, and move files between the two devices.
For business customers, there's ThinkShield for Mobile, which offers "business-grade security". The key here is that the phone is certified for FIPS 140-2, Google ioXt, and Android for Enterprise. Moto has also included enhanced MDM that gives enterprises control over OS update timing, network configurations, and the Ready For features.
Camera
Motorola has been adding features to its camera app for years now, and they haven't slowed down. The new Edge has one of the most feature-rich camera apps on the market today.
So what's the point of a phone camera with a ridiculous 108 million pixels? Well, you can capture 108-megapixel images with it, but that's actually not the main point. The default mode pumps out images that are a standard 12 megapixel, and uses pixel binning to improve low-light performance and overall quality. Standard pixel binning combines four pixels into one large virtual pixel, but here it's combining nine pixels into one. That should result in very clear, noise-free images, even in very low light.
I took a few photos and they looked good. The camera app is easy to use and works well. But I wasn't able to fully put the camera through rigorous testing.
All of the features I look for in a camera app are here. The Pro (manual) mode lets you do long exposures up to 30 seconds, and you can save in RAW format from there. Thanks to the dedicated depth camera on the back, the Portrait mode should be more accurate, and works for any animal or object, not just people. Capturing full 108-megapixel images is easy thanks to the dedicated "Ultra-Res" mode.
The Dual Capture feature — which uses the front and rear cameras simultaneously — has been enhanced to work for both photos and video, and you can choose the main or wide camera on the back.
Video modes include slow-motion, time-lapse, and the fun Spot Color feature. They've also improved Slow Motion mode to work at up to 960 fps, which is as good as it gets.
The 32-megapixel selfie camera also has a ton of features you won't find on many other phones. It has HDR in standard lighting, and in low light, it uses multi-frame noise reduction and AI to improve quality. Crucially, these features even work in third-party apps, saving you a step or two if you want to post a decent selfie on social media.
They've added so many features to the camera app that the settings screen was getting a little out of hand, so they've now added groupings to organize the settings and keep things manageable there.
Summary
Although there's a lot that I like about this phone, I still question the value given the wild pricing. Personally, I value a good wide-angle and telephoto camera experience in a phone, and that's lacking here. That's easily my biggest single gripe.
But if the main camera performs as well as it should, the camera experience should otherwise be excellent. The 108-megapixel sensor is one of the best available, and Motorola really does have one of the best camera apps right now.
I also like the general Android experience Motorola has created, with all of its excellent features, options, and shortcuts. And the added features like Ready For seem well-designed and could be truly useful for some people.
There are also hardware features I love, such as the huge battery, fast charging, and fast processor.
You should also enjoy speedy data at all times thanks to Wi-Fi 6E and excellent 5G support, including C-band. The only thing the unlocked version is missing is mmWave 5G, but T-Mobile and AT&T don't have very large mmWave coverage anyway.
If you're a Motorola fan looking for a high-end phone this year, the new Edge is worth a look, particularly if you don't take many wide-angle or telephoto pics. If you're with AT&T or T-Mobile, be sure to snap one up during the first few weeks for $500, because $700 is just too steep for this one. Or if you're with Verizon, we'll just have to wait and see how they price it.
Update (Oct. 12): Verizon priced it at $550.
motorola edge 2021
they cut alot of coners with this phone motorola edge 2020 had a765g chip whi no different to the new chip they put in the 2020 verion had a amoled panel 1080p curved underscreen fingerprint duaL SPEAKERS NICER PHONE ILL PASS ON THE 2021 VERSION WITH THAT KNOCK OFF 108 MEGA PIXEL