TCL 10L
Info Photos News Forum 6 Hands-On ›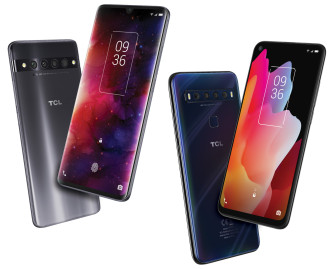 TCL Communication, maker of Alcatel-branded phones, is launching its first TCL-branded phones in the US. The TCL 10 Pro and TCL 10L will launch as unlocked phones. TCL also makes televisions and their own display panels. TCL phones use TCL displays.
TCL 10 Pro: A mid-range phone with a flagship-level design, including a curved-edge OLED display and matte glass back. The 6.47-inch display sports full-HD resolution and Netflix-certified HDR10 color. The four rear cameras include a 64-megapixel main camera, 16-megapixel 123º wide-angle camera, macro camera, low-light camera, laser focusing, and separated dual LED flashes. The front camera is 24 megapixel. It's powered by a 4,500 mAh battery, Qualcomm Snapdragon 675 processor, and 6 GB of RAM. It has 128 GB of storage plus a memory card slot. Other features include Android 10, in-display fingerprint reader, 3.5mm headset jack, USB-C, and, unusually, an IR emitter. A fast charger and clear case are included. 4G LTE network support includes US bands 2, 4, 5, 12, 13, 25, 26, 41, and 66. The only color option at launch in the US is Ember Gray. It will sell for $450.
TCL 10L: A more affordable option at $250, the 10L has a 6.53-inch full-HD display, Snapdragon 665 processor, 6 GB of RAM, and a 4,000 mAh battery. It also has quad rear cameras like 10 Pro, including a 48-megapixel main camera, 8 megapixel, 118º wide camera, 2 megapixel macro camera, and depth camera. The front camera is 16 megapixel. It has a rear-mounted fingerprint reader and 64 GB of storage. Like the 10 Pro, it has a memory card slot, 3.5mm headset jack, USB-C, multi-stream Bluetooth, Android 10, and 4K video capture. It supports the same US LTE bands as the 10 Pro: 2, 4, 5, 12, 13, 25, 26, 41, and 66. It will come in Mariana Blue with a "holographic finish on the back that reflects an iridescent shine."
Both phones will be available from Amazon, Best Buy, and Walmart starting May 19th.
---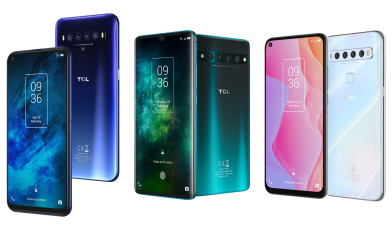 TCL has announced select launch details for its first proper lineup of TCL-branded phones: the TCL 10 5G, 10 Pro, and 10L. The 10 5G will come to a "major" US carrier "later this year". Pricing of the 5G model in the US is yet to be determined, but it will sell for €399 overseas. Both the TCL 10 Pro and 10L will be available unlocked in the US in May, for $449 and $249, respectively. The 10 5G has a 6.53-inch full-HD LCD display, Qualcomm Snapdragon 765 chipset, 6 GB of RAM, four rear cameras, memory card slot, and a 4,500 mAh battery. The 10 Pro has similar specs except it has a 6.47-inch curved AMOLED display, an in-display fingerprint reader, and a Snapdragon 675 chipset. The affordable 10L has specs similar to the 10 5G except for a Snapdragon 665 chipset and a 4,000 mAh battery. We published additional details and a hands-on report in January.
---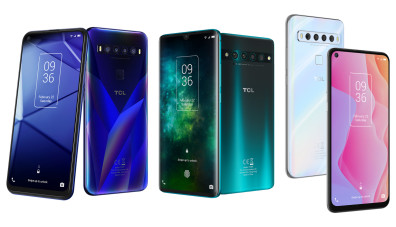 After "soft-launching" with the Plex phone last year, TCL is now previewing its first widely-available lineup of own-brand phones: the 10 series, all of which offer premium features for under $500. TCL officially announced very few details of the three phones, but shared more with Phone Scoop in a hands-on session. All three models offer four rear cameras. The TCL 10 5G offers sub-6 GHz 5G powered by the new Qualcomm Snapdragon 765 chip and an extra-large battery. It also has a large display with a "hole punch" for the selfie camera in the top-left corner. A fingerprint reader is located on the back. The 10 Pro has a premium design with a curved-edge AMOLED display, in-display fingerprint reader, matte glass back with reflective gradient effect, and metal frame. It will be available in black and green. The 10L (L for Lite) is similar in design to the 10 5G, but thinner and lighter. The 10L and 10 Pro will be available in the US unlocked for under $500 in the second quarter. TCL did not announce launch details for the 10 5G, but said it would also be priced starting under $500. Further details on the 10 series will be announced at the MWC trade show in late February. Read on for more details and our hands-on impressions.
---