Apple iPhone Xs
Apple today made iOS 12.0.1 available to iPhones and iPads. This is the first public update since Apple released iOS 12 last month. The goal of today's update is to resolve performance issues and stamp out bugs that were part of the initial public release. For example, iOS 12.0.1 tackles a problem that prevented some iPhone Xs devices from charging properly via the Lightning port. It resolves a problem that caused iPhone Xs devices to join 2.4 GHz WiFi networks instead of 5 GHz networks. It fixes an issue that made Bluetooth unavailable, and a problem that prevented subtitles from appearing in some apps. It also restores the original position of the ".?123" key on the iPad keyboard, which had been switched with the emoji key. iOS 12.0.1 is free to download from Apple.
---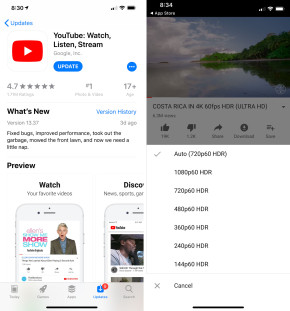 The latest build of YouTube for iOS devices adds HDR support to the newest iPhones from Apple. YouTube version 13.37 allows iPhone Xs and Xs Max owners to flip on HDR and then view HDR content at resolutions up to 1080p at 60fps. The OLED screens on the new iPhones have 1,000,000:1 contrast ratios, allowing them to offer deeper blacks and finer gradations of color. This makes them well-suited to HDR content, which delivers a more vivid experience. Apple's iPhones do not yet support 4K playback. YouTube for iOS is free to download from the iTunes App Store.
---
The Apple iPhone, Apple Watch, and AirPods are not among the list of products that will be subject to a new 10% tariff directed against imports from China. The tariff, levied by President Donald Trump, covers some $200 billion of goods shipped into the U.S. Apple had feared its products would be among those hit with the tariff, but it has been spared. FitBit said its products were spared from this round of tariffs, as well, but some Cisco, Dell, and Hewlett-Packard components necessary for cloud computing equipment do fall on the list of taxed products. The 10% tariff goes into effect September 24, and rises to 25% on January 1, 2019. Trump has threatened to expand the tariffs to an additional $267 billion worth of goods. In that case, Apple's products would no longer be exempt from the added fees, nor would the phones from Samsung, LG, and most other manufacturers. Tariffs are generally viewed as a tax on consumers, as they often result in higher prices on goods.
---
Apple today refreshed its AppleCare+ offerings for its line of iPhones. The company is now allowing iPhone owners to make claims for the theft or loss of their iPhone. Previously, claims were limited to accidental damage. AppleCare+ with Theft and Loss includes up to two incidents of accidental damage, theft, or loss, with certain deductibles. In order to qualify for Theft and Loss coverage, Find My iPhone must be enabled on the device in question when it is stolen or lost. AppleCare+ also includes Express Replacement Service and 24/7 access to Apple experts. When resolving claims, screen repairs will require a deductible of $29, while any other damage will require a deductible of $99. The deductibles for theft/loss are much higher. Apple will charge a deductible of $199 to replace a lost/stolen iPhone 6, 6s, 7, and 8; $229 to replace the iPhone 6 Plus, 6s Plus, 7 Plus, 8 Plus, and Xr; and $269 to replace the iPhone X, Xs, and Xs Max. The standard price for AppleCare+ is $199. AppleCare+ with Theft and Loss costs $299. These fees can be broken down into monthly payments.
---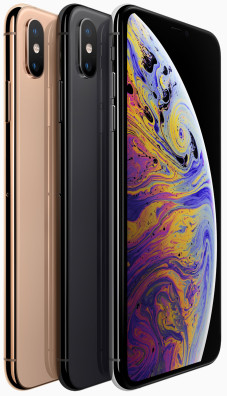 Apple today announced the iPhone Xs and iPhone Xs Max. These devices are upgrades to last year's iPhone X and feature the same design. The new iPhones have an all-screen look with a notch at the top of the display. The front and back surfaces are made of glass and a stainless steel frame is in between. The Xs maintains the same 5.8-inch size as last year's phone, while the Xs Max pushes the screen size to 6.5 inches. Apple says it uses new glass that is the most durable ever on a mobile device. The OLED displays support Dolby Vision and HDR10, with a 60% greater dynamic range. The screens have True Tone for accurate whites, as well as 3D touch and 120Hz touch response. The iPhone Xs and Xs Max will be sold in gold, silver, and space gray. The phones are rated IP68 for protection against water, dust, and other liquids. Apple has improved the stereo speakers, giving them a wider sound stage. The 10x features an improved Face ID with better sensors and faster performance thanks to quicker algorithms. In order to power the new iPhones, Apple designed the A12 bionic, with a 7nm process, 6-core CPU (2 high-performance, 4 efficiency cores), 4-core GPU (50% faster), and an 8-core neural engine with dedicated machine learning. Apple says the device can process far more real-time information for the camera, Animoji, selfie scenes, and more. The A12 Bionic helps Apple bring new tools to the iPhone's camera. The Xs has a two-camera system, each with a 12-megapixel sensor. The main lens features a wide-angle field of view at f/1.8 while the secondary lens features a telephoto view at f/2.2. The cameras have optical image stabilization. The A12 Bionic can perform 1 trillion calculations on the photos to improve them. The selfie camera has a 7-megapixel sensor and uses the IR sensor to deliver depth information for portraits. The new Smart HDR feature relies on the A12's neural engine to enhance color and improve exposure. The improved portrait shooting allows people to adjust the background blur with a new depth-of-field slider in the editing tool. The iPhone can now record stereo sound with video. Apple says the battery should deliver 30 more minutes of uptime when compared to the iPhone X, and the Xs Max delivers 90 more minutes. The new iPhones introduce gigabit LTE, dual SIM card support (with dual SIM, dual standby provided by eSIM), wide support for worldwide LTE bands. Apple says AT&T, T-Mobile, and Verizon will support this dual SIM technology, which includes one physical SIM and one eSIM, this year. The iPhone Xs will start at $999 and the Xs Max will start at $1099. Both will be available in 64 GB, 256 GB, and 512 GB options. Preorders for the new iPhones start September 14, with in-store availability on September 21.
---