Sony Xperia X
Info Photos News Forum 5 Hands-On › Our Review ›
Sony today highlighted which devices it plans to update to Android 7 Nougat. Sony will make Nougat available to the: Xperia Z3+ and Z4 Tablet; Xperia Z5, Z5 Compact, and Z5 Premium; and the Xperia X, XA, XA Ultra, and X Performance. Sony said it is working to bring Nougat to these devices as quickly as it can, but reminds owners that availability will vary depending on region, carrier, and other factors. Sony will provide more detailed information as it becomes available.
---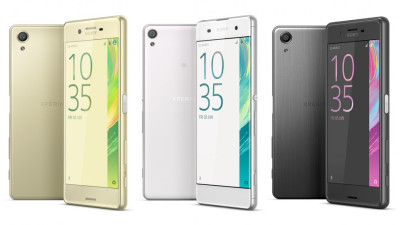 Sony today said it plans to bring its Xperia X range of handsets to the U.S. market beginning in June. The Xperia X is available for preorder starting today from Amazon, Best Buy, B&H Photo Video, and Reagan Wireless for $550. The phone ships June 26. Preorders for the Xperia X Performance, Xperia XA, and Xperia XA Ultra begin June 19 and ship in July. The X Performance costs $700, the XA costs $280, and the XA Ultra costs $370. Sony is offering three free Sony Pictures movies and the Sony Quick Charger with preorders for all four phones. Sony initially announced the Xperia X series at Mobile World Congress in February. The X series replaces the Z series as Sony's main line of smartphones. The X and X Performance are the high-end models, boasting 23-megapixel main cameras, 13-megapixel selfies cameras, and 5-inch full HD screens. The phones include support for some US LTE bands, but Sony has yet to specify which. People who preorder the Xperia X and X Performance will receive a 128 GB memory card.
---
Sony today said it plans to bring its new X Series handsets to the U.S., even if only via its own online sales channel. The company reiterated its commitment to the U.S. market, where it currently sells the Xperia Z5 and Z5 Compact directly to consumers online. Sony representative Don Mesa told Phonescoop that the company is always talking to wireless network operators, but will sell the X Series phones in the U.S. whether it scores a distribution deal or not. The X Series do not replace the Xperia Z series, they are simply an expansion of the Xperia product range. The X Series is meant to showcase new design language and relies on metals more than the glass surfaces of the Z Series. Sony expects the new X Performance, X, and XA to launch over the summer months. Pricing has not been revealed.
---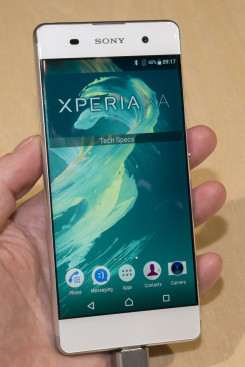 The X Series is an interesting new range of phones from Sony. Although they all look similar, the various specs cover a surprisingly wide range of the market from affordable to high-end, the models hit on a number of current trends. They look like excellent entries from Sony, but how are they in person? Read on for our impressions.
---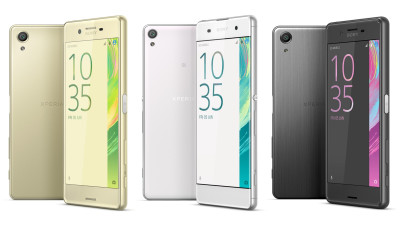 Today Sony announced the Xperia X series at Mobile World Congress in Barcelona. The new phones focus on performance in two core areas: camera and battery. The first three phones in the X series are the Xperia XA, Xperia X, and Xperia X Performance. The new-generation camera in the X and X Performance sports predictive hybrid autofocus. The X series battery lasts two days and includes adaptive charging tech from Qnovo that extends battery lifespan up to 2x.
The Xperia X is the base model with a Qualcomm Snapdragon 650 processor and 5-inch full HD display. It also sports a 23-megapixel main camera and 13-megapixel front camera. A fingerprint sensor, memory card slot, and NFC are also included.
The Xperia X Performance steps up to a top-end Snapdragon 820 processor, faster LTE and a waterproof design, but it otherwise identical to the X.
The Xperia XA is a lower-range phone with a 5-inch display that is 720p instead of full-HD. However the XA has a bezel-free design that makes the phone exceptionally narrow. The XA runs on a MediaTek processor and its cameras are 13 megapixel, and 8 megapixel in the front. It does not have a fingerprint reader but does have NFC and a memory card slot.
All three models have similar designs using curved-edge front glass and metal back and/or side elements. The phones will ship this summer, although pricing and regions have not yet been announced.
---