Microsoft Lumia 950
Info Photos News Forum 26 Hands-On › Our Review ›
Microsoft will end support for its Windows 10 Mobile smartphone OS on December 10 2019, and is encouraging people still using Windows 10 Mobile phones to switch to Android or iOS phones. Microsoft is now focusing on those platforms and offers a suite of its own apps for both platforms. After December 10th, Microsoft will no longer offer free security updates for any version of Windows Mobile, making the continued use of Windows phones a security risk. The cutoff for the Lumia 640 and 640 XL phones is sooner: June 11th. "After the end of support, automatic or manual creation of new device backups for settings and some applications will continue for 3 months, ending March 10, 2020. Some services including photo uploads and restoring a device from an existing device backup may continue to work for up to another 12 months from end of support."
---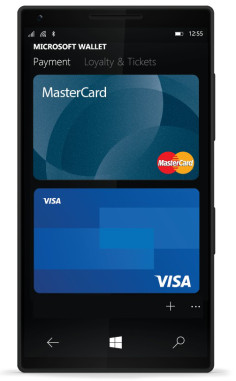 Microsoft today updated its Microsoft Wallet app and gave Lumia smartphone owners the ability to make mobile payments at supporting retailers. Windows Mobile has long included a Wallet app, but until today it was reserved for loyalty cards and other retail programs. Now, people can add their credit or debit card to Microsoft Wallet and use the app for tap-and-go purchases. The app is available to the Lumia 950, 950 XL, and 650, and requires Windows Insider build 14360 or higher. The Windows Insider program is free to join and distributes pre-release versions of Windows 10 Mobile that are still in development. Microsoft says the tap-to-pay feature will be expanded to all users running stock builds of Windows 10 Mobile later this summer. Both MasterCard and Visa support Microsoft Wallet, along with financial institutions including Bank of America, Chase Manhattan, People's United Bank, Fifth Third Bank, US Bank, and others. Microsoft says mobile payments should work at any retail terminal that accepts contactless payments. Microsoft Wallet is free to download from the Windows Store.
---
Microsoft today is making a fresh build of Windows 10 available to both PCs and phones at the same time. Build 14267.1004 for phones is nearly identical to the build Microsoft released last week, but resolves two important bugs. For example, it fixed an issue that prevented the Lumia 550 from charging, and returned the "history" function to the People app. The build also introduces one new feature: visual voicemail for dual-SIM devices. Windows 10 Build 14267.1004 is available to Windows Insiders in the Fast Ring. Microsoft will push the build to devices in the Slow Ring later.
---
Microsoft today released a new technical preview of Windows 10 Mobile for Windows Insiders. Build 10586.107 is a cumulative update and only makes some bug fixes and performance improvements. Microsoft called out adjustments to missing Start screen tiles, narrator behavior, and the reset experience. Microsoft also noted it will release technical previews in three stages moving forward, rather than two. Before today, it offered updates first to Windows Insiders in the Fast Ring followed by Insiders in the Slow Ring. Now, it has added the Release Preview ring, which Microsoft says is "best for Insiders who enjoy getting early access to updates for the Current Branch, Microsoft applications, and drivers, with minimal risk to their devices." The latest preview will hit the Lumia 950 and 950 XL first. Microsoft is still working to bring Windows 10 to existing Windows 8.1 handsets, which it was expected to do late last year.
---
Microsoft today said owners of the Lumia 950 and 950 XL can snag a free one-year subscription to Office 365 Personal. The subscription, which has a retail value of about $70, gives users full access to Microsoft Office (Word, Excel, PowerPoint) on their Lumia smartphone as well as a companion PC/Mac computer. The subscription includes 1 TB of OneDrive storage, as well, for syncing documents online. In order to access the free subscription, Lumia owners need to download and install the Lumia Offers application from the Windows Store. Users are required to provide an email address. Microsoft didn't say how long the offer will be available.
---
Microsoft has released another technical preview for Windows 10 Mobile, and the company said is changing its strategy for previews moving forward. Microsoft pushed build 10586 a few weeks ago, which is the same build new Windows 10 handsets are based on. Microsoft said users on the 10586 preview and the shipping version of Windows 10 should expect to see the number of updates increase over the coming weeks and into the new year as it addresses user feedback. The newest release is 10586.29, which Microsoft says is a cumulative update that tackles issues in build 10586 only. It improves application backwards compatibility for Windows Phone 8.1 devices; improves edge performance and stability; improves auto-completion with URL editing tweaks; and improves Bluetooth stability. Moreover, Microsoft is adding several new devices to the technical preview program, including the LG Lancet, Microsoft Lumia 550, Lumia 950, and Lumia 950 XL. These devices will be supported in the Windows Insider Fast and Slow Rings starting next week. Microsoft said it will release a new version of the Windows Device Recovery Tool to address detection issues with these handsets.
---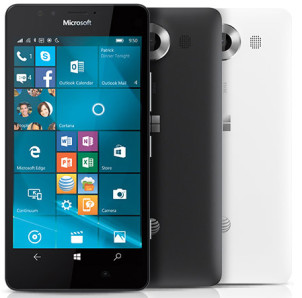 AT&T today said the Microsoft Lumia 950 smartphone will be available online Nov. 17 and in stores Nov. 20. The 950 is the first handset to run Windows 10 Mobile. Some of the core features include a 5.2-inch quad HD display; Snapdragon 808 processor with 3GB of RAM and 32GB of storage; 20-megapixel main camera and 5-megapixel front camera with 4K video capture; and a QuickCharge 3,000mAh battery. AT&T is offering a handful of financing methods for the Lumia 950. First, AT&T will sell it for $149.99 with a two-year contract ($45 activation fee req'd). Second, AT&T will sell it via monthly installments with an AT&T Next plan ($15 activation fee req'd). Customers can get the 950 for $19.97 per month with a Next 24 plan, $24.96 per month with Next 18, or $29.95 per month with Next 12. The full retail price is $599. The Lumia 950 will be available in matte black or matte white. The smartphone works like a PC when paired with the Microsoft Display Dock HD-500 (sold separately). AT&T did not say if or when the Lumia 950 XL will go on sale.
---
Microsoft and AT&T have confirmed that the Lumia 950 will be offered by AT&T. The phone will also be available unlocked directly from Microsoft.
---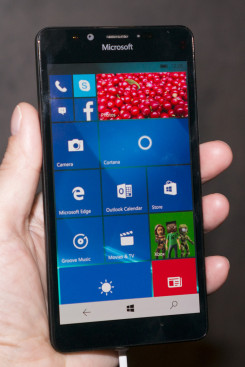 The Lumia 950 is Microsoft's flagship phone for Windows 10. It continues the Lumia line while showcasing the new, unified Windows 10. Not only can it run the same Universal apps that run on Windows 10 desktops, it can transform into a desktop computer itself with a dock accessory, running the same apps in desktop mode. It has high-end features and classic Lumia design. So how is it in person? Read on to find out.
---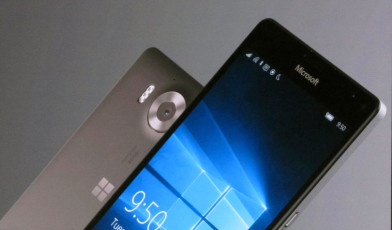 Microsoft today announced the Lumia 950 and Lumia 950 XL, its own flagship phones for its new OS, Windows 10. The phones support Windows Continuum for an optional full Windows Desktop experience when connected to a desktop monitor. The two models are similar, differing mostly in screen size; the 950 has a 5.2-inch screen, while the larger 950 XL has a 5.7-inch screen. Both screen offerings are OLED and Quad-HD resolution, the best available. Leveraging OLED technology, the phones also offer Lumia's low-power Glance notification display. Both phones also sport 20-megapixel cameras with Zeiss optics, triple-LED flash, optical image stabilization, and a dedicated camera button. Both phones also come with 32 GB of internal storage, plus a memory card slot supporting up to 2 TB. The phones are powered by Qualcomm Snapdragon 808 or 810 processors, with liquid cooling. The phones also sport USB Type-C connectors with fast data transfer and fast charging. A new Microsoft Display Dock accessory enables Windows Continuum. The Dock connects to the phone via USB-C, and to a desktop monitor via HDMI or DisplayPort. It also has tree USB ports for keyboard and accessories. Connected to the Dock, the phone can be used as a full Windows desktop running desktop versions of Windows Universal apps, including Office and Outlook. When using the Dock, the phone can access files on USB storage. Both phones will be available in November, for $549 and $649, for the 950 and 950 XL, respectively.
---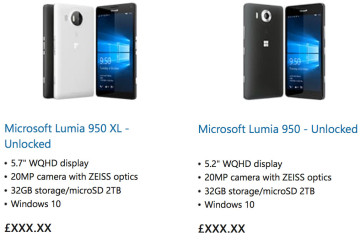 Microsoft revealed a few details about the unannounced Lumia 950 and 950 XL smartphones on its UK-based web site. The phones will be the first to ship with Windows 10 Mobile on board, Microsoft's new operating system. The web site lists only a couple of specs. Shared features include 20-megapixel cameras with Zeiss optics, 32GB of storage, and support for 2TB memory cards. The 950 sports a 5.2-inch quad HD screen, while the 950 XL offers a larger 5.7-inch quad HD screen. Microsoft is expected to announce the handsets in full at an event in New York scheduled for Oct. 6.
---