Microsoft Slips Up, Posts Lumia 950 and 950XL to Web Site
Article Comments 5
Sep 30, 2015, 7:24 AM by Eric M. Zeman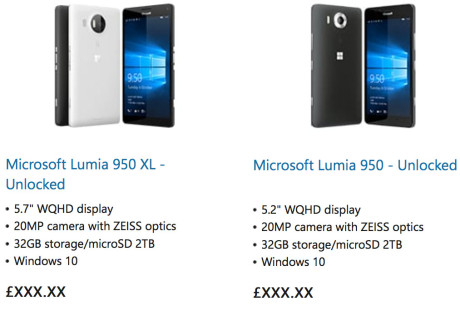 Microsoft revealed a few details about the unannounced Lumia 950 and 950 XL smartphones on its UK-based web site. The phones will be the first to ship with Windows 10 Mobile on board, Microsoft's new operating system. The web site lists only a couple of specs. Shared features include 20-megapixel cameras with Zeiss optics, 32GB of storage, and support for 2TB memory cards. The 950 sports a 5.2-inch quad HD screen, while the 950 XL offers a larger 5.7-inch quad HD screen. Microsoft is expected to announce the handsets in full at an event in New York scheduled for Oct. 6.
Since Samsung dropped the ball on the Note 5
I'd be really interested in a review of the 950XL. Maybe Windows 10 is the answer to some of the aggravations of Android that Google and Samsung don't seem to want to fix.
having owned a WP8, several android(note 3 and moto x most recent) and several iphones i can say hands down Windows beats android and ios, the only reason i stopped using my 920, was because a lack of apps that i needed. My cousin now uses it and he i...
(continues)
It was no leak
Microsoft wanted to show you the hand that was dealt to them as a tease. Make no mistake about it this was not by mistake
You are 100% correct this is a PR stunt in every way shape and form...
What service hmm
I hope that Verizon be the one get this new windows phone. Having the icon is a grew but this 950XL looks better.