Sony Xperia Z4v
Info Photos News Forum 29 Hands-On ›
Verizon Wireless today said it no longer plans to sell the Sony Xperia Z4v. The company announced the phone in the spring with an expected summer launch. "Verizon will no longer be launching Xperia Z4v," said the company today on its web site. "However, we are committed to supporting Sony Mobile's product portfolio and will support existing products. Sony is a strategic partner as we continue having ongoing discussions together as part of our future portfolio." The cancellation isn't much of a surprise, but it is still a blow to Sony. Sony has had trouble convincing U.S. network operators to sell its handsets and the Z4v was a major win with Verizon. Sony announced the Xperia Z5 last month, but no carriers have committed to carrying the phone yet. Sony may attempt to sell it to U.S. consumers directly online.
---
Sony took to Twitter to tease a new Xperia-branded handset. "Get ready for a smartphone with greater focus," said the company. Sony has always placed an emphasis on it devices' cameras. "All will become clear on 09.02.2015." Sony is holding a press conference at the IFA trade show in Berlin on that day and is expected to reveal its next-generation flagship smartphone. The company announced the Z4v for the U.S. market earlier this year, but the phone has yet to land on Verizon's shelves despite a promised summer launch frame.
---
Sony is telling visitors to its online web store that the site will cease taking orders and shut down on August 28. Sony's web store is one of just a handful of places to purchase its Xperia-branded smartphones in the U.S. Sony did not say why it is closing the web store, but did say it plans to "improve our online shopping experience" with "an exciting new product web site that includes our authorized retailers for your purchasing preference." Customers who have questions about their Sony web store account or any online purchases they may have made can find answers on a FAQ posted to the site. Sony has already closed the majority of its U.S. brick-and-mortar retail stores, with only its NYC flagship store remaining. Verizon plans to sell the Sony Xperia Z4v later this summer.
---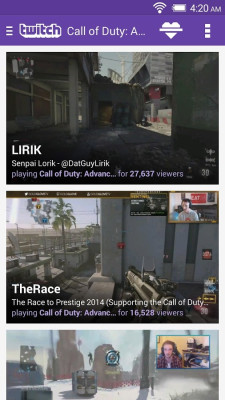 Sony today announced a new partnership with Twitch that will let select Xperia smartphones broadcast gameplay directly to Twitch. Twitch has allowed Android devices to view gameplay before, Sony's Xperia Z3+, Xperia Z4, and Xperia Z4v smartphones, and the Xperia Z4 Tablet can now push Android games to Twitch live. Twitch is an online community for gamers that lets people broadcast, record, and view gameplay from various platforms, such as Sony's PlayStation consoles. Amazon bought Twitch, which has 100 million monthly users, earlier this year. Google announced a similar product, called YouTube Gaming, in June. Google's game-broadcasting service has yet to go live. Twitch for Android is available from the Play Store.
---
Sony, as a company, is having a prolonged rough patch in the US phone market these days, but when they do get a phone to market here, they're often quiet gems. Sony is particularly skilled at crafting phones with premium materials and build quality. They're also good at leveraging their own Sony sensors to produce unusually powerful cameras. The Z4v replaces last year's Z3v in Verizon's lineup. It updates the specs in expected areas, but what's it like in person? Read on for our impressions.
---
Verizon Wireless and Sony today announced the Xperia Z4v, a modified version of the Xperia Z3+/Z4 that will be exclusive to Verizon Wireless. The device has most of the same specifications, but makes several key changes. To start, the chassis is a bit thicker to accommodate a larger 3,000mAh battery, which supports Qualcomm QuickCharge 2.0, and both Qi and Rezence wireless charging. Verizon also requested that Sony do away with the hatch protecting the USB port, which is now exposed and moved to the bottom of the phone. Despite these changes, the Z4v is still waterproof and dustproof. The Z4v has a 5.2-inch quad HD Triluminos display and runs a 64-bit, octa-core Snapdragon 810 processor with 3 GB of memory, 32 GB of storage, and Adreno 430 graphics. The Z4v supports memory cards up to 128 GB. The main camera relies on Sony's 20.7-megapixel Exmor RS sensor, while the front camera uses a 5.1-megapixel Exmor sensor with shake correction and wide-angle 25mm lens. The main camera can record video up to 4K, while the front camera can record 1080p HD. The Z4v offers a range of connectivity options, including dual-band WiFi, Bluetooth 4.1, NFC, and support for Verizon's LTE 4G network. The device runs Android 5.1 Lollipop and will feature Sony's apps and user interface overlay. Verizon said the phone, sold in black or white, will reach stores this summer. Pricing was not revealed.
---