Verizon to Sell Sony Xperia Z4v This Summer
Article Comments 5
Jun 16, 2015, 8:00 AM by Eric M. Zeman
updated Jun 16, 2015, 11:06 AM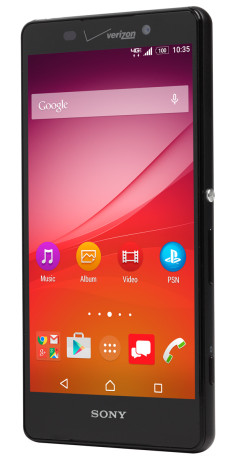 Verizon Wireless and Sony today announced the Xperia Z4v, a modified version of the Xperia Z3+/Z4 that will be exclusive to Verizon Wireless. The device has most of the same specifications, but makes several key changes. To start, the chassis is a bit thicker to accommodate a larger 3,000mAh battery, which supports Qualcomm QuickCharge 2.0, and both Qi and Rezence wireless charging. Verizon also requested that Sony do away with the hatch protecting the USB port, which is now exposed and moved to the bottom of the phone. Despite these changes, the Z4v is still waterproof and dustproof. The Z4v has a 5.2-inch quad HD Triluminos display and runs a 64-bit, octa-core Snapdragon 810 processor with 3 GB of memory, 32 GB of storage, and Adreno 430 graphics. The Z4v supports memory cards up to 128 GB. The main camera relies on Sony's 20.7-megapixel Exmor RS sensor, while the front camera uses a 5.1-megapixel Exmor sensor with shake correction and wide-angle 25mm lens. The main camera can record video up to 4K, while the front camera can record 1080p HD. The Z4v offers a range of connectivity options, including dual-band WiFi, Bluetooth 4.1, NFC, and support for Verizon's LTE 4G network. The device runs Android 5.1 Lollipop and will feature Sony's apps and user interface overlay. Verizon said the phone, sold in black or white, will reach stores this summer. Pricing was not revealed.
Shame the Z3 Compact has NEVER been sold here...
It's crazy that the Z3 and now the Z4v will be sold in carrier stores, even if just Verizon's, but yet the Z3 Compact NEVER saw that kind of release at all in North America! It's absurd since the smaller phones are better imo and it would be nice to have the OPTION.
they dont sell as well so most carriers dont carry them in the store, theres no point wasting space if theres not a high enough demand
And how stupid that they don't use a normal waterproof USB port on their standard devices.

Who exactly did they test their devices on that said "is there any way you could add a little piece of plastic connected with a piece of rubber that will r...
(continues)