Hands On with the Sony Xperia Z4v for Verizon
Article Comments 6
Jun 18, 2015, 6:50 PM by Rich Brome
updated Jun 19, 2015, 2:43 PM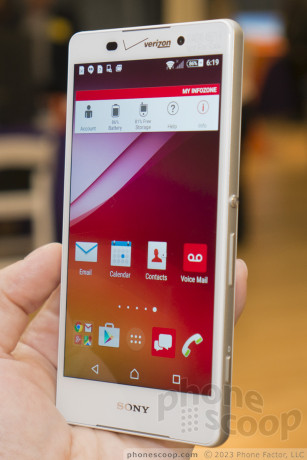 Sony, as a company, is having a prolonged rough patch in the US phone market these days, but when they do get a phone to market here, they're often quiet gems. Sony is particularly skilled at crafting phones with premium materials and build quality. They're also good at leveraging their own Sony sensors to produce unusually powerful cameras. The Z4v replaces last year's Z3v in Verizon's lineup. It updates the specs in expected areas, but what's it like in person? Read on for our impressions.
The Z4v is based on the Z4, Sony's current global flagship. It's a very high-end phone.
The Z4v has a design that's pretty, premium, and practical. The front and back are all glass, while the sides are metal. This is a common formula in flagship phones these days, owing the premium feel of metal and glass. Just as important is the fact that glass doesn't block the many radio antennas - and wireless charging coil - the way a metal back might. The shape is classic of Sony these days, with a gentle rounding on the sides that makes it comfortable to old.
The key innovation in the design is easy to miss: it's the thin, glossy plastic band that separates each glass panel from the metal. It provides critical resiliency at the corners and edges, where a drop might damage metal or glass. The plastic also softens corners where metal might feel too sharp. Yet the clever design tricks you into feeling only metal and glass when you pick it up.
It feels premium, and solid. It feels as nice as it looks. The size is good for a modern flagship phone. A curved back would help it feel thinner, but it doesn't feel as thick as it looks. I expect most people will like the size and not mind that it's a bit thicker than Samsung's Galaxy S6.
The side buttons are unusually placed, but well-made and work well. Metal buttons with a small chamfer - like these - are pretty much my favorite. The lock button is excellent. There is a dedicated camera buttons, and it's also a pleasure to use. The volume button is small and placed low on the phone. However the placement is not hard to reach; it's something you might get used to after a week or so.
Sony is big on waterproofing its phones, and the Z4v is no exception. Fortunately, they do it right. The Z4v has no port covers; both the headset and micro-USB jacks are exposed and can get wet without issue. The card tray on the side has a gasketed cover, which is fine.
The SIM card and memory card both go in one combo tray that pulls out from the side. Pulling out the SIM card can require restarting the phone to get everything working properly again. With the combo tray design, that means inserting or removing a memory card may require a reboot.
The display is exceptionally sharp and plenty bright.
The Android 5 software - tweaked by Sony - looks nice and works well. Most of the interface is familiar, modern Android. The notification shade and quick settings are basically standard Android. Between Sony and Verizon, there's a lot of extra apps added. But at least the Sony ones are pretty, and most work well. Performance was excellent in our brief tests with standard included apps.
The camera software is the star of the show. It launches and snaps photos very quickly. The shooting modes are extensive and advanced. The settings panel could be better, but it's not awful.
The specs are top-end and include a 20-megapixel camera, Quad-HD display, Snapdragon 810 processor, 3 GB of RAM... it doesn't get higher-end than this. There's also every conceivable feature, including NFC, wireless charging, stereo speakers, and even MirrorLink.
The only thing anyone might possibly miss is a removable battery. But the built-in battery is ample at 3,000 mAh (18% larger than the Galaxy S6.) It's also easy to charge, with both wired fast charging and dual-standard wireless charging.
If you're considering a Galaxy S6, this is shaping up to be a worthy competitor. These two phones are going head-to-head in 2015. If you're concerned about the mediocre battery life of the S6, or not having a memory card slot, the Z4v should be at the top of your list. You do lose the fingerprint reader and infrared, but you gain waterproofing and a higher-resolution camera. Of course you'll need to be with Verizon, and unfortunately you'll have to wait until some time "this summer".
What about a Compact?
Even if they just released the Z3 Compact on ANY carrier in the US it would be nice to have an option of a less-large phone...that said, Sony still is a great choice if your hands can manage it...
Personally, I agree!

The Z4v is a hair shorter than the Z3v, but it's still larger than I would like. It's a bearable size, though. I was surprised at how not-huge it felt in person.
I bought my Z3 Compact directly from Sony back in the Fall and I love it. I am using AT&T but I assume it would be just as good on T-Mobile.

As for no US carrier selling them...well, they all seem to be switching their business model away from subs...
(continues)
Any rumblings of the Z4 comign to Sprint?
Lots of rumors last year, but nothing came to fruition. Hopefully this year...and I agree, a Z4c would be nice.
Samsung Galaxy s6 battery life
I don't think the galaxy s6 battery life is mediocre at all. I can make it through a work day with Bluetooth on (because I have a Smartwatch) and still have 35 to 40% battery life remaining and that's also with pretty heavy use(Internet and game playing, wife texting me etc.)
Then the S6 battery life was designed for you! 🙂 There's nothing wrong with that.

In our tests, the S6 battery life was below-average. In other words, it was mediocre compared to most other phones on the market. Perhaps I could have clarifi...
(continues)