BlackBerry Z30
Info Photos News Forum 46 Reviews 2
BlackBerry today said BlackBerry OS 10.3.1 is available for device owners to download. The latest version of BlackBerry's operating system includes the Amazon Appstore for Android apps and brings back keyboard shortcuts to devices with physical keyboards. The OS also improves BlackBerry Blend (desktop messaging client), BlackBerry Assistant (voice commands), BlackBerry Hub (adds instant actions), and the Calendar app (adds Meeting Mode). The update also improves battery life and camera performance. BlackBerry 10.3.1 is available to the BlackBerry Q5, Q10, Z3, Z10, Z30, BlackBerry Porsche Design P'9983, and the Passport.
---
Verizon Wireless recently indicated that the BlackBerry 10.2.1 operating system is now available to the Z30, Z10, and Q10 smartphones. The update adds a wide number of new features, and makes significant changes to the behavior of several key apps. For example, users can create filters in BlackBerry Hub and customize their own pinch gesture to automatically view the filtered messages. The phone application makes it easier to answer or reject calls with a new swiping motion. Users can now create SMS and email groups for simpler bulk message addressing. The lock screen adds actionable notifications, such as the ability to open incoming messages. The update adds an FM radio to the BlackBerry Z30, Q10, and Q5, lets users set automatic software updates over Wi-Fi, and adds more business-centric features that rely on BES 10. The system update is free to download over-the-air or via Wi-Fi.
---
Verizon Wireless today indicated that the BlackBerry Z30 smartphone will be available online beginning November 14. It costs $199.99 with a new two-year contract, or $22.91 per month for 24 months with Verizon Edge.
---
Verizon Wireless today announced that the BlackBerry Z30 smartphone will reach company stores in early November. The device will be sold for $199.99 with a new contract, or for $22.91 for 24 months for customers who choose Verizon's Edge upgrade plan. The Z30 has a 5-inch HD display and runs BlackBerry 10.2.
---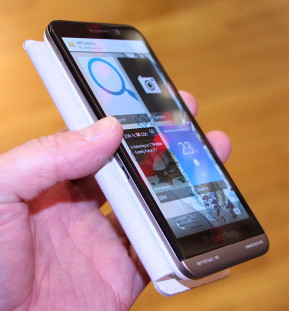 BlackBerry let us spend a few moments with the new Z30, its 5-inch phablet looking to take on today's super phones. Here are our initial impressions.
---
Verizon Wireless is the first U.S. network operator to throw its support behind the BlackBerry Z30. The company announced via its Twitter account that the Z30 is coming to its network soon.
---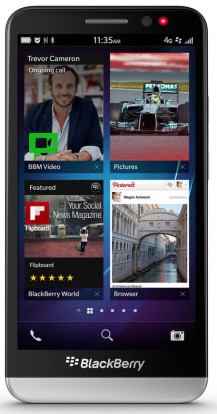 BlackBerry today announced the Z30, a new smartphone running BlackBerry OS 10.2 that has a 5.0-inch Super AMOLED 720p HD display and a dual-core 1.7GHz Qualcomm Snapdragon S4 Pro processor with quad-core Adreno graphics. The Z30 features stereo speakers and BlackBerry Natural Sound, which the company says improves the quality of BBM Voice and BBM Video chats. BlackBerry is using what it calls the BlackBerry Paratek Antenna, a new antenna design that improves voice and data performance in low-coverage areas. The Z30 also boasts 25 hours of active use thanks to the large, 2,880mAh battery. Other hardware features include an 8-megapixel main camera and 2-megapixel user-facing camera; LTE, Bluetooth 4.0, NFC, dual-band Wi-Fi, and GPS; and 16GB of on-board storage with support for microSD cards up to 64GB. The BlackBerry 10.2 operating system makes some changes to BlackBerry Hub, which now learns which conversations and social media messages are most important to the owner and prioritizes them. BlackBerry Messenger now provides previews of incoming messages as they arrive, even when using other apps. The previews can be dismissed or opened. The BlackBerry Z30 will first go on sale in the U.K. and Middle East later this month. It is expected to reach other regions before the holidays. BlackBerry said that BlackBerry OS 10.2 will be made available to the Z10, Q10, and Q5 smartphones in October.
---