BlackBerry Q10 (CDMA)
Info Photos News Forum 78 Reviews 2
BlackBerry today said BlackBerry OS 10.3.1 is available for device owners to download. The latest version of BlackBerry's operating system includes the Amazon Appstore for Android apps and brings back keyboard shortcuts to devices with physical keyboards. The OS also improves BlackBerry Blend (desktop messaging client), BlackBerry Assistant (voice commands), BlackBerry Hub (adds instant actions), and the Calendar app (adds Meeting Mode). The update also improves battery life and camera performance. BlackBerry 10.3.1 is available to the BlackBerry Q5, Q10, Z3, Z10, Z30, BlackBerry Porsche Design P'9983, and the Passport.
---
Verizon Wireless recently indicated that the BlackBerry 10.2.1 operating system is now available to the Z30, Z10, and Q10 smartphones. The update adds a wide number of new features, and makes significant changes to the behavior of several key apps. For example, users can create filters in BlackBerry Hub and customize their own pinch gesture to automatically view the filtered messages. The phone application makes it easier to answer or reject calls with a new swiping motion. Users can now create SMS and email groups for simpler bulk message addressing. The lock screen adds actionable notifications, such as the ability to open incoming messages. The update adds an FM radio to the BlackBerry Z30, Q10, and Q5, lets users set automatic software updates over Wi-Fi, and adds more business-centric features that rely on BES 10. The system update is free to download over-the-air or via Wi-Fi.
---
BlackBerry today announced that a new version of Twitter is available to devices running BlackBerry OS10, such as the Z10 and Q10. The updated application adds a number of new features, including the ability to view, create, subscribe, and edit Twitter lists; see trends based on personal interests and location; and scroll through tweeted images in the photo image gallery. The new app also showcases related account profiles, makes it easier to see which tweets have video links, and syncs read DMs across all devices and Twitter accounts. Twitter 10.2.1 is free to download from the BlackBerry World app store.
---
C Spire Wireless today announced plans to sell the BlackBerry Q10 in the near future. Exact pricing and availability details will be shared soon.
---
Sprint today announced that it will start selling the BlackBerry Q10 in August 30th for $200 with contract.
---
Verizon Wireless today said that the BlackBerry Q10 will be available for purchase from its web site beginning June 6 and in stores beginning June 10. The Q10 will cost $199.99 with a new agreement.
---
Verizon Wireless has begun accepting preorders for the BlackBerry Q10 smartphone through its web site. The device, which includes a QWERTY keyboard, costs $199.99 with a new contract and ships by June 6.
---
Verizon Wireless today announced that the BlackBerry Q10 will be available for preorder in the coming weeks, and will reach store shelves in June. Verizon didn't announce pricing. Sprint followed Verizon' announcement to say that it would launch the Q10 in "late summer." Sprint didn't announce pricing, either. Both variants will include LTE 4G support.
---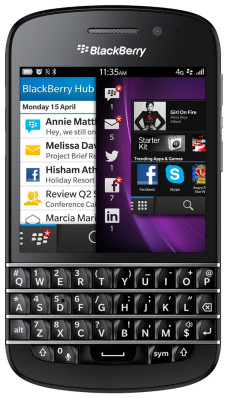 BlackBerry today announced that owners of its BlackBerry Q10 smartphone may download Skype from the BlackBerry World app store. Skype requires BlackBerry OS 10.1. The Q10 ships with BBOS 10.1 installed, and is launching in Canada and other select markets this week. The Q10 isn't expected to reach the U.S until late May. For the time being, BlackBerry Z10 owners will not be able to access or download Skype because the Z10 runs BBOS 10. BlackBerry said that it will update the Z10 to BlackBerry OS 10.1 next month. More details about the minor operating system bump will be provided by BlackBerry during its developer conference scheduled to take place the week of May 13.
---
BlackBerry CEO Thorsten Heins indicated recently that the Q10 BlackBerry 10 smartphone may not reach U.S. store shelves until May or June. Speaking to the Associated Press, Heins said the device will arrive eight to 10 weeks after the Z10. The Z10 isn't going on sale until mid-March or later, which puts the Q10's release closer to the end of the second quarter. BlackBerry had first suggested that the Q10 might reach U.S. stores as soon as April, but that appears unlikely. AT&T, Sprint, and Verizon Wireless have all indicated plans to sell the Q10, but T-Mobile USA has not. The Q10 differs from the Z10 in that it has a physical QWERTY keyboard.
---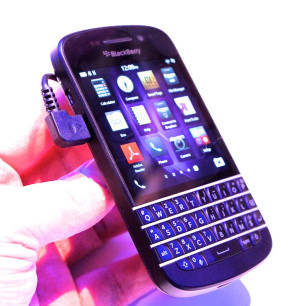 Here is a first look at the BlackBerry Z10 and Q10 smartphones. Both phones run the new BlackBerry 10 platform and will reach U.S. carriers in mid-March.
---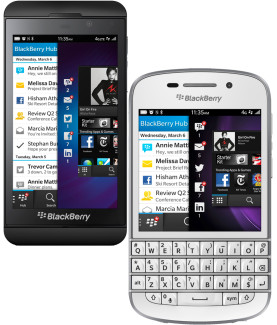 Research In Motion today announced the Z10 and Q10, the first two smartphones to run its brand new BlackBerry 10 operating system. The Z10 and Q10 share many features, though physically they are somewhat different; the Z10 is a candybar touch phone, and the Q10 is a monoblock QWERTY device with a smaller touch screen. Both devices are powered by 1.5GHz dual-core processors with 2GB of RAM and 16GB of built-in storage. They also support removable microSD cards up to 32GB. The Z10 and Q10 each carries an 8-megapixel main camera with LED flash that captures 1080p HD video, with a secondary camera rating 2 megapixels with 720p HD video capture. Wireless support includes 802.11b/g/n Wi-Fi, Bluetooth 4.0 Low Energy, NFC, and GPS, in addition to 4G mobile hotspot. They also include microUSB and microHDMI ports, as well as a 3.5mm headphone jack.
Z10: The Z10 features a 4.2-inch LCD touch screen with 1280 x 768 pixels, making a pixel density of 356 pixels per inch. It is 9mm thick.
Q10: The Q10 is a more traditional-looking BlackBerry smartphone in that it has a smaller, 720 x 720 pixel screen and a physical QWERTY keyboard.
According to RIM the Z10 will be available in the coming weeks, with the Q10 to follow about a month later. Each will be sold in black and white.
---