RIM Reveals Z10 and Q10, the First BlackBerry 10 Smartphones
Article Comments 12
Jan 30, 2013, 10:29 AM by Eric M. Zeman
updated Jan 30, 2013, 10:41 AM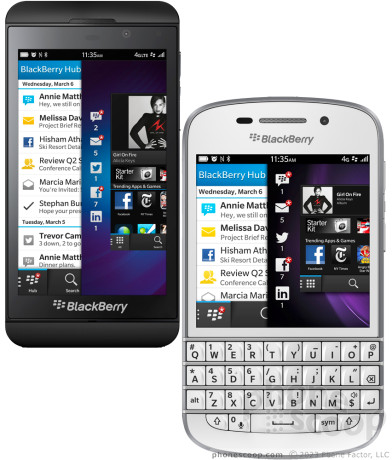 Research In Motion today announced the Z10 and Q10, the first two smartphones to run its brand new BlackBerry 10 operating system. The Z10 and Q10 share many features, though physically they are somewhat different; the Z10 is a candybar touch phone, and the Q10 is a monoblock QWERTY device with a smaller touch screen. Both devices are powered by 1.5GHz dual-core processors with 2GB of RAM and 16GB of built-in storage. They also support removable microSD cards up to 32GB. The Z10 and Q10 each carries an 8-megapixel main camera with LED flash that captures 1080p HD video, with a secondary camera rating 2 megapixels with 720p HD video capture. Wireless support includes 802.11b/g/n Wi-Fi, Bluetooth 4.0 Low Energy, NFC, and GPS, in addition to 4G mobile hotspot. They also include microUSB and microHDMI ports, as well as a 3.5mm headphone jack.
Z10: The Z10 features a 4.2-inch LCD touch screen with 1280 x 768 pixels, making a pixel density of 356 pixels per inch. It is 9mm thick.
Q10: The Q10 is a more traditional-looking BlackBerry smartphone in that it has a smaller, 720 x 720 pixel screen and a physical QWERTY keyboard.
According to RIM the Z10 will be available in the coming weeks, with the Q10 to follow about a month later. Each will be sold in black and white.
Just another Curve
They should have stuck with the touch panel, keyboards are out just like floppy disk.
They're offering both keyboard and non-keyboard models. What's wrong with that?
The idea that touchscreen keyboards are always and everywhere 'the best' option and that anyone who wants something else is simply backwards is just nonsense. There are TONS of people out there, myself included who want and prefer a physical keyboa...
(continues)
I've been waiting for a qwerty blackberry running BB10. Goodbye GS3.
I am so MFin' STOKED!!!
I was led to believe that RIM would drop the Z10 first and the Q10 would be released in the following months. This is a most welcome surprise!
Upon further review there is no release date for the Q10. Damn.