Nokia Lumia 521 / 520
Info Photos News Forum 36 Reviews 5
Aio Wireless today made three additional smartphones available to its prepaid customers. The devices, all of which have been available from other carriers for some time, include the Motorola Moto G for $149.99, the Nokia Lumia 520 for $99.99, and the ZTE Sonata 4G for $79.99. The Sonata reaches Aio Wireless stores today, but the Moto G and Lumia 520 won't be available until February 14.
---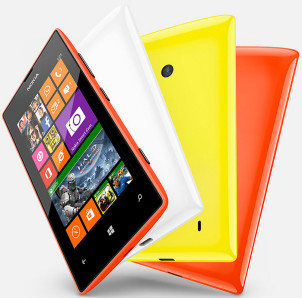 Nokia today revealed the Lumia 525, an update to the 520/521 that increases system memory from 512MB to 1GB. The upgrade will let the device run more apps at a time. Most other features of the device remain unchanged. The Lumia 525 has a 4-inch screen, 5-megapixel camera, dual-core 1GHz Snapdragon S4 processor, and swappable rear shells. The Lumia 525 is first slated to reach select markets later this month for $199. There's no word yet if the 525 will be made available to U.S. buyers.
---
Nokia today published a new version of its music application and rebranded the service Nokia MixRadio. MixRadio builds on the Nokia Music service, which lets users create radio stations and stream music to their Lumia smartphones. More than 18 million tracks are available and Nokia has 150 curated radio stations, all of which can be streamed for free. The application was updated with a number of new features including Play Me, a personalized mix inspired by each user's music profile; thumbs up/down ratings to help users refine their profile; and the ability to share mixes through Facebook, Twitter, email, and SMS. Premium features, such as unlimited downloads to devices, require a $3.99 per month subscription. The new app can be downloaded from the Windows Phone Store.
---
Nokia is pushing out a significant system update to its Lumia smartphones. The Amber update, as it is called, adds a number of features to devices such as the Lumia 521, 820, and 928, which are sold by T-Mobile and Verizon Wireless. First, the update adds the Nokia Smart Camera application. This app first debuted on the Lumia 925. It includes features such as Best Shot, Motion Focus, and Action Shot for capturing more artistic images. The Amber update also adds the Nokia Pro Camera application to the Lumia 928. The Pro camera app is the same, powerful app found on the Lumia 1020. It offers granular control over most of the camera's features. Other features added with the Amber update include the Nokia Glance Screen, which populates the display with a clock and status indicators when the phone is locked. The Amber update also adds flip-to-silence and double-tap-to-wake, as well as better controls for managing on-board storage. Timing of the Amber update is up to each carrier involved. Neither T-Mobile (Lumia 521, 820) nor Verizon Wireless (Lumia 928) has said when they will offer the Amber update to their customers.
---
T-Mobile today expanded the reach of its MetroPCS brand by launching it in 15 new markets. The additional markets for MetroPCS largely overlay the existing footprint of rival Cricket Wireless, and include Birmingham, Ala.; Fresno and San Diego, Calif.; Tallahassee, Fla.; New Orleans, La.; Baltimore, Md.; Akron, Cleveland, Sandusky, and Toledo, Ohio; Memphis, Tenn.; Austin, Corpus Christi, Houston, Rio Grande Valley, and San Antonio, Texas; Seattle and Tacoma, Wash.; and Washington, D.C. Though T-Mobile will set up MetroPCS retail shops in these markets, the MetroPCS stores will actually be selling devices that run on T-Mobile's network, including the Nokia Lumia 521 for $99 and the LG Optimus F3 for $149. Customers in these markets may also bring their own, unlocked GSM handset to use on the Metro/T-Mobile network. Prepaid plans start at $40 per month for unlimited voice and messaging, and 500MB of data.
---
T-Mobile USA today said that the Nokia Lumia 521 will reach its retail stores on May 22. T-Mobile is asking for a downpayment of $29 for the 521 followed by 24 payments of just $5. Alternately, customers may choose to buy the 521 outright for $149. The Lumia 521 will reach Microsoft retail stores and Walmart stores on May 11, as previously announced. Microsoft is charging $149 for the 521 and Walmart is charging $129.88. The 521 is already available via the Home Shopping Network. It runs Windows Phone 8.
---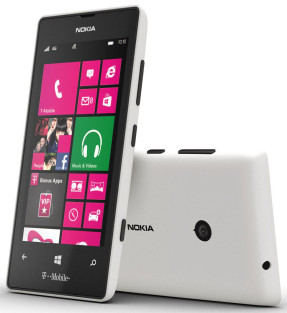 T-Mobile USA today announced that the Nokia Lumia 521 smartphone will be featured on the Home Shopping Network television channel beginning April 27. The device can be purchased from HSN, HSN.com, or HSN Mobile directly for $149.95, which includes a car charger and screen protector. Following the 521's availability on the Home Shopping Network, the Lumia 521 will be available at Microsoft Retail Stores and Walmart stores beginning May 11, where it will cost $149. Walmart will be selling the 521 with its no contract $30 per month unlimited Web and text plan. T-Mobile said the Lumia 521 won't reach T-Mobile's retail stores until some unspecified date in the future.
---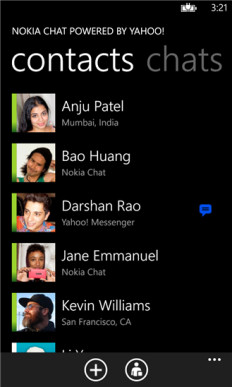 Nokia recently made a beta version of its Nokia Chat application available to Lumia Windows Phones. The beta application, which Nokia already offers to its S40, Symbian, and Asha platforms, lets Nokia Lumia device owners conduct instant messaging conversations with one another. It also hooks into Yahoo Messenger and lets users easily share their location. The app includes support for Live Tiles, push notifications, lock screen notifications, and voice commands. Nokia Chat Beta is free to download from the Windows Phone Store.
---
Nokia CEO Stephen Elop this morning said, "Later this quarter a new Lumia device is anticipated to have hero status with a leading U.S. carrier." The comments were made during the company's call with media to discuss its quarterly results. Elop also said this hero device marks "the beginning of a season of new product introductions." Nokia has not introduced a flagship-grade device since the Lumia 920, which was released about six months ago. Nokia has, however, announced several mid-range and low-end Windows Phone 8 devices, including the 720 and 521 (headed to T-Mobile USA next month). Nokia lost $196 million on revenue of $7.65 billion. Shipments of its Lumia devices improved from 4.4 million during the fourth quarter of 2012 to 5.6 million during the first quarter of 2013. Sales of what Nokia qualifies as "smart devices" (includes Symbian, et al.) dropped quarter-over-quarter from 86.3 million to 61.9 million.
---
T-Mobile USA today announced that the Nokia Lumia 521 will be available at Walmart, Microsoft Retail Stores, and T-Mobile stores in May. Exact pricing and availability will be shared close to launch.
---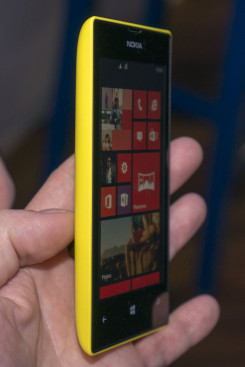 We spent a few moments handling Nokia's new Lumia 520, which will come to the U.S. as the Lumia 521 for T-Mobile USA. This Lumia is small and affordable. How's the hardware? Read on for our impressions.
---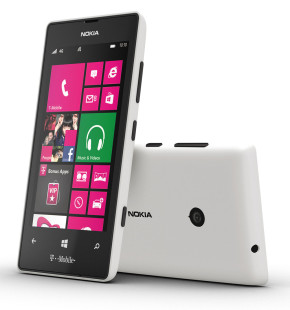 Nokia today announced two new Lumia Windows Phones, the Lumia 720 and Lumia 520. The Lumia 520 is Nokia's most affordable Windows Phone. One variant - the Lumia 521 - will be exclusive to T-Mobile USA and arrive in the second quarter. The 520 includes a 4-inch display with super-sensitive touch screen that works through gloves, 1 GHz Snapdragon S4 dual-core processor, 5-megapixel camera, 8 GB of internal memory, and a slot supporting up to 64 GB. The new Lumias include Here Maps, which includes transit navigation. The Lumia 720 is designed for "non-LTE" markets, indicating it may not come to the U.S. It sports a 4.3-inch ClearBlack display covered with curved glass. It is Nokia's first unibody-design phone with a memory card slot. The 720 sports a Carl Ziess f/1.9 lens.
---