HTC One (M7 / GSM)
Info Photos News Forum 100+ Reviews 14
T-Mobile today said that Android 4.3 may be downloaded and installed on the HTC One. The update adds features to the base Android operating system, as well as to HTC's Sense user interface. It can be downloaded and installed via Wi-Fi.
---
HTC today announced two new handsets, the Desire 601 and the Desire 300. These phones enter the middle of HTC's range and will target overseas markets to start. Both devices offer some of the features first seen on the HTC One, such as Android 4.2 Jelly Bean with Sense 5.0, BlinkFeed, and HTC Zoes. Some shared features include Wi-Fi, Bluetooth 4.0, GPS, and support for microSD cards up to 64GB.
Desire 601: The 601 has a 4.5-inch qHD display; 1.4GHz Qualcomm Snapdragon 400 dual-core processor with 1GB of RAM; 5-megapixel camera with back-side illumination and 1080p HD video capture; dual front speakers with BoomSound; and an embedded 2200mAh battery.
Desire 300: The 300 steps down to a 4.3-inch WVGA display; a 1GHz Qualcomm Snapdragon S4 processor with 512MB of RAM; a 5-megapixel camera with WVGA video capture; and a removeable 1650mAh battery.
Both devices are expected to reach select markets during the fourth quarter of the year. Last, HTC introduced a blue variant of the HTC One smartphone. The blue model will reach various markets before the end of the year.
---
Google's Sundar Pichai, head of the company's Android efforts, today announced that the company will sell a Sense-free version of the HTC One through the Google Play Store. Similar to the stock Android version of the Samsung Galaxy S4 announced earlier this month, the HTC One will be sold unlocked with support for both AT&T and T-Mobile's networks. It will cost $599 and will be available by the end of June. Pichai was speaking at the D11 conference.
---
HTC today announced that the HTC One smartphone is its first HTCpro Certified smartphone. Devices certified as HTCpro meet certain security standards that make it more appealing as a choice for business customers. Chiefly, it meets the Federal Information Processing Standard (FIPS) 140-2 and offers 256-bit encryption. Further, it includes IPsec VPN for accessing corporate networks securely, and includes mobile device management APIs that can be used by businesses to control the One remotely. The One is available from AT&T, Sprint, and T-Mobile USA.
---
HTC today announced details of a promotion it is running between May 2 and May 5. The company is offering between $100 and $375 to people who purchase a new HTC One and then trade in their old smartphone. The trade-in value varies by device and requires customers to fill out a form on HTC's web site, receive a quote, and then ship their old phone to HTC with proof that they purchased a new HTC One. HTC will then mail a Visa gift card for the value of the old device. HTC is not accepting all phones, and has a list of devices it is willing to trade published on its web site.
---
Cincinnati Bell today announced the availability of the HTC One. Cincinnati Bell is charging $299 for HTC's flagship smartphone after rebate with a new contract. It can be purchased via Cincinnati Bell's web site or retail stores.
---
Nokia today indicated that it has won an injunction against rival HTC regarding microphone technology used in the HTC One smartphone. According to Nokia, it developed the technology used in the STMicroelectronics-made component found inside the One. "HTC has no license or authorization from Nokia to use these microphones or the Nokia technologies from which they have been developed," the company said in a statement. The injunction was awarded in an Amsterdam-based district court. Nokia did not say what to which markets the injunction might apply, nor how soon it might go into effect. HTC had no immediate comment on the matter. The HTC One went on sale at several U.S. carriers last week.
---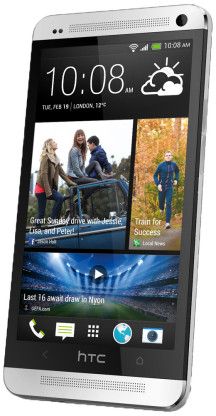 The HTC One is available for sale at AT&T and Sprint stores beginning today. Both carriers are selling the silver 32GB model for $199.99 with a new contract. AT&T is also offering the 64GB model for $299.99, and HTC said that AT&T will offer the 32GB black model in the coming weeks. In addition to the carrier stores, the One can be purchased at Best Buy, Radio Shack, Walmart, Target, Amazon.com, Costco, Sam's Club, HSN.com, and HTC.com. T-Mobile announced that the HTC One (silver, 32GB) is available online beginning today and will be in stores in select retail outlets starting April 24. T-Mobile is asking for a downpayment of $99.99 for the One, in addition to 24 monthly payments of $20.
---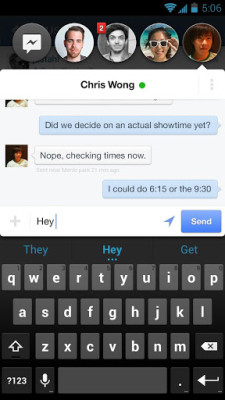 Facebook today made Facebook Home, its new launcher and user interface overlay, available to select Android smartphones. Facebook Home replaces the stock launcher on the device with one that presents Facebook content, such as the news feed, on the home screen. Facebook Home is preinstalled on the HTC First, which also happens to go on sale today from AT&T for $99, but it can also be installed on the HTC One X, One X+, One, and Samsung Galaxy S 3 and Note II. Separately, Facebook also updated the Facebook Messenger application for Android devices. The revised Messenger app carries over one of the main features of Facebook Home, called Chat Heads (pictured). With Chat Heads active, Android device owners can keep conversations with friends always at hand by placing a little icon with the friend's head in it on the home screen. Both Facebook Home and Facebook Messenger are free to download from the Google Play Store.
---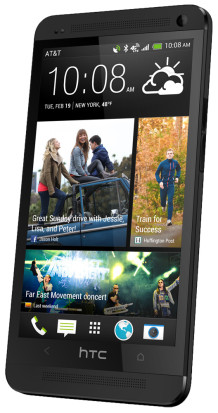 AT&T today announced that preorders for the HTC One will begin on April 4, and the device will be available to AT&T customers starting April 19. The 32 GB version of the One will cost $199.99 with a new contract. AT&T also said it will be the the only carrier to offer the 64 GB version of the One, which will cost $299.99 with a new contract. AT&T has created a page for preorders, and said that it will include the HTC Media Link HD wireless HDMI adaptor with the One at no extra cost.
---
HTC today provided an update about the availability of the HTC One. "HTC has seen unprecedented demand for and interest in the new HTC One," the company said in a statement. "The new HTC One will roll out in the U.K., Germany and Taiwan next week and across Europe, North America and most of Asia-Pacific before the end of April. We appreciate our customers' patience, and believe that once they have the phone in their hands they will agree that it has been worth the wait." U.S. carriers have yet to announce specific plans with respect to availability of the HTC One. Earlier this week, an HTC executive indicated that some supply chain problems have delayed the manufacturing of the One.
---
HTC today indicated that the launch of its HTC One smartphone will be delayed due to supply chain problems. "HTC has had difficulty in securing adequate camera components as it is no longer a tier-one customer," said an unnamed HTC executive to The Wall Street Journal. The company originally intended to launch the device in 80 countries by the end of March. The component problems, which also include the metal casing for the device, are going to prevent HTC from meeting that original March target. "We...are working tirelessly with all of our channel partners to ensure that we can fulfill as many orders as possible. We will start fulfilling pre-orders by the end of March in certain markets and will roll out to more markets as we approach April," HTC Chief Marketing Officer Benjamin Ho said in a statement. HTC's U.S. carrier partners, AT&T, Sprint, and T-Mobile USA, have yet to announce launch dates or pricing for the HTC One.
---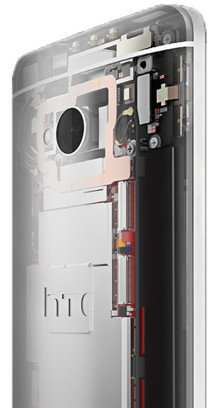 HTC revealed that a developer edition of its HTC One smartphone will be available for purchase in the U.S. for $649. The developer edition will have an unlocked bootloader, open APIs for Bluetooth Low Energy and the IR blaster, and won't be carrier locked, either. It will support GSM-based networks, including quad-band GSM/EDGE, tri-band HSPA/WCDMA at 850/1900/2100 MHz, and quad-band LTE at 700/850/AWS/1900 MHz. The developer variant will include 64GB of storage. The HTC One Developer Edition can be purchased directly from HTC's developer portal. It will be available after the device goes on sale in the U.S.
---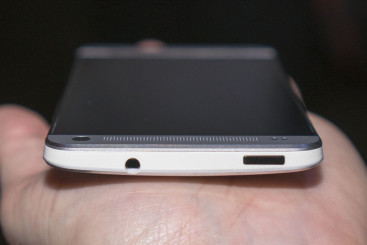 HTC is putting all of its eggs in One basket; the new One is HTC's flagship for the world this year. It take a few risks with the hardware and sports a striking new design manufactured using proprietary techniques. How did it turn out? Find out in our hands-on report.
---