Samsung Galaxy Note II (Sprint, US Cellular)
Info Photos News Forum 100+ Reviews 6
Sprint today said it will update a handful of its Samsung smartphones to Android 4.4 KitKat. The company is already pushing KitKat to the Galaxy S4 and Note 3, but will also deliver updates to the Galaxy Note II, GS4 mini, GS III, Galaxy Mega, and Galaxy Tab 3 7.0. According to Sprint, the update includes the standard check list of KitKat goodies, and also adds a new lockscreen shortcut to the camera. The timing of the updates will vary by device.
---
Sprint recently indicated via its support forums that Samsung Galaxy Note II owners should expect to see their devices updated in the days ahead. The update boosts the system software to Android 4.3 Jelly Bean and adds compatibility with the Samsung Galaxy Gear smartwatch. The update also adds Knox compatibility and makes improvements to the Note II's HD Voice performance. The update is being rolled out in stages.
---
Samsung today announced that its older smartphones can now interact with the Galaxy Gear smartwatch. Specifically, the Android 4.3 system update, which is being pushed out to some devices in other countries, enables compatibility between the Gear and the Galaxy S4, S III, and Note II. A separate, non-system level update will be delivered to the Galaxy S4 mini, S4 Active, Mega 5.8, Mega 6.3, and S4 zoom that enables the Gear. This separate update will be pushed out beginning later this month. Timing for each device will vary by country and carrier.
---
Sprint today followed T-Mobile USA in announcing a slight delay of its planned availability of the Samsung Galaxy S 4. Sprint initially expected to offer the device through all sales channels beginning Saturday, April 27. Now, it expects to have only online and telesales availability on the 27th, with retail availability to follow at a later, unspecified date. As with T-Mobile, Sprint cited unforeseen inventory problems for the delay.
---
Virgin Mobile and C Spire Wireless are both testing handset financing plans, reports Fierce Wireless. According to Virgin Mobile rep Jayne Wallace, Virgin is testing a financing option in just one market, and the trial will end in the coming weeks. Wallace said the company has no immediate plans to expand or continue the trial. C Spire Wireless is also testing a phone payment plan, but its trials are more widespread and will last longer. "We're in the early stages of the trial program and are still analyzing data and results," said C Spire representative Dave Miller. "BillFloat fills a need, primarily in the advance pay market, by providing a quick, easy and convenient way for consumers in our footprint to own a smartphone with payment terms that fit their budget." Prepaid carriers generally charge full retail price for their handsets. In order to compete with national post-paid carriers, however, they've begun to offer premium devices such as the Apple iPhone 5 and Samsung Galaxy Note II. Handsets such as these often command prices in excess of $500 or $600. Many prepaid customers cannot afford to pay the full retail price of those devices, so financing plans are an enticing option to potential Virgin and C Spire customers.
---
U.S. Cellular today made the Android 4.1.1 Jelly Bean update available to its version of the Samsung Galaxy S III. The update can be downloaded over the air or via PC.
---
Apple has filed a request with the U.S. District Court for the Northern District of California in an attempt to add six more Samsung devices to an existing lawsuit against the Korean company. The new devices are the Galaxy S III, Galaxy Note II, Rugby Pro, and Galaxy III Mini, as well as the Galaxy Tab 8.9 WiFi and Galaxy Tab 2 10.1. Apple alleges that these newer devices infringe on many of the same patents it accused Samsung of violating in a lawsuit it filed in February of this year. Apple said that if it isn't allowed to add these device to the existing case, it will be required to file an entirely new lawsuit. This is a separate case from the one that delivered a guilty verdict against Samsung in August of this year.
---
Sprint today began rolling out a software update for the Samsung Galaxy Note II that adds the ability for the phone to run two apps in different windows on the screen at the same time. In addition to the multi-window view feature, the maintenance update also gives corporate device administrators more control over the GPS settings; places emails in the outbox if sent when the device doesn't have network access; and adds a beeping alert when text messages are received during a voice call. The update is being rolled out in stages, but Sprint says all Note IIs should have it within five days. The update can be downloaded over the air and installed without desktop software.
---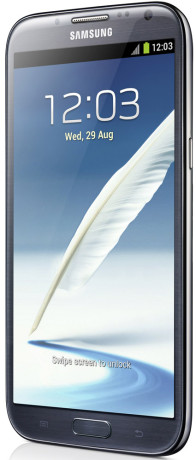 Sprint today announced that its version of the Samsung Galaxy Note II will be available online and in stores starting October 25. The Note II ships with Android 4.1.1 Jelly Bean, has a 5.5-inch 720p Super AMOLED display, and Samsung's Exynos 1.6GHz quad-core processor with 2GB of RAM. The Note II features an 8-megapixel camera with 1080p video capture, 16GB of on-board storage, support for microSD cards, and Samsung's S Pen apps and utilities. The Samsung Galaxy Note II supports Sprint's LTE 4G network. It will cost $299.99 with a new contract.
---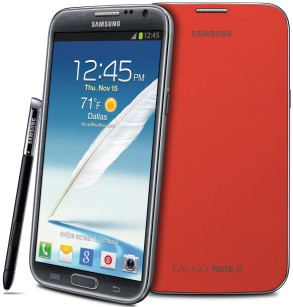 Samsung today announced that AT&T, Sprint, T-Mobile USA, U.S. Cellular, and Verizon Wireless will all sell their own variants of the Galaxy Note II. Samsung said that availability and price will be announced by each carrier separately, though it noted that all the carriers will offer the Note II by mid-November. It will run on the LTE 4G networks of AT&T, Sprint, U.S. Cellular, and Verizon Wireless, as well as the HSPA+ network of T-Mobile USA. The Note II takes the design language of the Galaxy S III and expands it to include a 5.5-inch display. It has a 1.6GHz quad-core Exynos processor, a redesign S Pen, and expanded S Pen apps.
---
The Samsung Galaxy Note II doesn't have any U.S. carriers yet, but Phone Scoop spent some time with it anyway. Here are our initial impressions of Samung's latest phablet.
---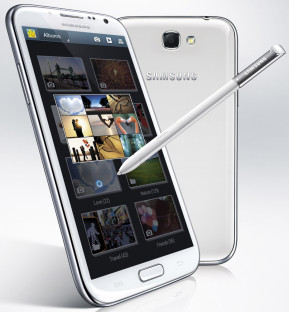 Samsung today announced the Galaxy Note 2, which offers a larger screen than the original in a design that closely resembles the Galaxy S III. The Note 2 has a 5.5-inch Super AMOLED display with 1280 x 720 pixels. The original Note had a 5.3-inch display with 1280 x 800 pixels. The pixel measurements of the Note 2 give it a 16:9 ratio. Samsung has improved the S Pen itself (longer and thicker) as well as the S Pen apps and features on the device. For example, Air View allows users to hover with the S Pen over an email, image gallery, or video to preview the content without having to open it. It also adds Quick Command, which lets users open frequently used apps with a flick of the S Pen. The Note 2 will be driven by a quad-core Exynos processer at 1.6GHz per core mated to 2GB of RAM. The Note 2's main camera rates 8 megapixels and can capture 1080p HD video, while the user-facing camera rates 1.9 megapixels. They use back-side illumination for better low-light performance. Connectivity options include HSPA+ at 21Mbps and LTE, though Samsung has yet to specify which spectrum bands the Note 2 supports. The Note 2 will also include Bluetooth 4.0, Wi-Fi, GPS, NFC, MHL, a bevy of sensors and a 3,100mAh battery. Last, the Galaxy Note 2 will come in 16GB, 32GB, and 64GB variants, and offers a microSD card slot for additional storage. The device will ship with Android 4.1 Jelly Bean. The Galaxy Note 2 will ship in European markets first, but Samsung Mobile says a version for U.S. carriers will debut before the end of the year.
---